Can Penetration Be Cute?
If you're a beginner to toys or a beginner to glass toys, this is the best beginner design I've seen in quite some time. The curve and tapered head for g-spot stimulation will at the very least tickle your fancy, and the handle is one of the best inventions I've seen on glass toys. That being said, if you are a more advanced user looking for texture and additional girth, I'd suggest the rainbow heart as opposed to the love journey.
Published:
Pros
Handle
Non-Intimidating for Beginners
Easy to Clean
Cons
Too Small in Girth (for some)
Lack of Texture (for some)
The love journey caught my eye in one of the usual glass sales due to its heart handle. I own the rainbow heart, which by comparison is quite a bit more textured, longer, and straight, but it also has a similar handle. While the rainbow heart is more of a "loud and proud" toy, the love journey is understated. The light see-through pink of this dildo really makes it seem less intimidating and the short length, tapered head, and somewhat small girth, will appeal to beginners. I do think there is something lacking for more advanced users. I probably own a dozen glass toys, and this one is just a little too simple for me. More girth and some texture could probably attract more advanced users. I would recommend the rainbow heart to them. These are the dimensions of the love journey as displayed by EF:
Length:
7 3/4"
Insertable length:
5 1/2"
Circumference:
4 1/4"
Diameter:
1 1/4"

The love journey is slightly curved, and with it having a tapered head, it might just rub your g-spot the right way. I personally haven't had much luck, but I'm often more impressed by toys with more girth. As for the handle, it'll help you steer things in the right direction while keeping you from slipping. Another thing that's particularly important about this handle is that it may make it quite a bit easier to thrust, but you want to remember that glass can bruise the cervix.

The love journey is made of glass, which is compatible with all lubricant types. However, glass in general, doesn't seem to need much lubrication. There is no drag to glass, and too much lubricant can leave this toy too slippery for pleasure. However, in case you decide that the love journey would be an exciting anal toy (it does have a handle, which is large enough to count for a flared base), a little bit of lubricant may be needed. Regardless of your choice of lubes, this dildo can easily be cleaned. Glass toys can be sterilized with many being capable of withstanding the top shelf of a dishwasher. A 10% bleach solution, boiling, soap and water, and any type of cleaning wipes or foam can also clean the love journey.
As for storing, I've found that the more glass I own, the more complicated it becomes. While the love journey comes with a red velvet-like bag and wrapped in bubble wrap, it's hard to tell one red bag from the next. When I am looking for a certain glass toy, I find myself going through bag after bag. In the near future, I think I'm going to bust out my label maker in order to organize my glass toys in a way in which I can find them more easily.

While glass has some positive travel attributes (no batteries and accidental turn ons, nothing to set off a metal detector, etc.), I also would not trust my glass in anything except for a carry-on. I once dated someone who worked for FedEx, and I've seen how packages are treated. I can only imagine how luggage is treated by airlines. Actually, luggage is also lost relatively often I'm told, and I personally wouldn't be too happy about putting "glass dildo" on my lost luggage list.

As per usual, let me mention that glass has no smell and no taste. I personally don't think the taste is an issue anyway because putting glass in your mouth seems kind of dangerous for your teeth. Just don't try to lick a glass toy seductively! However, due to my sensitive nose, many toys with even light smells give me headaches, which is why I've developed such a preference for glass. Glass is also well-known for its temperature play capabilities. It can be put in the fridge or stuck in a warm bowl of water. I prefer to not go any more intense than those cooling and warming techniques in order to not freeze or burn my lady bits.
Experience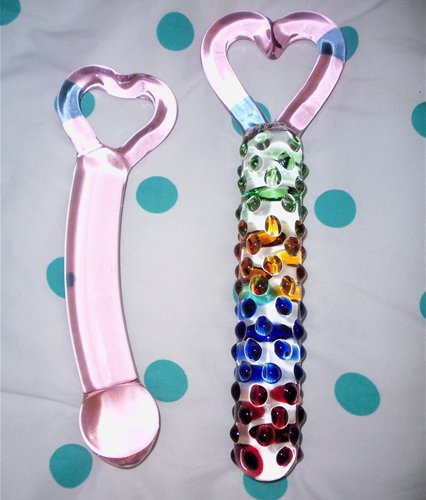 Follow-up commentary
12 days after original review
I like it. I don't love it. I could tolerate some more of it. I try so hard...but it's just not my favorite. That sums it up!
This content is the opinion of the submitting contributor and is not endorsed by EdenFantasys.com
Thank you for viewing
Love journey
– sex toy review page!