I'm in Love!
This is an amazing toy for new glass users and for advanced users who don't mind the lack of texture. It is very comfortable to use and easy to hit my g-spot with. The glass is a breeze to clean and doesn't require much (or any) lube to use it, and I love the handle. This is my new favorite toy.
Published:
Pros
Curve ideal for thrusting, rocking or twisting, hits g-spot well, great handle, easy to clean.
This was the first glass toy I bought. So far I have mostly gravitated toward silicone toys, but now I am definitely interested in getting more glass ones! It is an amazing toy.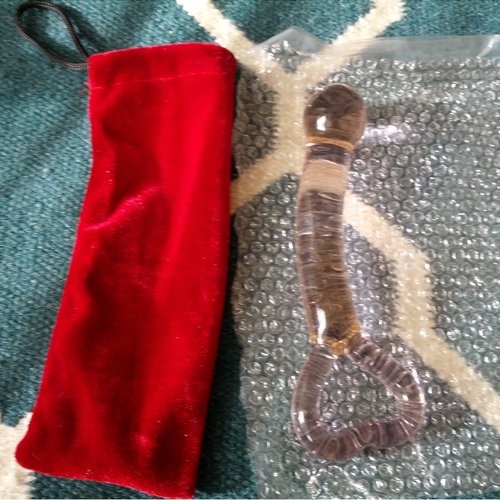 The Love Journey arrived in a velvet bag, wrapped in bubble wrap. There is no logo on the toy or the bag, and no instruction manual. It certainly could've had classier packaging (compared to brands like Lelo), but the bag and bubble wrap are very handy for storing it. The one thing worth noting is that you should not put two glass toys next to each other. I also bought the Sweet Lola and they barely hit each other but now each has a tiny scratch. The Love Journey and Sweet Lola are almost the same size.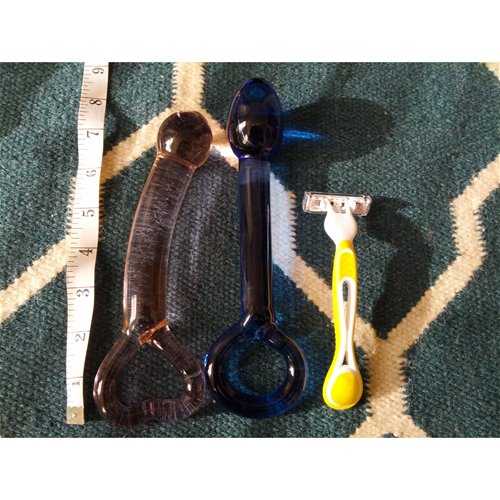 I thought it was a nice shape and size. When I used it, the first thing I noticed was how cold it was. I'd suggest running it under hot water before using it. The great thing is that it retains heat as well as coldness. Ten minutes after taking it out, it was still warm.
It has no smell or taste, and the glass is completely smooth and almost perfect (with a few very small bubbles and white specks inside).
Here are the measurements:
Length: 7 3/4"
Insertable length: 5 1/2"
Circumference: 4 1/4"
Diameter: 1 1/4"
Weight: 7 oz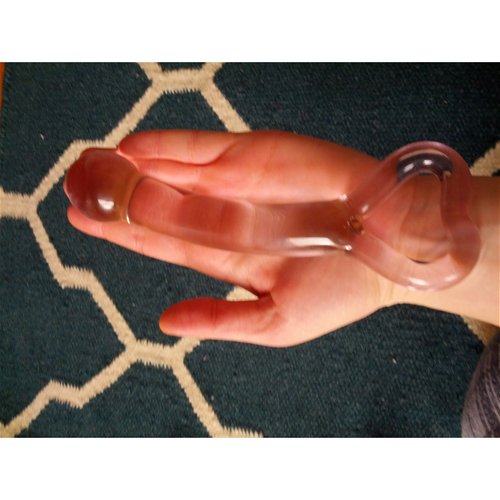 My boyfriend was a bit intimidated, and (he said) worried about hurting me. But he's never hurt me with it, since it isn't very long. It has an insertable length of 5.5" and only about a half inch sticks out, besides the handle, when I use it. I think you would really have to jam in it suddenly to bruise your cervix because the place where it sits comfortably is almost all the way in, at least for me.
My favorite way to use it is lying on my stomach and he holds the handle and runs it in and out of me while I rub my clit.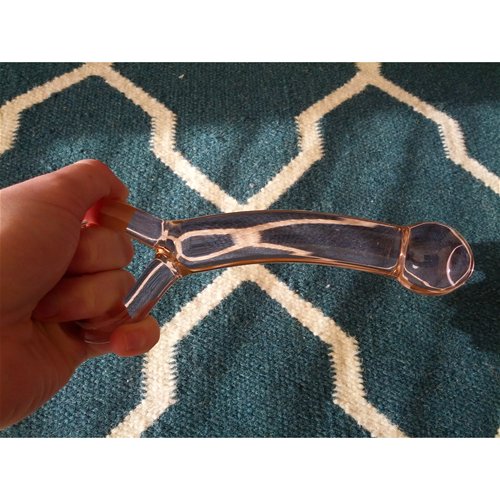 I really love the handy handle. It's great for looping two fingers through. Besides the curve and the way it hits my g-spot, the handle is really my favorite thing about this toy. It's making me wonder why I don't have more toys with handles.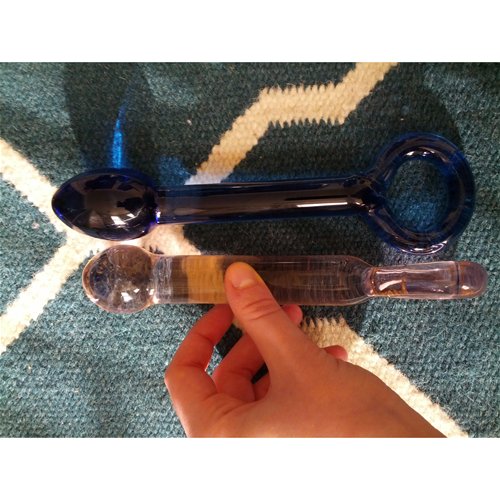 It is similar to the Sweet Lola, so I think it is worth comparing the handles (they are perpendicular to each other). I expected that I would like one much more than the other, like one would get in the way somehow, but neither of them does and I love both.
The Love Journey may be better for using with a partner since your partner will be twisting their wrist less, with the handle being vertical, and I would say I like the Love Journey better for slowly moving in and out of me.
The Sweet Lola has a bigger g-spot head, which I like better, but I wish that the toy had a curve like the Love Journey. They are both great and I think I love them equally.
This toy is excellent for beginners to glass, or even to toys in general. The toy and handle are very comfortable and I love the smoothness of the glass and how it holds warmth. Glass toys are amazing for not having drag. I rarely ever use lubrication with it, and if you were to then you wouldn't need much.
Advanced glass users and/or people who love textured toys might find this toy a bit boring to use, but I think it is one of my best toys for hitting my g-spot, and I love that it doesn't have a hooked end that can catch on your pubic bone like some toys (the Lelo Ella) can.
Another great thing about this toy is that glass is so easy to clean. I usually wash it with soap and water after each use, let it air-dry on my bathroom counter and then put it back in the velvet bag with the bubble wrap. You can also boil it or put it in the dishwasher. Also, the lack of texture means you can wash it in 5 seconds. It's a breeze!
You can probably tell what it is, but compared to other vibrators and dildos, I think this toy is pretty discreet. I wouldn't mind traveling with it. I obviously wouldn't leave it out for someone to question me about, though.
I have not used this toy anally, but I think that the handle makes it well-suited for anal use as a flared base and way to hold it if you don't mind the curve.
There really isn't anything I don't love about this toy besides that there aren't more toys like it.
Experience
Unlike some g-spot toys that have a hooked end, the glass material along with the head and curve of the Love Journey allow for a completely smooth experience that doesn't get caught on your pubic bone.

This makes it a great toy for thrusting, rocking, or moving side-to-side. One thing I love doing with it is looping my fingers through and twisting it back and forth like a key.
This content is the opinion of the submitting contributor and is not endorsed by EdenFantasys.com
Thank you for viewing
Love journey
– classic glass g-spot dildo review page!