Curvy Delight!
If you are looking for an all purpose dildo, the Theta Elements is an amazing toy. It is not only perfect for strap on play; it is also great when used solo, vaginally, or anally. In addition, the unique curve is designed to hit all the right spots with comfort and ease.
Published:
Pros:
Sexy, Petite, Non-Realistic, Comfortable Base, and Silicone.
Cons:
Not a thing.
Uniquely designed for maximum pleasure, the Theta Elements is an excellent universal toy. Regardless if you use it alone or with a partner, this toy is sure to be a delight.
For those desiring a comfortable anal toy to stimulate the A and P Spots, the Theta is an excellent choice. It has a tapered head and slender shaft which are perfect for those just beginning their journey into anal play. In addition, the slender curved shaft is stimulating without giving you that stretched feeling. With its unique curve, stimulation is virtually effortless.
Using this toy solo vaginally is easy with a nice grip pad on the base. Also, the Theta's curve allows the head to stimulate the G-Spot even while in a harness.
For harness play this is an amazing toy; not only for the receiver, but also for the giver. The base is thick and contoured in such a way that it sits over your clit to provide stimulation. In addition, there is an included bullet which fits into the base and its vibrations can be felt throughout the entire toy.
Over all, for anyone desiring to try something a little different than the standard dildo, the Tantus Theta Elements is an excellent choice.
Material, Design, and Cleaning:
Tantus is an established company known for their quality silicone toys and with the Theta Elements it is easy to see why.
Made from 100% Premium silicone the Theta Elements is silky smooth and non-realistic. It is completely seamless, has no odor, or taste. This toy is very flexible. Yet, the material itself is firm and does not have that squishy feeling.
Since this toy is designed with a large flared base, it is completely safe to use anally. Also the base provides a comfortable handle, which allows you full control over the toy. This base is also amazing in a harness and provides stimulation to the wearer. In addition, its base has a grip pad to aid in the control of the toy even when it is slippery from lubrication.
The Theta Elements is constructed from no porous silicone. Therefore, it is completely safe to use between orifices or share with a partner. Although when doing so, it is always best to clean the toy. The Theta Elements can be easily cleaned with your favorite toy cleaner, boiled for 10 min, washed with anti-bacterial soap and warm water, and it is even top-rack dishwasher safe.
Measurements:
Total length-6 inches.
Insertable length – 5 inches.
Head-1 ½ inches in length and 3 ¼ inches circumference.
Shaft-3 ½ inches in length and it is tapered. It is 2 inch circumference at the neck and 3 ½ inches at the base.
Base- 3 inches length and 2 inches wide at the largest point. At the grip area the base is 1 inch wide.
Angle- 100 degree curve.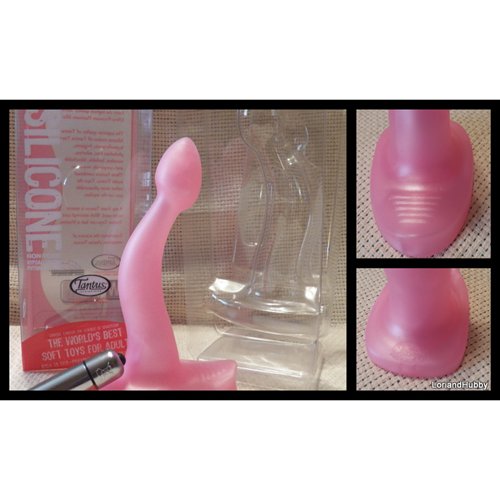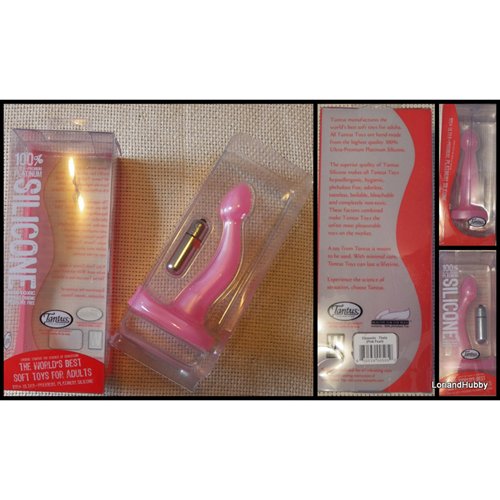 Experience:
We have found that exploring anal play is an enjoyable experience. A key to our success is the toys we choose. For us, we have found that slender silicone toys provide amazing results. When I came across the Theta Elements, I was intrigued by the shape. With the hope of being able to stimulate Hubby's P-Spot with it, I decided to give it a try.
My Experience:
When using this toy vaginally, it worked very well. Theta's head reached my g-spot with ease and rubbed it perfectly. Also, I was able to hold the base comfortably and thrust the toy holding onto the grip pad. Although on the technical end everything worked just as it was designed, for me personally I did not enjoy using it on myself. I love girth vaginally. Unfortunately, this toy just does not have it.
Experience
Continued

On the other hand, using the Theta Elements in my harness is amazing. As I alluded to earlier in this review, the base sits right against my clit when it's in my harness. Positioning the dildo's base over this area is easy. Also, I have found that it stays in place while we play. I completely enjoy the feeling of having Theta's base pushing against my clitoris as I thrust into Hubby. When pegging Hubby, I really enjoy being stimulated also. Although we have tried four anal dildos, the Theta Elements is the first one to provide this type of stimulation.

Overall, I could not be happier with the Theta Elements.

Hubby's Experience:

Pampering Hubby, with toys he might enjoy using on himself, is something he really appreciates. Hubby is always thrilled when I surprise him with a new find on EdenFantasys and this was no exception.

Hubby really enjoys pegging and trying to achieve that ever allusive male p-spot orgasm. Therefore when he saw the shape of this dildo, he was excited to find out how it would feel. Like a kid in a candy store, he could not wait. Hubby could not resist sneaking off by himself to try out his new toy. Latter he let me know that although the toy felt amazing and he was able to use it by himself with ease, the p-spot orgasm remains unknown.

Desperately wanting Hubby to experience this type of orgasm, I could not wait for latter that night when I could help him. Once everyone fell asleep, I slipped on my harness and put in the Theta. Hubby was eagerly waiting as I warmed him up with some teasing. Putting Hubby in our best pegging position, I proceed to slowly thrust in and out trying to find just that right spot. It was easy to see that Hubby was thoroughly enjoying himself.

Talking about the experience latter, Hubby let me know that although this dildo felt amazing it did not rub with enough force over his p-spot. He said, "It feels great inside of me and goes real deep. But when it's inside of me, the whole thing feels like it's too flexible to really hit the spot." He continued to suggest that maybe we need to try something a bit firmer.

Although the Theta Elements did not produce the all allusive p-spot orgasm for Hubby, he really enjoys the way it feels when stimulating his a-spot. Therefore, this dildo is one of his 'go to' toys for pegging.

Over all we feel that the Theta Elements is an amazing toy for both of us. He loves the way it feels thrusting into him and I love how the base makes me feel. We cannot recommend the Theta Elements enough to anyone who wants to begin their journey into anal play or enjoys a slender vaginal toy.
Follow-up commentary
3 months after original review
This is a great dildo to use solo or with your partner. Also, it works perfect in a harness. Although it is well made and works perfectly, Hubby does not like it that much anymore. It was great while we were experimenting to find what Hubby really likes. However, since our purchase we have figured out that Hubby likes toys that do not have a drastic curve.
This content is the opinion of the submitting contributor and is not endorsed by EdenFantasys.com

Thank you for viewing
Elements Theta
– strap-on dildo review page!