Diana's Dick Stick
Diana the goddess of Hunt, the Moon, and of Chastity, swore off all men. I'm sure if she ever was looking for her big "O", she'd reach for this lovely toy. The texture is heavenly, and the handle is extremely convenient. It's lacking in the girth department, but with a compatible butt plug, it's divine. Anally, this thing is a must have for all players.
Published:
Pros:
The texture, The handle, Sterilizable
Cons:
May be too slim for Size Queens or Kings
Uses:
This slim dildo is fun vaginally or anally. I found it to be too slim to enjoy by itself, but then I'm a bit of a size queen. When I added a butt plug into the mix, I was enjoying every one of Diana's elegant curves. What really surprised me was how amazing she felt anally. The graceful curves stimulated and stroked with each thrust. The head on this fun dick stick is great for g-spot stimulation. I imagine it would be the same for p-spotting fun. The handle makes it great and convenient for solo use, or with/on a partner. You can use it in bed, on the floor, in the shower, in the tub, on a boat. Where ever you want, with a certain amount of discretion of course.
DO NOT USE WITH SILICONE LUBE!!! IT MAY DAMAGE THE TOY!!! If you insist, spot test on an area that is not insertable.

Materials/Texture:
Diana's Dick Stick is made of Tantus' 100% premium silicone. It's a fun, fully sterilizable material that rates a 10 on the
Eden Safety Scale
. It doesn't have much give to it at all, when squeezed. It does have some flex to it, but it does require some force. It's most pliant where the dildo section meets the handle. The business end of this lovely stick, has a glossy finish to it. The handle has a matte finish. This makes it perfect, since you can maintain your grip if you get lube or bodily fluid on your hands.
Diana's curves and ridges, to be honest, look a little weird. I only rave about them, because I've experienced them. When I first saw them, I was extremely skeptical. There are three bumps on one side of the dildo and from there they have ridges that go down the sides at an angle. I can only compare it to the sand at the beach. If there is a small rock in the sand when the tide goes out, the sand creates extreme curves going towards the water. That's what the ridges are like that start at the bumps. The head also has two bumps that come off the side of it. This creates a wonderful sensation along the sides of the desired orifice.
Again, DO NOT USE WITH SILICONE LUBE!!! IT MAY DAMAGE THE TOY!!!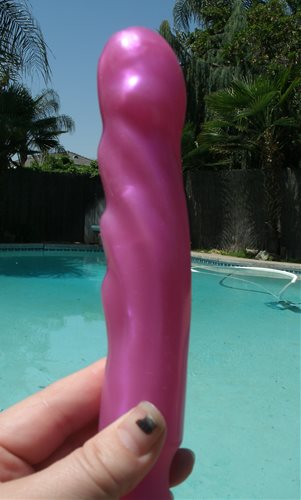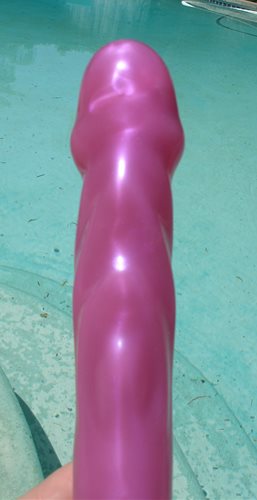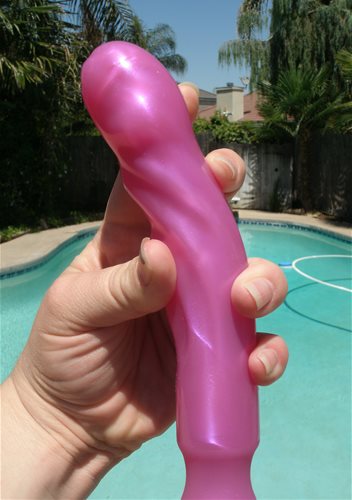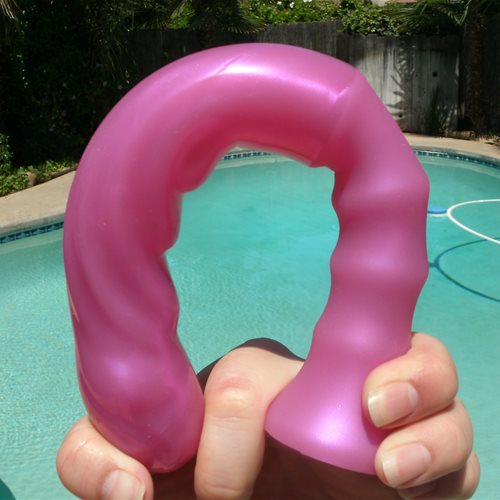 Design/Shape/Size
The design of Diana's Dick Stick, is surprising not dick-like at all! It's definitely phallic, though. There is a head, of sorts. From one angle, the head almost seems triangular. This is because of the two gradual bumps on the side of it. The head also has an indent that is very slight that runs along the front of the head. The ridges that go down the shaft, from the bumps, are somewhat extreme. The fact that they run down the shaft makes them comfortable and stimulating.
The handle on this baby is so freaking handy. It allows for so many positions. The fact that it has finger grooves adds to its functionality. The base makes for safe anal use (if you could take that much), and helps with the thrusting. The toy doesn't stand up well on its own, but it is possible.
Overall length – 10 1/2"
Insertable length - 6"
Head circumference – 4 5/8"
Shaft circumference - 4"
Base width - 2"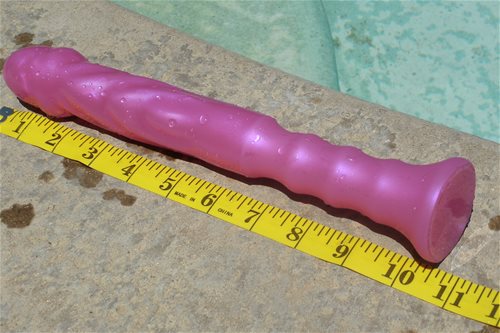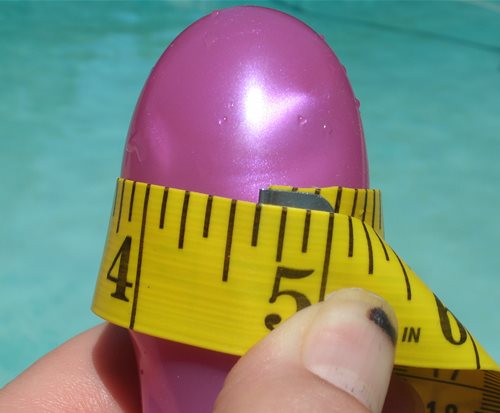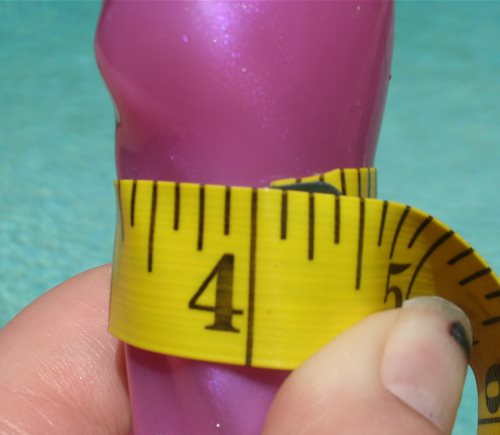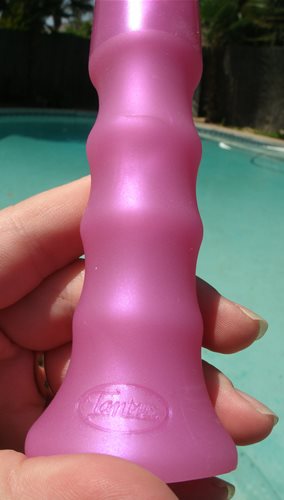 Experience
Performance:
When I first looked the Goddess Handle over, I was intrigued. I wondered what sensations the texture would provide. Whenever I get a sterilizable toy, I boil it. No excuses. After that, I went upstairs to give her a try. I have to say I was disappointed. The girth was lacking, and not very stimulating. When I put in my
Mood Naughty Plug
, and gave her another shot, it was as though I was using a completely different toy! The head stimulated my vaginal walls, and glossy finish allowed the ridges to glide in and out (with some water based lube of course!). The head and bumps hit my g-spot and my urethra, in an extremely pleasant way. It was almost relaxing. Now onto anal. This is where she really shines in my book. All of the things I liked vaginally were that much better anally. The smooth lines along the shaft with the soft bumps—oh, so divine. What I really love about this toy is the handle. I primarily use toys by myself, and the handle allows me to use it comfortably. I don't have to worry about my hand tiring or cramping. I'm able to go longer, and harder, because I'm able to grip it without having to take breaks or reach for a towel. I can only imagine how long a real immortal goddess would have fun with this toy, before taking a break.
Care and Maintenance:
Cleaning and sterilizing this toy is extremely easy. You can use soap or toy cleaner and water, to clean it. To sterilize it you can boil it for 3-5 minutes (provided you use tongs or have a stock big enough), soak it in a bleach solution, or throw it in the dishwasher. You can use the the packaging for storage. I personally found it cumbersome, and keep it in a long plastic storage container.
Packaging:
The Goddess Handle comes in Tantus' standard packaging. It's clear and orange it the front, where the toy can be seen. The back is orange and opaque, with Tantus' mission statement and information about silicone. It can be used for storage if you choose. The clam shell positioner can be take out and you can keep in the box. Personally, I found to be too much of a hassle, and put it in with the recycling.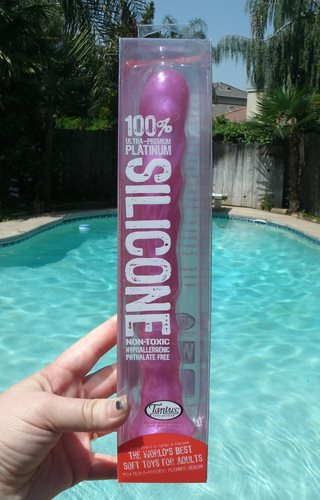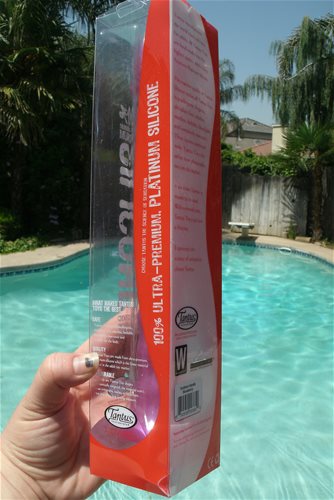 This content is the opinion of the submitting contributor and is not endorsed by EdenFantasys.com

Thank you for viewing
Goddess handle
– g-spot dildo review page!