Flower And Angles For G-spotting, Oh My!
The Flower Marble is a glass toy with a beautiful design. It can be used for temperature play and has a unique design allowing for a unique usage, but this is hard to use solo. It comes with a storage pouch to keep the glass safe during storage. This is a rather expensive piece that really has nothing special about it. Overall the Flower Marble is just okay.
Published:
Pros:
Safe material, beautiful design, unique usage, storage pouch, and temperature play.
Cons:
Hard to use solo, nothing special about it, and expensive.
Use
The Flower Marble is a double ended glass dildo that is intended to G-Spot stimulation. This dildo is meant to me inserted vaginally, but the angles of the toy along with a good grip could allow for it to be used anally, however use extreme caution. You are meant to insert either end until the first angle then spin it around. The texture at the bend will help with firm pressure on the G-spot. The dildo can be inserted past the angles ant then pulled out for more G-spot stimulation, but this might not be comfortable for everyone. The Flower Marble is hard to be controlled by yourself. It is easily controlled by a partner and works nicely with oral sex.
Material
The Flower Marble is made of
Pyrex
glass. Pyrex glass is a brand name for borosilicate glass that is made from a mixture of boron, sand, ground lime, and soda. This results in a liquid that is then cooled at a rate, so crystals can't form. The boron gives glass the amazing ability of temperature play. It is best to run or soak your dildo in warm or cold water for temperature play. Glass has an outstanding safety rating of 10 out of 10 because it is latex free, phthalates free, hypo-allergenic, and non porous. Glass is always tasteless and odorless. Upon arrival of any glass pieces be sure to fully inspect them for cracks and surface flaws. You should never use a cracked glass dildo. Please look into the amazing
return policy
if your glass piece arrives unusable. Glass is a firm and unforgiving material that can bruise your cervix with hard thrusting, so you should use caution. Another great quality about glass is that you can boil it for sterilization, which means you can share it with others. If you want to avoid boiling it, you can also your a 10% bleach or an alcohol solution for sharing. Although, all of these can be avoided with condom usage as well. Be sure that your glass piece is fully cooled before inserting. If you put glass in your mouth use caution around your teeth.
Design, Texture, And Size
The Flower Marble is a clear glass piece that has two 90 degree angles to the shaft. The one end has a pointed top with no change in design from the shaft, but at the angle is a wrinkle like bump for texture. The other end has a bulbous head that has a blue flower inside. This end also has a wrinkle like bump for texture right at the bend. When you insert one end the other end acts as a handle, but be careful lube will make things slippery. My flower marble is 7.5" long, but this does not take into consideration of the angles. Both ends have the angle at 3", therefore they are insertable 3", but some might be able to insert past the angles, which would result in about 5" each end. The largest circumference is located at the fullest part of the flowered end. This is 4.5" in circumference or 1.5" diameter. The shaft is more slender than that being only 3.5" in circumference or 1" diameter. The bends with the texture also increase the circumference, becoming 4" or 1.25" in diameter. This is not a glass toy for everyone. The size and texture are beginner friendly, but a beginner might be confused about the use of this toy. I recommend this dildo to only the sex toy enthusiast that like unique toys. This is not a discreet piece, but surely a work of art. Like most toys without controls, this glass piece is waterproof, but be sure not to drop it in the shower. It could get stuck in the drain.
Note: Glass pieces are handmade, therefore sizes can vary, but are usually close.
Flower Marble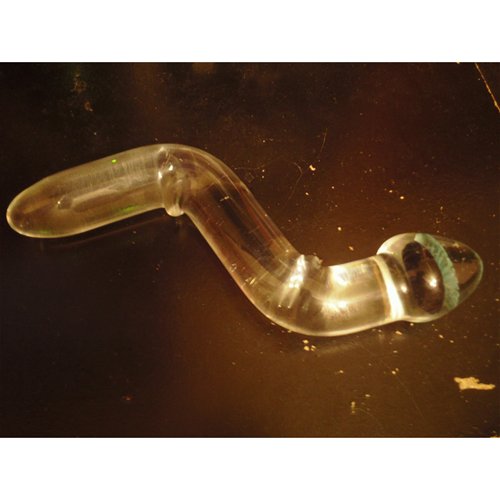 Flower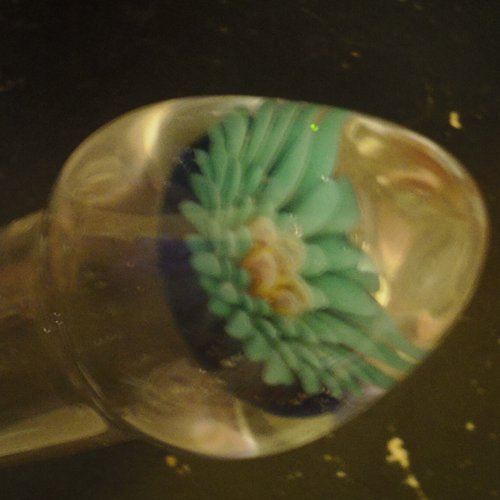 Texture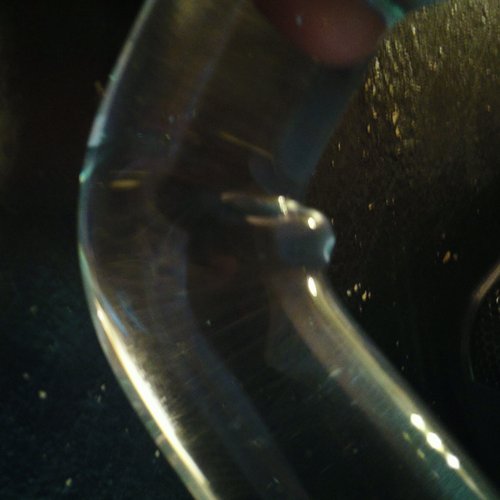 Paired with green Amethyst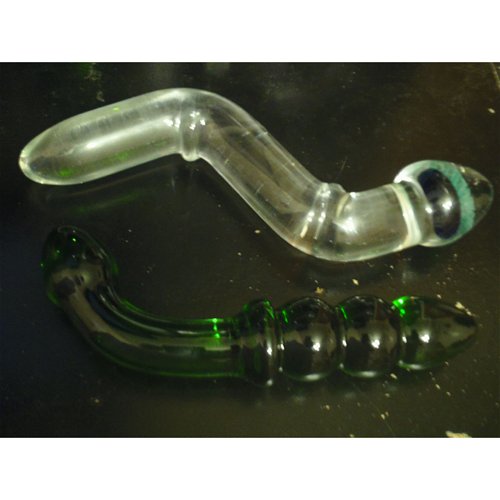 Experience
Performance
The Flower Marble is a great toy for those who are looking for a uniquely designed toy for G-spot stimulation. The firm material along with the bumped texture allow for firm pressure during the spinning of the glass piece. This is different from any other dildo I have ever tried before. It is really nice, but not something I can do by myself. If I want to use this dildo, it requires my partner, but it works nicely with oral sex. The pointed end was not that enjoyable for me, but the bulbous head with the flower in it really got my juices flowing. This is not my favorite glass piece, but it is a glass piece that I will continue to use. I would enjoy it more if I could use it better for myself, but I just can't hold it at the right angle without being uncomfortable. It grinds my pelvic bone or I am bent in an uncomfortable position. However, this will be different for everyone.
Care And Storing
Glass is really easy to care for by washing with soap and water. You can also put it in the dishwasher as well. Toy cleaner and toy wipes will do the job also. be sure to get in between the grooves of the texture, it can be hard to get. If you want to share be sure to boil, use an alcohol or bleach solution in between partners for your own safety. Condoms are compatible as well and all lubes too. Your glass dildo comes with a toy pouch for storage. You should store this toy in pouch and somewhere it can't easily be damaged. My pouch is pink and silky with white lace on it and a black draw string with a clip to keep it closed. This is how you should package your dildo for traveling to. As long as it is stored right, you can travel with it.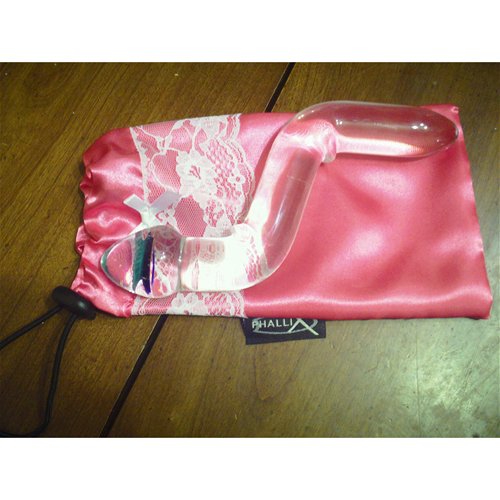 Note: Pouches for Phallix toys vary, you could get a different pouch than I did.
Follow-up commentary
9 months after original review
I have sold this glass piece to someone using the Classifieds. I hope they love it like I couldn't. I stand by my original review.

The Flower Marble was awkward to use and not very exciting.
This product was provided free of charge to the reviewer. This review is in compliance with the FTC guidelines.

Thank you for viewing
Flower marble
– glass g-spot shaft review page!