G-spot Blossom
Icicle No. 17 features a warm, sunny bloom sitting atop a waving blue shaft. The subtle curve of the stem and bulbous head provide G-spot stimulation and gives a sense of fullness. This piece is a lovely work of art and is fun to use solo, or with partner.
Published:
Pros:
Bulbed design is good for G-spot stimulation.
Pretty design.
Body safe and easy to clean.
Cons:
Head might be a little large for some users.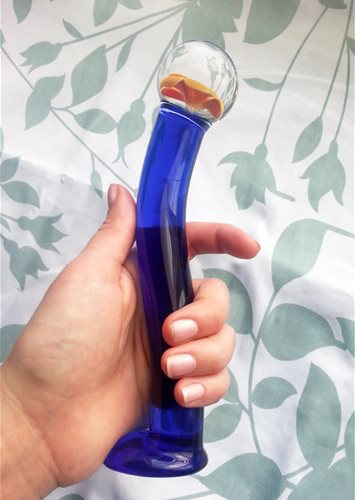 Icicle No. 17 is a lovely glass dildo from Pipedream. Glass is smooth, perfectly body safe and a breeze to clean.
The curved shaft and bulbous head is designed to stimulate the G-spot and can provide nice, firm massage. This toy should also be safe for anal play because of its length and the base.
Icicle No. 17 is made of borosilicate glass, which some people will know as Pyrex. The waving shaft is made from a deep blue glass and the round head is clear and contains a warm yellow blossom.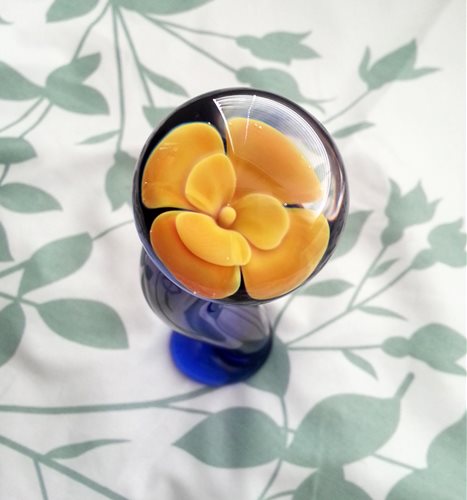 Glass is rated a 10 on the EdenFantasys material safety scale. It's chemical-free and non-porous which means it won't harbor any harmful bacteria.
Glass is weighty and feels nice and solid in your hand, but it's not as heavy as steel. If you are new to glass toys, start slow, because glass is totally rigid and it is possible to bruise yourself if you get too carried away.
At first glass will feel slightly cool to the touch until it warms to your body temperature. Fans of temperature play like glass because it can be chilled in ice water or warmed with warm tap water, and it will retain the temperature better than other materials.
Glass glides right along the skin without any drag and many people say they don't need to use lubricants with glass toys. If you want to use a lube with this toy you can feel free to any kind of lube you please.
Design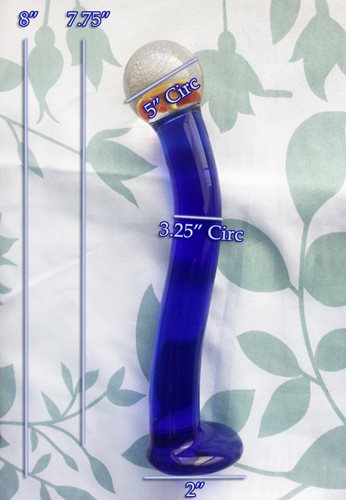 Icicle No. 17 has a total length of 8" and almost the entire length is insertable, if you can handle it.
The shaft has a circumference of 3.25" around, and the spherical head that sits atop the shaft has a circumference of 5". There is a base that is 2" long that allows this toy to stand upright on a flat surface.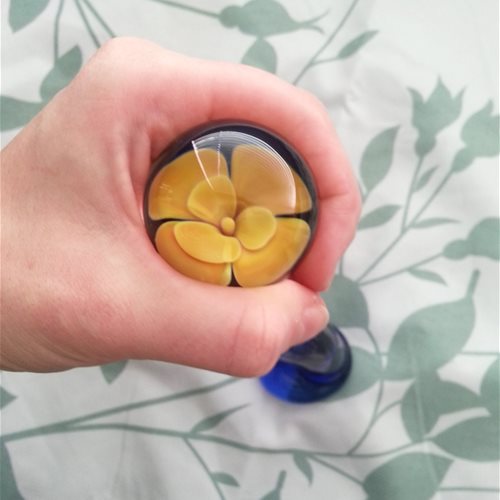 Here's a comparison of Icicle No. 17 to some other popular glass and steel dildos:
Pure Wand, Hearts Wand, Amethyst, Icicle No. 17, Sweet Lola: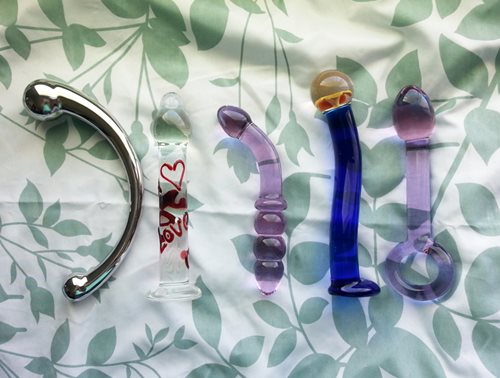 Head comparison:
Amethyst, Hearts Wand, Icicle No. 17, Sweet Lola, Pure Wand (large end):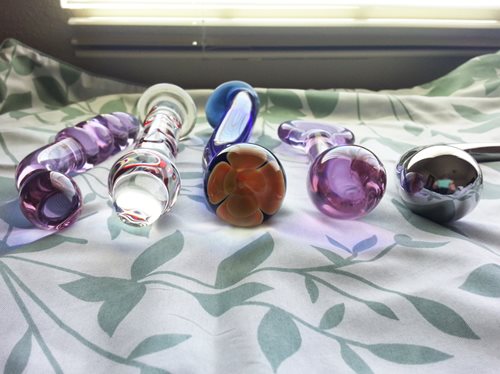 Cleaning
Icicle No. 17 is very easy to clean, because it's glass and totally smooth. I prefer to take it to the sink and spray it with toy cleaner and rinse it off. You can use soap and water, dish detergent, toy wipes or even throw it in the dishwasher or use boiling to sanitize it.
Be sure to store your toys in a safe place where they won't be knocked around or have the potential to fall. Glass is very hard and resilient, but they can be chipped if they get hit. Be careful when cleaning your glass toys because they get slippery when wet and are easy to drop. Always check your glass toys for cracks or chips before you use them because you don't want broken glass to cut any of your sensitive areas.
Packaging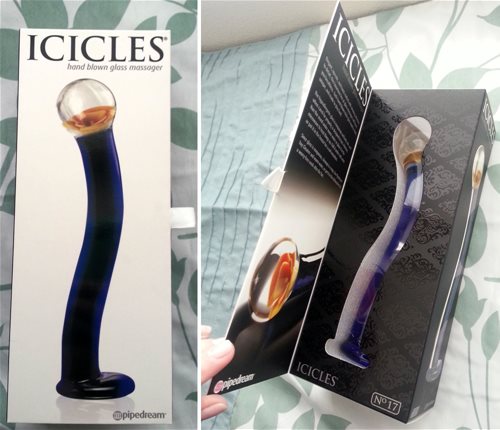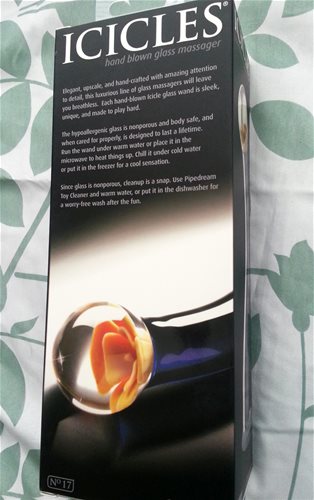 Icicle No. 17 comes in nice looking and protective packaging. The front and sides of the box have images of the toy and the back has a couple paragraphs that that about the line of Icicle dildos. The front of the box is actually a flap that lifts up to reveal window that shows the toy inside the box. There is also the same image and info on the underside of the flap that is printed on the back of the box.
Inside the box is a large block of foam that has a cutout that the dildo rests in, the foam is very thick and protective.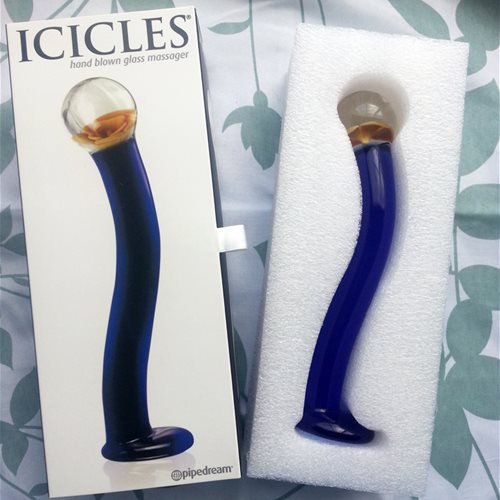 Experience
After experiencing the Pure Wand, I've come to find that I really like the bulb and stem style dildos for G-spot stimulation.
Icicle No. 17's bulb is actually a little larger than the large end of the Pure Wand and it does provide a rather filling feeling. The bulb doesn't offer as much pinpoint G-spot stimulation because it is larger, but it can still get the job done.

This toy can be thrust for a more intense sensation, or twisted and rocked for a gentler experience. Enjoyment and function vary from person to person and it really comes down to your anatomy and finding what works the best for you.

Since glass is smooth it should glide easily. The toy can be chilled or warmed in water to provide some extra sensory fun.
The glass is a little weighty, but it shouldn't be tiresome on the wrists. As I stated before, care should be taken not to thrust too hard or too deep because this can cause internal bruising. If you're using this toy with a partner, make sure to communicate with them to be careful while they're using the dildo on you because glass is so unforgiving.

I do like this toy and I think it's very pretty and I enjoy looking at it. I am able to get some G-spot stimulation from it, but unfortunately I don't get as much as I do from other dildos with smaller bulbs.
Follow-up commentary
2 months after original review
It's not that I dislike this glass piece, but it never particularly wowed me. It's gorgeous to look at, but the globe on the end was just a little too large to give me the type of G-spot stimulation I usually look for when using this kind of toy. And the shaft was also a little thin for my taste.
I noticed that I was never reaching for this toy, so I ended up passing it on to someone else who could get more use and enjoyment out of it.
This content is the opinion of the submitting contributor and is not endorsed by EdenFantasys.com

Thank you for viewing
Icicles No. 17
– dildo sex toy review page!