Galaxy Sex
The Galaxy Marble glass sex toy provides interesting, light stroking to the g-spot while still being an amazing-looking toy. The double-ended aspect ensures that you'll never really get bored of the sensations that this quality glass piece can provide.
Published:
Pros:
Easy to insert, Gorgeous, Provides light g-spot stroking, Double-ended
Cons:
Doesn't provide firm g-spot pressure, No padded storage bag, Sometimes catches pubic bone
The Galaxy Marble Glass Sex Toy is a g-spot dildo made by Phallix. It's a small-diameter toy with a diameter of just an inch and a fourth at the widest point. The majority of the shaft is just an inch in diameter though; it's only the head that has the wider diameter. The dildo is about seven inches long, and it's made from Pyrex glass, so it's intended to be strong. The color of the EF pictures match the dildo itself, but the View Actual Product Size widget is off. I'm not sure if this is because the dildos are all handcrafted or because Phallix switched up the products, but it is off. The head of the Actual Size Widget is a lot more elongated while mine is much more stout and mushroom-like. Along with this, the curves in the Actual Size Widget are very right-angle-ish while the real product is more like 45 degree, sloping angles. You might find that it might effect the use if you require something with more of an extra angle.

I love Phallix products (and how they look), but I'm always disappointed with Phallix packaging. The packaging is just a plastic blister-pack packaging, and because it's so large (over twice the length of the dildo), it's not suitable for storage. Phallix includes a little satin sewn bag with their dildo, but the bag is unpadded, so it may not keep your toys too safe. The dildo fits nicely into the bag though, so you can store it in the bag as long as you are careful about not dropping the toy.

I like this Phallix toy. It looks really gorgeous. The thing I like the most is that it looks so different when viewed from the side. It has two little, sloping 45 degree angles that makes it really easy to use and hold the toy. Along with this, the dildo is clear through the shaft, but it has a pretty design in the head only. Looking at the side of the dildo, you can sorta see the pattern, but it's nothing amazing. If you look at the dildo from top-down, the design looks completely different. You can see little metallic-looking fragments through the body of the head, and at the ridge of the head, there is a layer of blue, so it's all backdropped with the blue. (You can see what I mean by looking at the Actual Size Product widget.)

How does it work? To be honest, I was a bit disappointed that the dildo I received looked so different than the dildo that was listed on the EF website. The one listed on the EF website sorta resembled my Bent Graduate glass toy, and as such, I had a feeling that it would work well for me for g-spot stimulation. The one I receive had a lot more sloping of a curve, and as such, I was a bit worried about how well it was going to work during use.

It turns out that my fears were not senseless. The dildo did not work as well as I wanted it to when it came to stroking the g-spot. Instead of applying firm pressure, I found that, with me, it only applied more gentle, stroking pleasure. I love the firm pressure that the Bent Graduate applies, but with this toy, it doesn't seem to get up nearly as firmly. However, that didn't mean that it wasn't pleasurable. It actually was pretty pleasurable, and while the g-spot pleasure wasn't too direct, it was still there, and even having it there is a lot more than other g-spot sex toys do for me.

One problem I did have was that the head, which is pretty large compared to the shaft, did catch on my pubic bone a couple times. This feels really awkward, and while it wouldn't keep me from using the sex toy, it did keep me from thrusting as freely as I would have liked to with it. I think it had a lot to do with the fact that this is one of the few g-spot dildos I use that has that obvious ridge along the head of the toy.
Experience
If you haven't figured it out, this glass toy is actually double-ended as well. It's obvious that it was meant to be used with the head-side in first, but you can use it with the "butt" end first as well. I didn't have nearly the same amount of success with this because, while the Actual Product Widget makes the two ends look equal, in the dildo that I received, the non-head side actually is a little bit shorter than the head-side. I didn't have nearly as much success with g-spot pleasure with the non-head side, but it is an option if you don't like the head on the opposite side.
Because this is glass, it can be used for temperature play. You can place it in slightly warm or slightly cold water to change the temperature of the dildo itself. Along with this, the glass is amazingly slick, so inserting this toy takes very little lubrication - if any. I usually use a bit of lubrication, but you don't nessacarily have to use any. I like the bends in the dildo because it makes it easier to hold the sex toy during use. It doesn't provide a no-slip curve, but being able to slip a finger around the bend makes it a bit easier to hold. I will admit that it's not "perfect" though. I've still had a few times where my hand has slipped off the sex toy because I used too much lubricant; it's just one of those properties of glass.
Glass sex toys can be cleaned by using warm water and antibacterial soap. Because it's non-porous, you can also use bleach to sterilize it for multiple-partner use. It's compatible with all types of lubricant, and while you can keep it in the original bag, I highly recommend purchasing another padded storage pouch if you want to make sure no harm comes to this toy.
I like my Galaxy Marble g-spot toy. I'm not amazingly impressed by it, but I do hold a favorable opinion of it. The head makes it a little awkward when it catchs on my pubic bone, and it doesn't firmly stroke the g-spot like I wanted, but it's still a quality toy. It's not going to break during use, and if you think this is the shape that's really going to bring you pleasure, it's worth purchasing.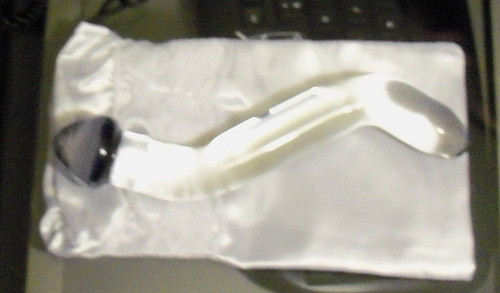 This product was provided free of charge to the reviewer. This review is in compliance with the FTC guidelines.

Thank you for viewing
Galaxy marble
– glass g-spot shaft review page!