I Wonder Who this Works For
Until this toy, I thought I could find a use I loved for every glass toy. After exhausting testing, there just isn't anything about this toy that knocks my socks off. There is a better glass choice out there for any type of stimulation you could be looking for.
Published:
Pros:
-Beautiful
-Easy to Clean
-Lots of Uses
Cons:
-Color isn't Very Vibrant
-Doesn't Offer a Lot of Stimulation
The Violet Wonder is a beautiful glass dildo, and could be used in a variety of ways. You can use it for clitoral stimulation if you add a small amount of lube and rub the toy against your clitoris. You can use the toy vaginally as well, of course. I would not recommend this toy for any sort of anal play, as it lacks a flared base. It could very easily get pulled in too far and be lost, leading to an embarrassing trip to the ER. The balls and twist of the toy provide some mild texture, but nothing that should scare even the newest toy enthusiasts. If you're looking for a glass toy to provide a ton of sensation through texture, this isn't that toy.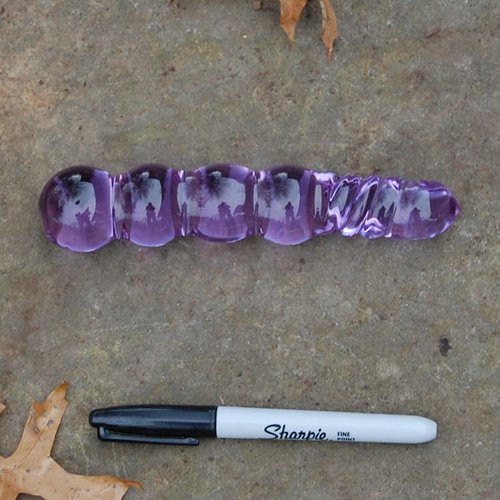 The Violet Wonder is double sided, meaning you could choose to insert either end. The total length of the toy is 6 3/4". The full length could be inserted if you wish, depending on your comfort level. I generally caution people in my reviews to be careful with glass toys, as you can damage your cervix by thrusting too vigorously with such a firm toy. Unless you have a very short vagina, you probably don't have to worry about that with this toy. If you are holding on to the end of the Violet Wonder and using it to thrust, you really don't have that much length to work with. The two sides each offer their own design and sensation.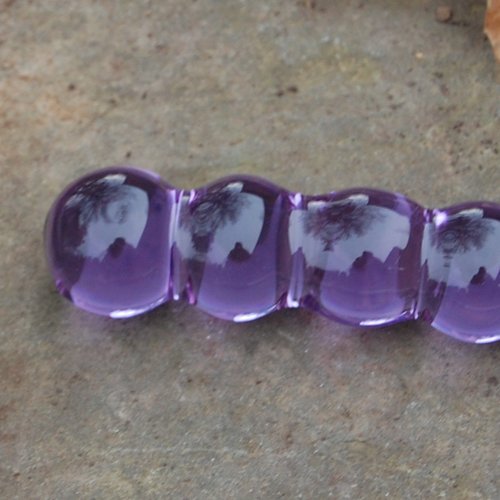 One end has 4 stacked balls, the largest measuring 1 1/4" in diameter. They are all similar in size, with no real discernible size difference. The other end has a twist. The design looks like someone grabbed the tip while the glass was still hot, and twisted it a few times. The diameter of the twist end is a little under 1", and the length of that portion is around 2 1/4". As a glass toy, it is firm and has no flex. You can reach your g-spot with this toy if you angle it correctly, or massage it by thrusting the toy.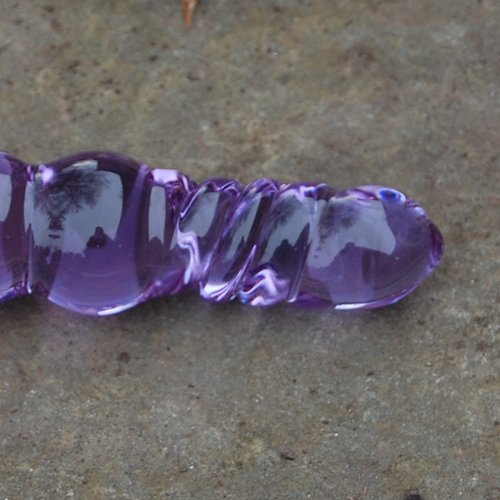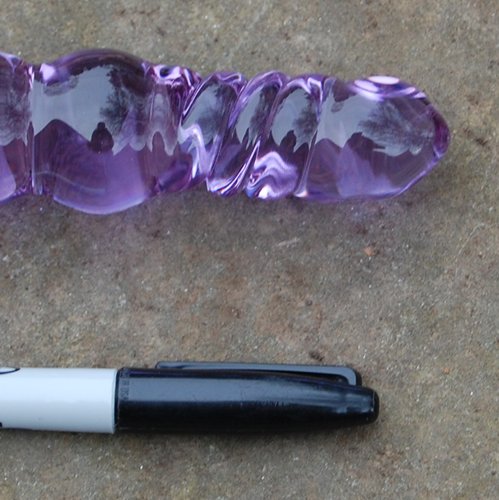 You could use this toy for some temperature play, as glass holds heat and cold well. Place the Violet Wonder in a dish of warm or cool water before using it to tease you or your partner. This toy could also be used for body massage, with a nice massage oil. Obviously, the toy is waterproof as well, so it could be used in the shower or bath.
Violet Wonder is made of borosilicate glass, which is non-porous, hypoallergenic, non-toxic, latex-free and phthalate-free. It has no smell or taste. Borosilicate glass is better known as Pyrex, the bakeware and dishes popular in kitchens the world over.
Cleaning Violet Wonder is simple. You can wash the toy with soap and water, or you can use your favorite toy cleaner. It can be sterilized by placing it in boiling water for three minutes, or washing it in your dishwasher. Because it is a glass toy, you can use any lube you like. It does not tend to collect lint or hair.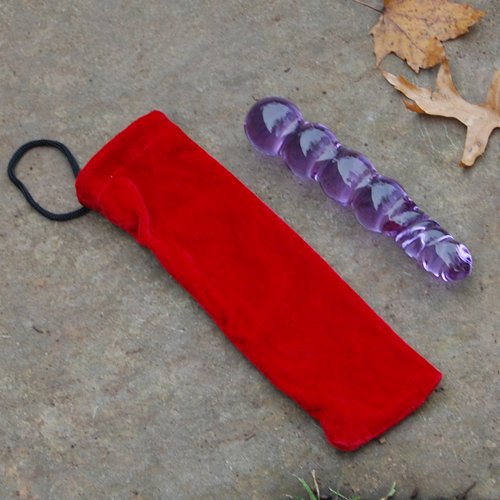 Violet Wonder comes wrapped in bubble wrap, within a plain red storage pouch. The pouch is ok, but is not padded. For storage, be sure to avoid storing Violet Wonder up against other glass toys, or anywhere it might bang against anything which would break it. No instructions, care information or paperwork came with the toy. It is pretty self explanatory, but you can consult the many reviews for tips on using this toy.
Experience
It is with a heavy heart that I must report, after exhaustive testing, this toy just isn't that great. I'm a huge fan of glass and have quite the collection. Even if I don't love everything about a glass item, I can usually, through trial and error, find some redeeming quality. With the Violet Wonder, I tried my best but was let down. This toy is one of the only glass toys I own that shows some flaws from production, as well. The largest ball isn't round, and has two flat spots. Another ball has swirls that are clearly not intentional, but errors. I know that each glass toy is unique, and will vary from toy to toy, but I wanted to point out that this toy has quite a few idiosyncrasies.

I can fit the entire Violet Wonder inside, vaginally. I joked with my husband that I could really shock the TSA inspectors when they did a body scan. You might be asking yourself, "Why would she do that?" I did that because I even tried using this as a kegel exerciser. It works as one, and that may be the way I dislike the Violet Wonder the least. At least when I use it for that, I'm not expecting it to deliver pleasure.

The end with the stacked balls doesn't provide a lot of sensation, and as a g-spot toy isn't thrilling. I could reach my g-spot with it, but couldn't get any sort of pinpoint stimulation. The side with the twist is so small that I really couldn't feel that texture at all. Thrusting the toy didn't provide enough sensation to excite me, and it's so short while you're holding it that the insertable length just isn't enough.

If you're looking for a toy with stacked balls, try Sapphire Falls instead. If you're looking for a toy for g-spotting, try the Amethyst. Either one of them will make you happier than this toy. I just can't make myself reach for this one, so it will make the prettiest paperweight I've ever seen!
Follow-up commentary
5 months after original review
This just isn't a good fit for me, and I still can't find a use that impresses me. It hangs around here, but doesn't get any use.
This content is the opinion of the submitting contributor and is not endorsed by EdenFantasys.com

Thank you for viewing
Violet wonder
– glass g-spot dildo review page!