It is a green double header!
The Cobalt blue double dong is the cutest double dildo I have ever seen, while it lacks in texture, length, and girth it is still a great piece to add to your collection. Overall this is a great buy, but is a bit expensive for the beginner's, which it is designed for.(There was no extended so forgive the lack of wording.)
Published:
Pros:
Color selection, comes in pouch, safe material, temperature play, and beginner friendly.
Cons:
Too small for double users at same time, expensive for what you get, and no texture.
Use:
The cobalt blue double dong is a double ended dildo that is meant to only be used on one person at a time, due to the length it is not going to work as an actual "double dong." The double dong is meant to be used during solo sessions or your partner can use it on you, the other end would act as if it were a handle. Since it is made of glass it can be used for temperature play, but you are not going to want to freeze or boil this for temperature play, doing so can do harm to you internally. The best way is to put in a bowl of warm or cold water, but you can add ice if you would like. I highly recommend cold glass; it is an awesome feeling that is unexplainable.
Material:
This dildo is made of
Pyrex glass
, which has a safety rating of a 10, because it does not contain any harmful or allergy causing chemicals, so it is great for all. Since it is made of glass it is not limited to only one partner, since it is non porous it can be sterilized by boiling. Then you can share with whom you wish, but if you are not going to sterilize it you should use condoms for your own protection. Glass is also a very unforgiving material, so it can and will bruise the cervix with hard thrusting and if you put it in your mouth be careful, because you could break your teeth. Glass never has an smell or taste either.
Texture:
There is no added texture to the shaft of this dildo; the only texture is the bulbed heads. These heads will create a popping and hit the G spot. It would be nice to have some swirls or something on the shaft.
Design/Shape/Size:
Each dildo is hand made, so they can all vary is size slightly. Cobalt blue double dong is a 7"dildo; without taking into consideration the curve, otherwise it would be about 8"; with a mushroom head on each end. The mushroom shaped heads have tapered tops for easy insertion, at their largest around they have a 4"circumference. The heads are 1 ¾" long and attached to a 4.5" shaft, this shaft has a 3"circumference and a little more than 140 degree curve. This is a very petite dildo, so it is great for traveling with, as long as you keep it well wrapped.
The design is more for beginners, since there is no texture and due to the size of this toy. Advanced users who like petite toys and no texture will like this toy as well, but texture lovers and girth lovers are not going to be happy with this purchase.
It is not really designed for anal and I recommend not using it for that purpose. If you do attempt this, be careful and keep a hold of the dildo, if the anal cavity begins to retract remove immediately and do not try again.
Performance:
After seeing how petite this dildo was, I thought it was not going to work for me, but I was surprised. While texture and girth would be nice to have added to this dildo, the curve made up for it. The curve and the heads help touch my shallow G spot, but if you have a deeper one the head will not reach it, but the curve should help reaching the zone. Since there are no controls to this dildo, it is completely waterproof, just be careful not to drop it, since it is glass and it is about the drain size, so it could get stuck.
Care/Maintenance:
This being made of glass makes it easy to care for, since it can be boiled for no longer than 4-5 minutes for sterilizing, so you can share it with partners. For quick washings just soap and water will do or your choice toy cleaner. It comes with a pouch for proper storage, then store with other toys, but away from other glass toys. You can use glass with any lube, so enjoy.
Packaging:
This comes is a clear plastic clam shell, with a paper insert, and a pouch for storage. This is great packaging, since it keeps the glass safe during mailing. The paper insert has lovely Phallix glass pieces pictured.
Extras:
The pouch that comes for storage is really pretty. Depending on what color dildo you get changes the color of the pouch. The green on comes with a black pouch with white lotus flower patterned lace on it, with a cute little ribbon bow. It has a pull string, that has a plastic button to hold in place. It's made of silky material, but is not padded.
Experience
What are my options?
This dildo comes in four colors, pink, blue, green, and purple.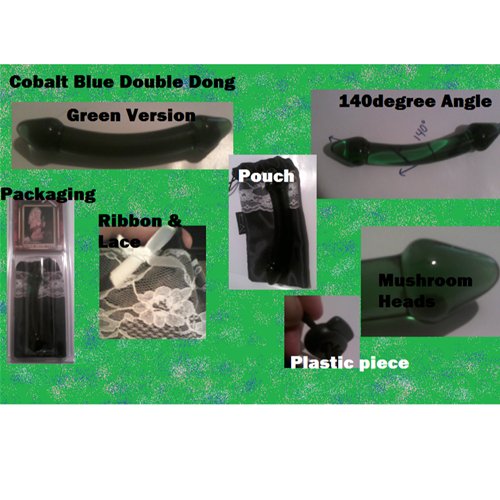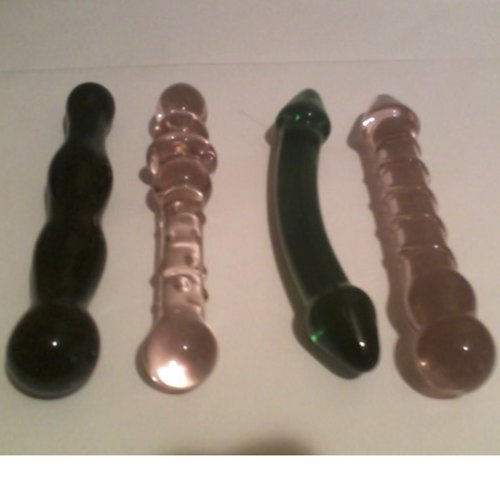 Comparison with
Swell
,
Pink Passion Wand
, and
Pink Swirl
.
Follow-up commentary
4 months after original review
This is one of the only green toys you can purchase on Eden, so i love it for that factor alone. I would like it more if there was some texture on it, but there is not, sadly. I use it once in awhile when texture is too much for me. Should you not like texture this is a great and simple glass toy. It is still expensive for what you get.
This product was provided free of charge to the reviewer. This review is in compliance with the FTC guidelines.

Thank you for viewing
Cobalt blue double dong
– glass g-spot shaft review page!