Junior Realistic Dildo: In for a Rough Ride
Junior fulfilled my need for a comfortable, body-safe dildo for my regular deep-throat training sessions. While I own a similar dildo, the strength of Junior's suction cup and the perfect balance between flexibility and firmness make Junior stand out as a top-notch dildo!
Published:
Pros:
Body-safe material, Perfect firmness, Strong suction cup, Comfortable size
Cons:
n/a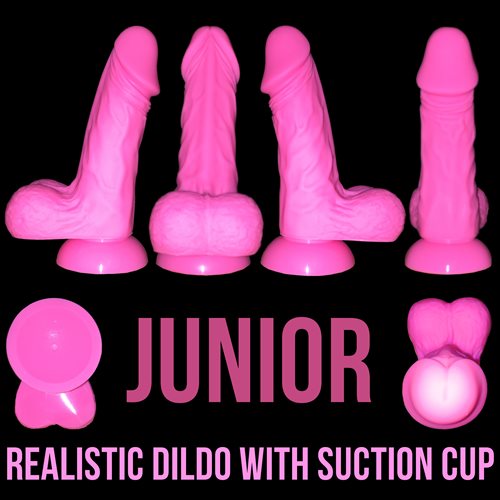 Why Did I Pick Junior?
Three months ago, I fell in love with the
Pioneer Realistic Dildo with Suction Cup
. The length and girth provided the perfect combination of comfort and pleasure. Previously, I used Pioneer for anal penetration as well as deep-throat training. However, I received many messages concerned with the safety of sharing the same toy for both anal and oral use. Therefore, I decided to look for a new toy with the comfort and pleasure of Pioneer but without the material safety concerns. Junior checked off all the boxes. Junior and Pioneer are practically identical in size and shape, but Junior is made of silicone instead of TPE. After having such a great experience with the Pioneer toy, I had high hopes for this toy as I anxiously awaited its arrival!
First Impressions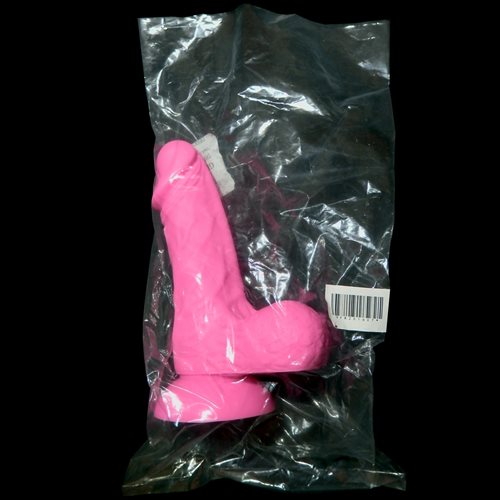 Junior arrived in a plastic bag, which I quickly ripped away to reveal the pink, realistic dildo inside. The first thing I noticed about this toy was the smooth silicone material.
Click here
to learn more about silicone. The smooth surface is enhanced by veins, wrinkles, and bunched up skin that add realistic texture to the dildo. Junior even has a pair of slightly asymmetrical balls!
My Favorite Feature: Suction Cup Base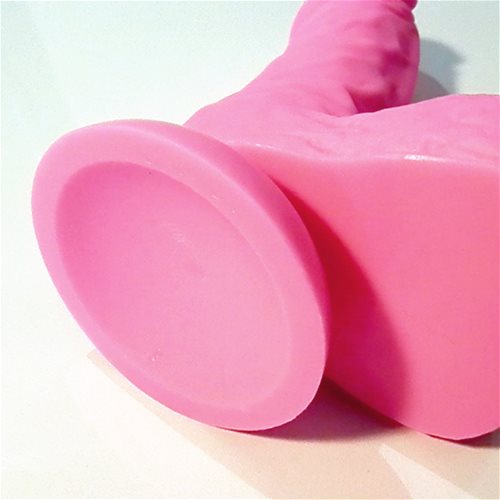 The most appealing feature of this toy is the suction cup base, which will stick to almost any smooth surface. I have secured the toy to white boards, bookshelves, windows, floors, and even my refrigerator. The suction cup and balls also provide a wide base, so you don't need to worry about the toy slipping inside your ass when exploring anal. Whether you're into pegging or shower sex, this toy provides so many possibilities for play. Watch my video review for a demonstration of Junior's incredibly strong suction cup base sticking to a bookshelf.
How to Clean Junior
As a body-safe, silicone toy, without any wires or batteries, there are many cleaning options for this toy. I can wash Junior with antibacterial soap and warm water, wipe down Junior with toy wipes, send Junior through the dishwasher, boil Junior, and even clean Junior with a 10% bleach solution. For oral-only use, toy wipes sufficed. If I had extra time or my play included vaginal or anal penetration, a wash with soap and water worked best.
If you're not careful, the texture around the head of the toy can trap dirt and dried lube. I found that scrubbing these crevices with a toy wipe before cleaning the dildo with soap and water did the trick.
How to Store Junior
Since Junior is a silicone toy, I try to keep it away from other silicone toys.
Click here
to read more about safe sex toy storage. After my toy is fully dry, I tuck the dildo into a micro-fiber eyeglasses pouch. I store all my toys in a toy bag and a toy box where each toy has its own pouch to avoid material interactions.
Experience
Comparison
The Junior Realistic Dildo with Suction Cup is very similar to the Pioneer Realistic Dildo with Suction Cup. Since I regularly use both toys, I will describe the similarities and differences I have noticed between these two dildos.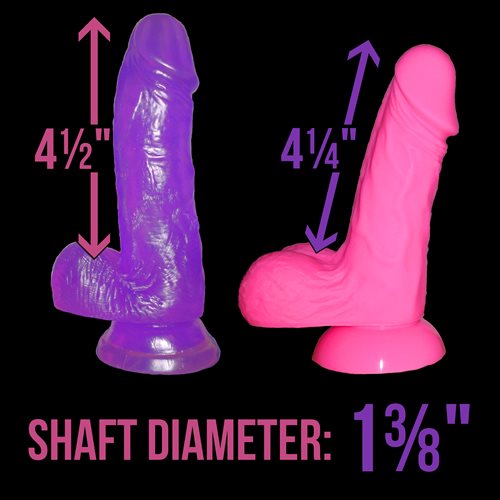 Comparison of Pioneer Realistic Dildo (on the left) to Junior Realistic Dildo (on the right).
Size
– Junior has an insertable length of 4 ¼" and a 1 ⅜" diameter. I found that Junior's size was just right, not too long or wide that it was uncomfortable when inserted vaginally but large enough that it provided a delicious pressure against the walls of my sex. For deep-throat training, Junior just barely entered the back of my throat. So, for deep-throat beginners, this toy will let you gradually acclimate to the sensation of an object entering your throat and restricting your airway.
Both dildos have the same diameter, however, Pioneer is slightly longer, with an insertable length of 4 ½". This difference in length was not noticeable. In fact, according to the product pages, both toys have the same insertable length.
Color
– Junior is an opaque, bubble-gum pink toy. I found this color very appealing, though not very "realistic." Pioneer has a semi-translucent purple color.
Shape
– The toys do not seem to be from the same mold of a penis, however, they both have wrinkly balls, bunched up foreskin, and veins along the shaft. Junior has a slight upward tilt to the shaft. When I stick both dildos to a surface, Pioneer's self-weight makes the shaft tilt downwards, while Junior's shaft, counterbalanced by the upward tilt, sticks straight out.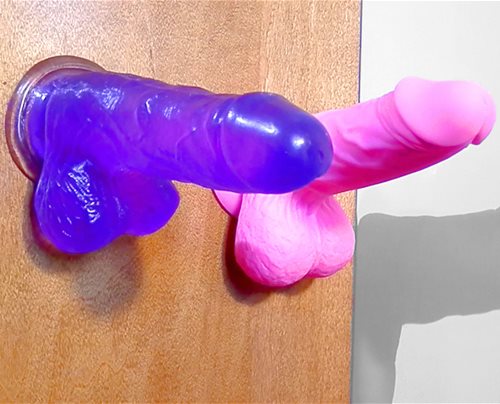 Comparison of Pioneer Realistic Dildo (on the left) to Junior Realistic Dildo (on the right).
Material
– Both dildos are very flexible. From the picture below and my video review, you can see that Junior can bend in any direction. Pioneer's TPR material is very squishy, reminding me of a rubber stress ball. Junior's silicone material is more rigid. When I am inserting the dildo, this difference in material becomes apparent. While inserting Pioneer, the material will flex and bend to avoid entering my holes. However, Junior will remain rigid and erect, making it easier for the head to breach my entrance.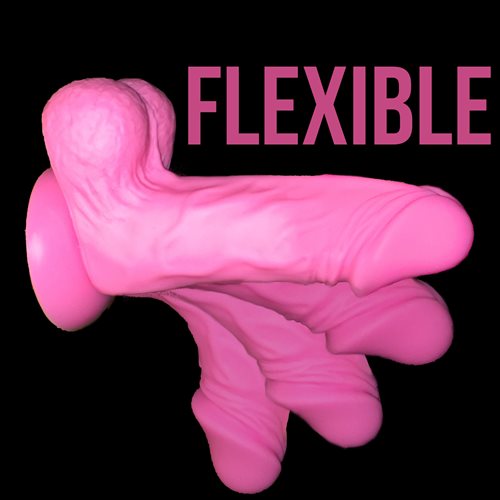 Suction Cup
– Both dildos have suction cup bases. However, perhaps due to the firmness of the material, Junior's suction cup is much stronger than that on Pioneer. With Pioneer, over time, the suction would loosen and the dildo would fall off the wall. On the other hand, with Junior, I could slap, bend, pull, and twist the dildo and the suction cup would not budge. This was wonderful since it allowed me to suck Junior for as long and as hard as I pleased without the dildo falling. When I want to remove Junior, I found that prying the edge of the suction cup up with my finger nail worked well to release the seal.
This content is the opinion of the submitting contributor and is not endorsed by EdenFantasys.com

Thank you for viewing
Junior
– realistic dildo with suction cup review page!