Lovely Lattachino
Phallix's Lattachino Swirl Probe is a glass dildo with plenty of texture and a slim girth. This artistic dildo is great for temperature play, and it even comes with a velvet pouch for storage. The beautiful Lattachino-work swirls on this dildo will have you oohing and ahhing - in more ways than one!
Published:
Pros:
Glass, Two kinds of texture, Artistic, Double-ended, Comes with pouch
Cons:
May be too textured for some
USE
Phallix presents the Lattachino Swirl Probe. The probe is a glass dual-ended dildo. One end is smooth and has a bulb that can serve as an anchor when using the toy anally. The other end has spirals wrapped around it, which use the beautiful Lattachino glass technique. This technique is used to create the unique and beautiful braiding of colors in the spiral wrapped around the dildo. For more on the history of glass-making, see this
link
. Below the spirals are three rows of pronounced nubs. This piece is for those who love texture!
Since this is a glass toy, it can be used for hot or cold temperature play. Running it under hot/cold water or putting it in the freezer/a bowl of ice are some ideas for how you can do that. Make sure to test the dildo's temperature on the inside of your wrist before putting it near your genitals, especially if you're heating it up. Don't expose it to extreme temperature changes, like boiling it then putting it in the freezer, since that could cause it to crack. Glass is a very rigid material, and thrusting hard with this could bruise one's cervix. Be especially careful when using this for partner play.
MATERIAL/TEXTURE/DESIGN/SHAPE/SIZE
This probe is made of
Pyrex glass
, which as a material safety rating of 10. It is non-porous, latex-free, phthalates-free, and hypoallergenic. The glass used for sex toys is very sturdy, the same glass used for casserole dishes, and it will not break during ordinary use. It will break if you drop it though. It should be examined regularly and if it has cracks or chips, it should be discarded immediately.
There are three different textures present on this piece. Closest to the tip is a spiraling texture, with the Lattachino work. The spirals are blue and white, while the rest of the piece is clear. The spirals are very pronounced and they are about 3/8 inches apart. They start about 3/4 inch from the tip, and continue to 2 1/4 inches down the shaft. The nubs start at 2 3/4 inches from the tip and continue to 4 1/4 inches. There are three rows of four nubs. The nubs are about the size of the tip of my pinkie finger. The nubs and spirals stand out a little less than 1/8 inch from the shaft. After the nubs, the rest of the piece is smooth with a bulbed end. The total length of the toy is 7 inches, with either end being insertable to 6 inches. The bulbed end should not be inserted anally. The bulb has a 1.5 inch diameter, while the rest of the piece is 1 inch in diameter. The texture makes it feel more filling than most 1 inch toys. The product page lists this toy as being 1 1/4 inches in diameter. Keep in mind that this is a handmade toy, and there may be slight variations. The extra 1/4 they're listing could be from the nubs/spirals, but the shaft itself is 1 inch.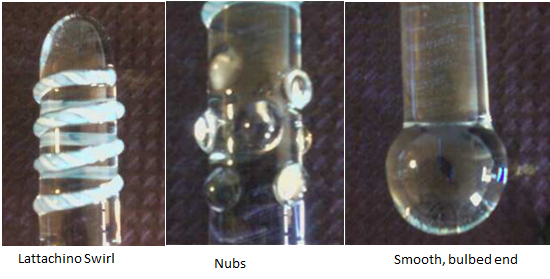 CARE AND MAINTENANCE
Glass is easy to care for. In between regular uses, washing it with soap and water is best. You may have to give some special attention to the ridges around the spirals, since that can collect fluids. You can also use a toy cleaner. It can be sanitized by boiling (for no more than three minutes; use tongs or oven mitts when removing), using a bleach solution, or putting it in the dishwasher (top rack, no soap). This toy is compatible with any kind of lube you prefer.
For storage, I keep this toy in the velvet pouch it came with. This pouch can also be used for storing it when travelling. The pouch is not padded. It's pink velvet fabric. This toy isn't at all discreet. If someone sees it, they're going to know what it is used for. If this is a concern, then it's easy to hide away in a drawer.
PACKAGING
The packaging for this Phallix piece is a clear plastic clamshell that pops open. Inside, there's an insert with information about how to care for your new Phallix toy, along with pictures of other Phallix products. The toy is nestled against its pink velvet pouch for protection. The toy is visible through the packaging, and there is a picture of a naked woman on the insert visible when you receive the toy. It's not discreet. The clamshell could be used for storage, but it's rather bulky. Besides, the toy comes with a great little pouch with a drawstring that can be closed to prevent the toy from falling out. Below are front/back pictures of the whole package and the insert.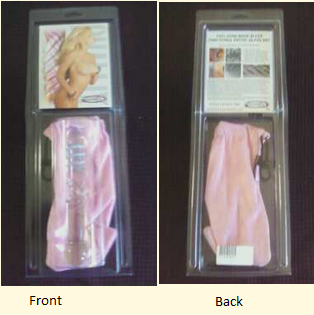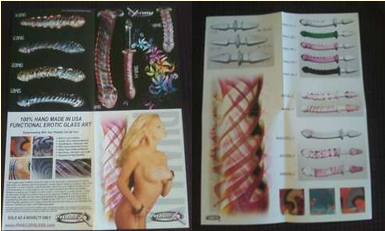 Experience
PERFORMANCE
Because of the amount of texture this toy has, I recommend using some lube when using it. I don't always use lube with toys, but for this one, I do. The ridges on this toy stimulate the clit when rubbed against it, but this toy really shines when used vaginally. I felt like the texture was spaced perfectly. The spiral ridges rubbed me deep inside while the rows of nubs teased my entrance as I thrusted. If this toy was inserted as far as it could go, the texture would all be deep inside where it is not so strongly felt, so I prefer to use slow, shallow thrusts with this toy. The spirals create a lot of friction, which provides a sensation similar to using a ribbed condom, but more intense because of the rigidity of the material. The nubs provide more of a tickling sensation, but not the kind that makes you want to laugh. I'm not sure how to explain it. This is my first nubbed toy and I love the feel of it. Internally, past the sensitive entrance, the two textures feel pretty much the same, except the nubs are more noticeable than the spirals if you twist the dildo. The length of this piece is medium, and I didn't have to be super careful not to hit my cervix even when thrusting hard and fast with this. Except when I'm right about to orgasm, I tend to go slow with this toy because of the texture: I think that helps me savor it all the more. Twisting this piece while it's inserted also provides an awesome sensation. As with most glass pieces with bulbed ends, I found that when angled correctly, the bulb rubbed against my g-spot and was able to bring me to orgasm that way.
I can't comment too much on how this toy feels anally. For me, the texture was too much to use this toy anally. I tried, and I even did plenty of warm-up first, but my booty doesn't like texture. Even the
Icicles No. 1
feels like a lot of texture to my sensitive booty. This toy is safe for anal use, since it has a large bulb on one end that can serve as an anchor.
PERSONAL COMMENTS
I bought this toy partially because of its beauty. For anyone who covets beautiful glass toys the way I do, this one is a steal. The price is excellent for the quality of work. There are no flaws to the material in my piece, not even any small bubbles below the surface, and the Lattachino work is gorgeous.
This is a fairly slim toy with a lot of texture. I wondered when choosing this if the texture would be too much for me, since it's more textured than any other toy I've tried. I found that the texture felt great. The combination of those spirals deep inside of me while the nubs teased my entrance was great. I think the slimness of this toy contributed to making the extreme texture enjoyable for me. I would recommend this toy to intermediate glass users who love toys with beauty, a small girth, and a lot of texture.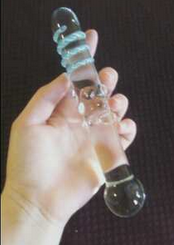 This product was provided free of charge to the reviewer. This review is in compliance with the FTC guidelines.

Thank you for viewing
Lattachino swirl probe
– glass probe review page!