MR. F
For an inexpensive piece of glass that looks way kinky and may leave anyone who finds it scratching their heads, this is a neat toy. Though there is a pretty odd design flaw, I still believe that the toy's good qualities save some of its bad.
Published:
Pros:
glass, inexpensive, dildo textures are nice, size is nice
Cons:
design flaw, made backwards
Every time I see this thing, I hear a voiceover of a British woman saying "Mister F" in old James Bond movie fashion. I wonder why that is.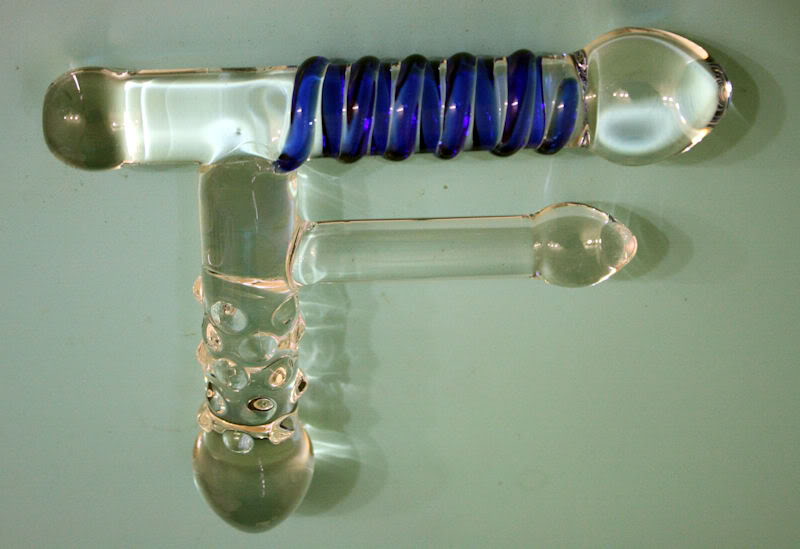 The Swirly Deuce Jr is a glass toy designed for double penetration. It's sort of like the Swiss Army Knife of double ended dildos , as it features two dildo pieces and a small piece for anal play.
There's a lot going on here, so let's talk about it.
As you can see, the two dildos feature different textures. The one that is designed to be used with the anal piece has a blue swirl that gives a slight bit of texture to the ride, and the "free piece" as I'll call it has raised bumps. As you can see, most of the toy is clear, with just the swirled texture accenting it with a pretty cobalt blue.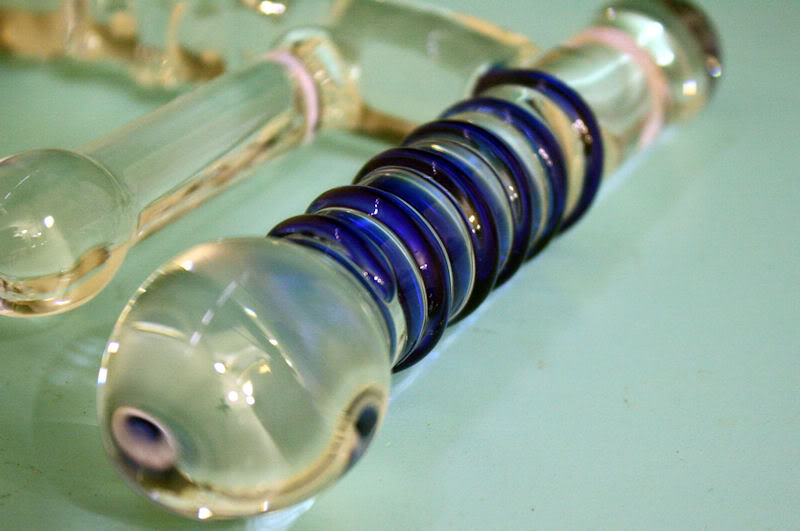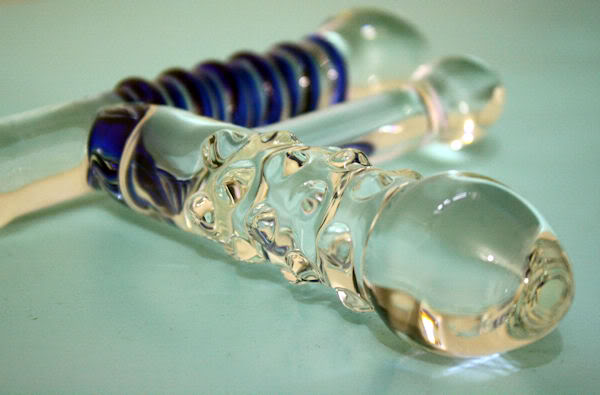 The anal piece and swirly dildo sprout up from the free piece, and are about a thumb-width apart (so if it takes more than a thumb to measure between your anus and vagina, this toy will not measure right for you.) None of the dildos measure as terribly girthy, coming in at about 1 1/4 inch diameter, but the anal piece is roughly 1/3 of the size of the swirly dildo.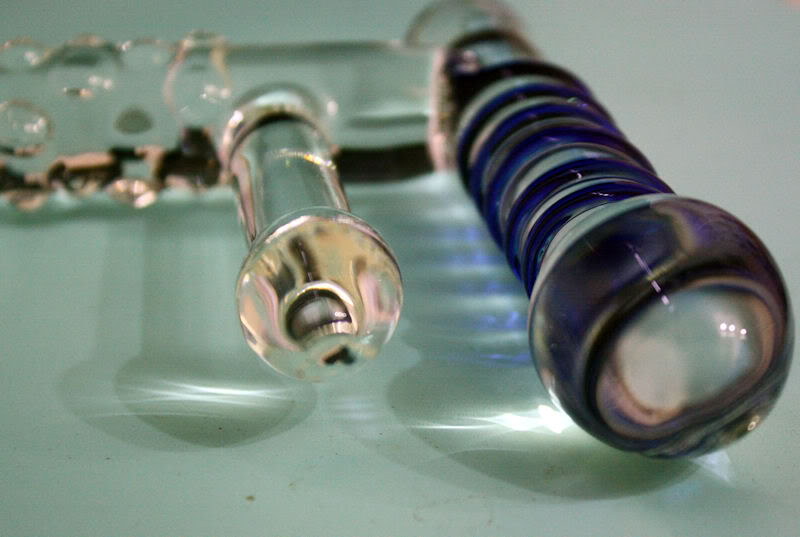 This piece is made from Pyrex glass, which is a very fun material to experience in a sex toy. It can be chilled, warmed, and sanitized by boiling. You could even throw it into your dishwasher. Because the glass is Pyrex, it is designed to only break into large pieces rather than splinters or shards. Always check your toy before use for cracks or chips, and use any lube you desire.
Experience
The idea for the design is great in the sense that you've got that extra dildo attached, but the execution is all off. Due to how the swirly and anal pieces are attached to the bumpy dildo, if you were to lay on your back and use this toy, the bumpy dildo is awkwardly pressed into the bed and therefore harder to control and thrust.

Don't get me wrong, the bumpy dildo was very fun and had an easy handle (by grabbing the blue swirl one) and I was able to get off pretty quickly with that end. But when it came to trying out the double plug action, I was disappointed with how difficult it was to thrust the toy.

I wasn't even able to switch the toy around and have the anal piece rub my clit. PS, if you do that, and it's been in your butt, clean it first. That's how you get a nasty butt germ infection.

I will say this though, for not being a fan of anything in my butt, the anal piece on this toy was perfectly sized. And the smoothness of the glass made insertion much less of a chore. Because I couldn't really thrust with the toy, I inserted it and switched on a deep massager on my clit and had a nice "trigasm" experience. Still though, the design flaw in this toy kind of sucks. Then again for the price it might not really be worth it. It's still a nice thing to have on hand, and plus it's way freaky and kinky looking. Credit where credit is due, yo.
This content is the opinion of the submitting contributor and is not endorsed by EdenFantasys.com

Thank you for viewing
Swirly deuce jr
– double ended dildo review page!