My Ultimate Fantasy!
All in all, this is one amazing dildo. Perfect for males and females alike, and great for partner and temperature play. Easy to clean, with tons of texture. Awesome for G-Spot orgasms, and if you have never ejaculated (females), this will help you get there! Give this one a try, it is definitely worth it! It's going out of stock FOREVER very soon, so be sure to pick this one up ASAP!
Published:
Pros:
Lots of texture, Good length, G-Spot Curve, Easy to clean, Comes with quality storage pouch
Cons:
May be too intense for some, Colors were a tad bit darker in real life, May be too much of a curve
I am presenting to you, the Two Way Bumpy Fantasy by XHale Glass. It is a lovely piece, even when just giving it a look-see. Almost seems like something you would like to keep out for show. It is about to go out of stock pretty fast due to it's discontinuing, so if you like what you see, go for the goal and put this baby in your cart!
The Two Way Bumpy Fantasy will be your ultimate play time toy. Both ends are fully functional, not only for internal stimulation, but also for massage. You can use either end to rub your own back or partner's body, and if you add a little bit of oil it will intensify those effects. Both sides make fun anal probes, and the bumpy side is particularly great for G-Spot and anal stimulation. I have to warn you, this toy is extremely intense!
I find this toy to be better with a partner, and I absolutely love having my fiance thrust it into me as I lay in front of him with my legs opened wide. He finds the swirled end to be for useful as a handle. Many toys are very hard to hold on to, especially when things get heated and wet; With the Two Way Bumpy Fantasy, you will have no problem at all holding onto either end. This dildo/probe was designed especially for comfort during play, and it is shown through the quality of this piece.
Here are the measurements. As you can see they match up perfectly with those shown online: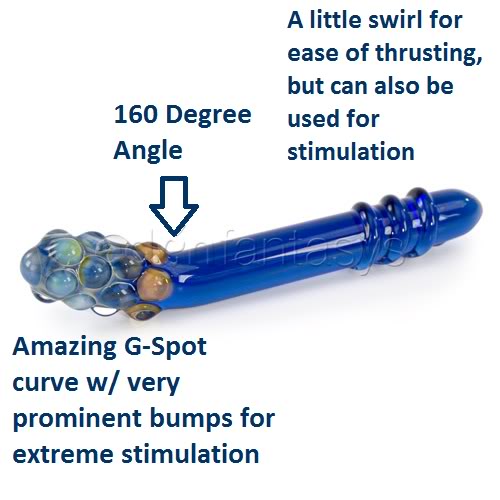 Pay attention to the simple, yet beautiful features this toy has. Absolutely wonderful for G-Spot stimulation, and you'd be surprised what this gorgeous thing can do anally! The 160 degree angle makes this dildo perfect for most body shapes, but you want to start out slowly to make sure you are fully comfortable when using it.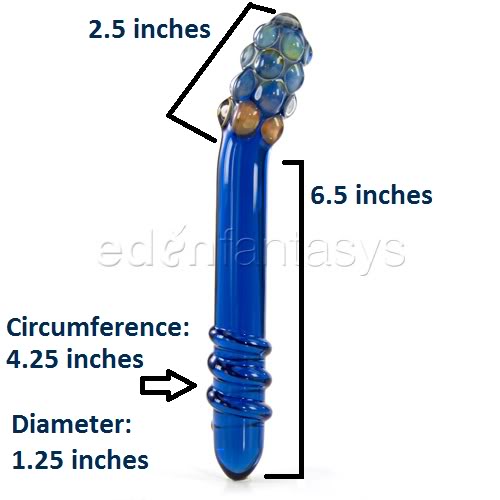 This product is made of tempered glass, also known as Pyrex glass/ Borosilicate glass. Borosilicate glass is a type of glass with the main glass-forming constituents silica and boron oxide. Borosilicate glasses are known for having very low coefficients of thermal expansion (~3 × 10-6 /°C at 20°C), making them virtually resistant to thermal shock, more than any other common glass. Pyrex glass can be heated to temperatures between 425°F - 600°F, depending on the production company. Nonetheless, you could easily heat a glass toy in the oven without self-destruction. However, it isn't recommended.
You can also find Pyrex glass in your kitchen. Glass baking dishes and mixing bowls are often made of Pyrex due to how well they can withstand heat and cold. This makes Pyrex glass great for temperature play. Just be sure not to go from too hot, to extremely cold, TOO quickly. This can actually result in your toy breaking. You should always let your toy either warm up or cool down to room temperature before switching.
Glass is fairly easy to care for. Since Pyrex glass is non-porous, you can wash it using any soap you darn well please. Hand soap, dish soap, toy cleaner, or Isopropyl Alcohol solution. Antibacterial soaps are recommended for the sake of any germs that are sitting on the surface. I use a Bath & Body Works hand soap. I start by rinsing my toy with warm water and then applying a nickel-sized amount of soap to the glass piece. Next, I massage the soap all over using my hands or a towel. To make sure that the toy is as clean as possible, I use a soft-bristled toothbrush to gently scrub all over the toy and remove surface scum.
You can also dishwash your toys on a medium/low heat cycle, top rack, with a glass-friendly detergent or boil for 10 minutes in a large pot. Before using these methods, you should always check your glass toys for air bubbles. Air bubbles are common, and happen when the glass is being blown. They often go unnoticed since glass is clear. Air bubbles can cause your Pyrex glass toys to break into pieces under high temperatures.
When receiving your toy from EdenFantasys, immediately get a good feel of the surface using your naked hands. If you feel or see any cracks, sharp edges, medium/large air bubbles, or any other imperfections that look harmful, be sure to make a support ticket online. Let your representative know that your toy has a potential health risk or defect. EdenFantasys will cheerfully refund you or send you a new toy. If you aren't sure that your toy has a defect/health risk, your representative can refer you to someone who can help you better determine this.
Experience
This toy comes with its own padded storage bag, very similar to the Phallix Pleasure Pouch. So there's no need to buy extra storage. The pouch is very thick, and will protect your toy from any hard falls. The pouch also makes a perfect gift pouch, which is a wonderful extra!


I love this dildo, but it is very intense and it isn't one that I could use every night. It takes some getting used to. However, it gave me my very first G-Spot orgasm and it felt amazing. It is also great for female ejaculation, so be careful not to make a mess! The Two Way Bumpy Fantasy feels amazing if you leave it inside of your vagina during clitoral stimulation with a bullet/vibrator. When you orgasm you can feel your body tense up against the nubs and it's one heck of a climax!
Follow-up commentary
6 days after original review
It's a little early to do a follow-up, but I wanted to mention that this one gets a little painful if I use it two nights in a row. I've really had to start alternting my toys. I only like the bumpy side, so it's always an intense session with this one. If I'm sore I'll either leave it in stationary and play with my clit, or use another toy until the soreness goes away. I still love it though.
This product was provided at a discounted price in exchange for an unbiased review. This review is in compliance with the FTC guidelines.

Thank you for viewing
Two way bumpy fantasy
– glass dildo review page!