My vagina deserves a golden rod!
Phallix's Gold Wrapped G-spot Wonder is a sight to behold...there's seriously gold in them ridges! The size, texture, and gentle curve make this glass wonder a delight to look at, and certainly to play with.
Published:
Pros:
Actual gold in glass, just right ridges/texture, gorgeous, storage pouch included
Cons:
Thin storage pouch
Use
Phallix's Gold Wrapped G-spot Wonder is a gorgeous, spiral wrapped G-spotting glass gildo colored by a real 24-karat gold "fuming" process. The product page states that the gold is actually inside the glass (and not painted on), so it will never fade, wear off, or chip, and that it's completely body-safe. The G-spot Wonder obviously does wonders for the G-spot with its gentle curve, and that's its best use - vaginal play. However, those intent on using this anally should have some experience under their belts, or a partner with a firm grip as there is no clearly defined base on this toy.
Material/Texture
The G-spot Wonder is Pyrex glass, making it completely nonporous, hypoallergenic, latex and phthalates free. Glass rates a 10 on Eden's material safety scale; it is wonderful for temperature play and can be fully sanitized so as to be shared between orifices and partners. However, glass is a very unforgiving material, it is hard and rigid so care should be taken when thrusting to prevent injury to the cervix.
Glass is also very smooth, as well as taste and scent free.
Design/Shape/Size
The G-spot Wonder is 7 1/2" long, 5 1/2" of which is insertable (either end can be inserted - the "head" shaped end or the bulbed end). The curve is gentle, and the "head" end of the dildo has the majority of it. The head itself measures about 1 1/4" long, has a 4" circumference and just over 1" diameter at its widest point. It also doesn't have a clearly defined ridge under the head, it just softly flows into the shaft.
The shaft is 3 1/2" in circumference and 7/8" in diameter between the spiral, the spiral sticks out from the shaft about 1/8". The spiral is also the only colored part of the dildo, the rest is clear. There are two bulbs at the other end of the toy; they are about 1" in length, 4 1/4" in circumference, and 1 1/8" to 1 1/4" in diameter.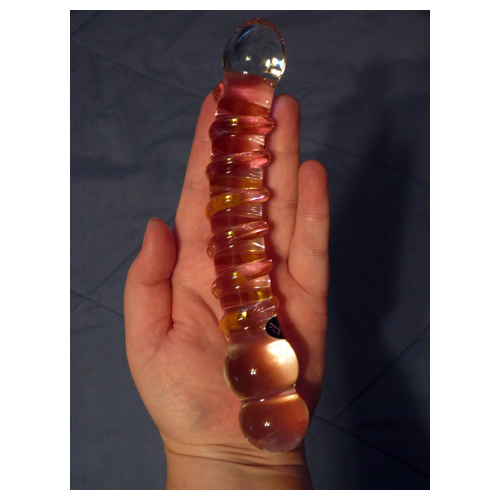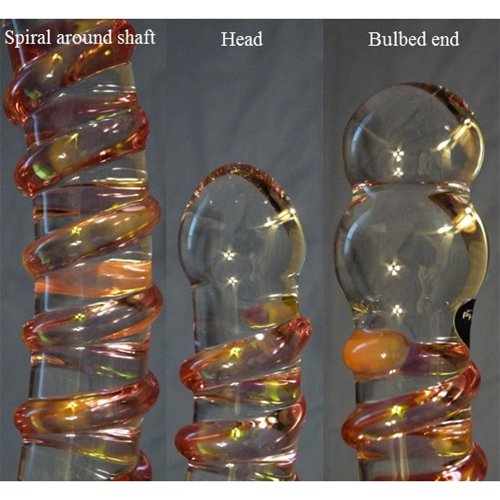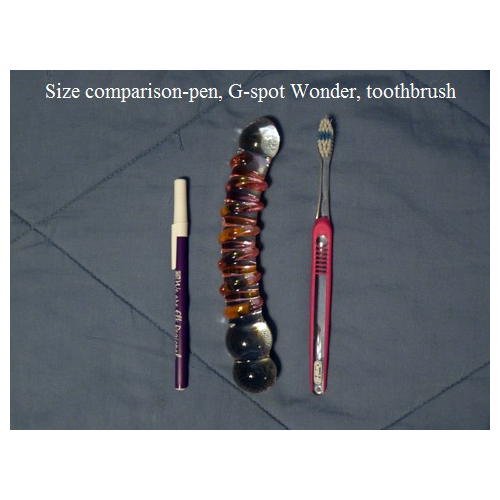 Performance
This dildo is truly gorgeous and works like a dream. Either end of it can be used for insertion, then either thrust it in and out, rock it back and forth, massage it over your sensitive bits, use it however you please. It also feels amazing glided over nipples or the clit. As mentioned above, if you choose to insert this anally, maintain a very firm grip on the toy as it doesn't have a flared base, or allow a partner to wield it for you.
Care and Maintenance
Caring for the G-spot Wonder is simple. Clean with either soap and water, toy cleaner, wipes, a 10% bleach solution, boil briefly, or place it in the top rack of a dishwasher with no detergent or one made specifically for glass. As with other spiral wrapped dildos, fluids can collect around the spiral, so be sure to clean thoroughly where it meets the shaft. Also, any and all lubricants are safe to use with the G-spot Wonder, though much shouldn't be needed because of glass's very smooth surface.
Phallix does provide a pretty storage bag with this dildo. However, it is thin, so if you prefer a more secure storage option (or plan to travel with the toy), purchase or make something more suitable to your needs.
Packaging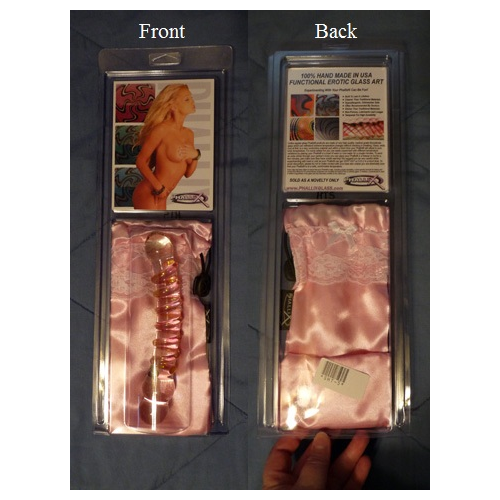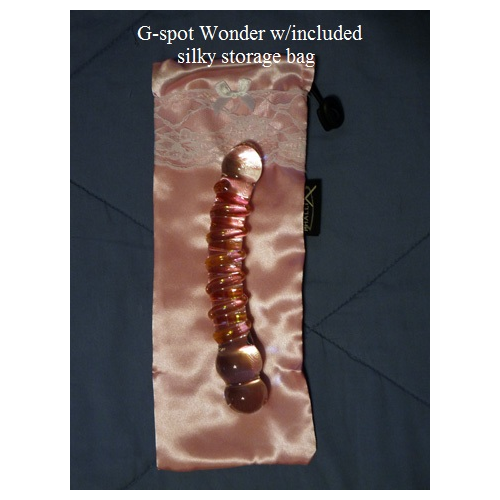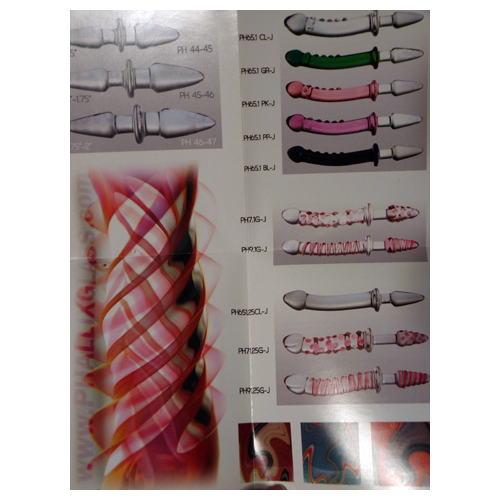 I've included photos of the pamphlet Phallix includes in the clamshell packaging just because there are some amazingly gorgeous glass pieces pictured and I'd absolutely love to own them all!
Experience
Take a look through Eden's catalog and you'll notice that Phallix has some pretty gorgeous glass pieces, and this Gold Wrapped G-spot Wonder is certainly no exception. And this thing seriously has 24-karat gold inside of it! That's pretty awesome...and probably unnecessary, but hey, it sure is pretty!
As for the actual toy itself...well, I love glass. To be more specific, I
love
glass! It has quickly become my favorite and preferred sex toy material. Plus my G-spot loves it and seems to respond to that material the best. I practically freaked when I was given this as my monthly free assignment because I generally get less than stellar items (compared to other people). As for how it functions...well, I figured out that I generally prefer smooth glass toys, or straight lines of nubs, and that ridges didn't seem to have any effect on me (like the head of the
Icicles No. 30
). However, I'm not sure if the idea of masturbating with gold is getting me off, or if these ridges are just right for my vagina. Probably both. For some reason, this ridged, spiral wrapped wand hits all the right spots and then some, and popping the bulbed end in and out feels wonderful as well.
This toy definitely gets 5 out of 5 stars from me! Sure it's a bit expensive and its shape/design/size is similar to other (more affordable) toys available...but how many people can boast about jilling off with actual gold?
Follow-up commentary
3 months after original review
While this is still a beautiful toy, it's spiral ribbing has started rubbing me the wrong way. I've come to realize that I like smoother toys with little to no texture, so this has been sent to a new home.
This product was provided free of charge to the reviewer. This review is in compliance with the FTC guidelines.

Thank you for viewing
Gold wrapped G-spot wonder
– glass g-spot shaft review page!