Tentacle of Love
The Icicles No. 30: a nifty and unique dual stimulation glass dildo. While where it stimulates you depends on how you use it and your anatomy, this truly is a neat, tentacle reminiscent toy that I'm glad I took a chance on.
Published:
Pros:
Glass, slight curve (which I love), can be dual stimulating or not depending on insertion depth
Cons:
Pointy small arm, the ridged texture doesn't do anything for me, won't fit all anatomies
Use
Pipedream's Icicles No. 30 is a glass, dual stimulating clear pink dildo. The longer insertable arm can be used for vaginal or anal play, with the smaller arm used to stimulate the clit, anus, or vagina, depending on what direction the inserted arm is in. However, this isn't a "one size fits all" type of toy. It won't fit all anatomies; some may find that the smaller arm overshoots their clit, hits it right in the middle, or doesn't hit it at all. Measuring your own genitalia and utilizing the actual size feature on the product page will help you decide if this dildo is right for you.
Material/Texture
No. 30 is made from Borosilicate (Pyrex) glass, which rates a 10 on Eden's material safety scale. It is smooth and nonporous, allowing it to be shared between orifices or partners. Glass holds temperature very well; let it soak in warm or cold water for some temperature play! However, glass is also very firm and rigid with no give or bend whatsoever, so one must be careful when thrusting with it to prevent cervical injury. Also, glass toys should be checked for cracks, chips, and scratches before play.
Design/Shape/Size
The Icicles No. 30 resembles a curled tentacle. Most of the toy is smooth except for small circle texture on the inside of the clit arm that looks like tentacle suckers. There are also three ridges that wrap around the head of the larger insertable portion of the dildo. These ridges remind me of the ridge under the head of a penis, just times three.
The larger arm of the dildo is slightly curved and measures 5 1/2" before it hits the curved loop at the bottom. All 5 1/2" of this arm can be inserted depending on anatomy. The smaller arm is 2 1/4" long from the loop. The loop itself is about 2 1/4" high and wide, with a roughly 1" hole. The loop makes an excellent handle for thrusting or rocking the dildo.
The largest part of the "head" of the longer arm has a circumference of 4 1/2", diameter 1 1/4", and the ridges stick out 1/8" to 1/4" in some places. The shorter arm has a maximum circumference of 2 1/2" and diameter of 3/4".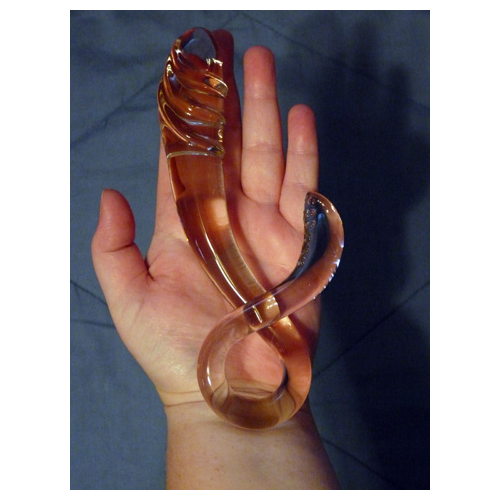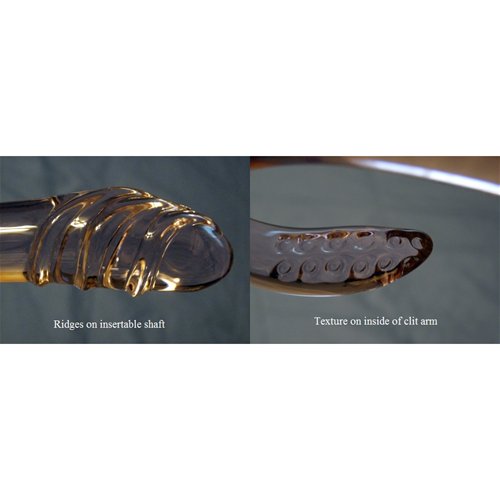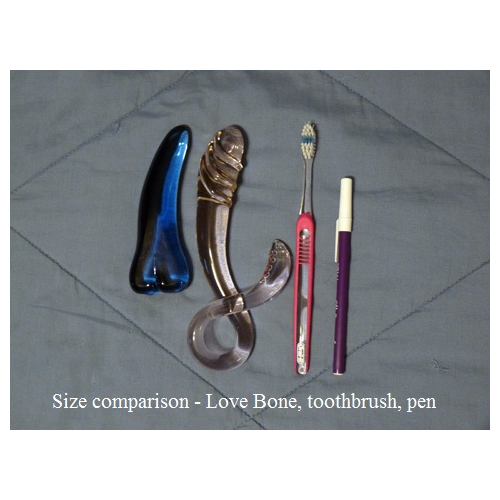 Performance
No. 30 is very simple to control/use. Insert the longer arm in whatever orifice you desire and use the loop and shorter arm to thrust or rock your way to heaven. Or you can insert the larger arm deeper so that the shorter arm makes contact with your body, location depending on where the longer arm is inserted and in what direction. However, the shorter arm on mine has a bit of a point at the tip, so I have to be careful when thrusting so as not to cause discomfort or pain.
Care and Maintenance
Caring for the No. 30 is very simple. Clean it with soap and water, toy cleaner or wipes, a 10% bleach solution, or boil it briefly. Glass can also be placed on the top rack of the dishwasher with no detergent or one made specifically for glass. Any and all types of lube are compatible with the dildo, though much shouldn't be needed because of the smooth, nonporous material.
The No. 30 doesn't come with a storage pouch. Either store the toy in the packaging it came in or purchase/make a storage pouch.
Packaging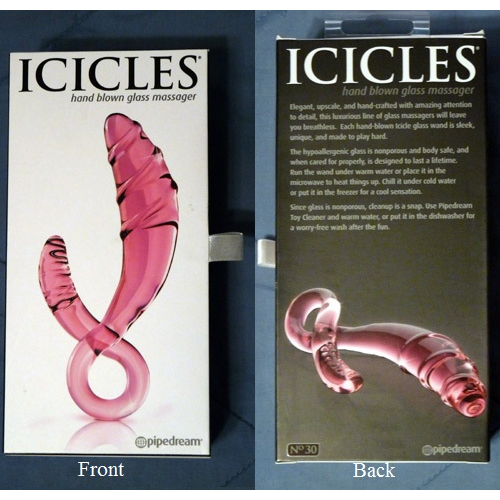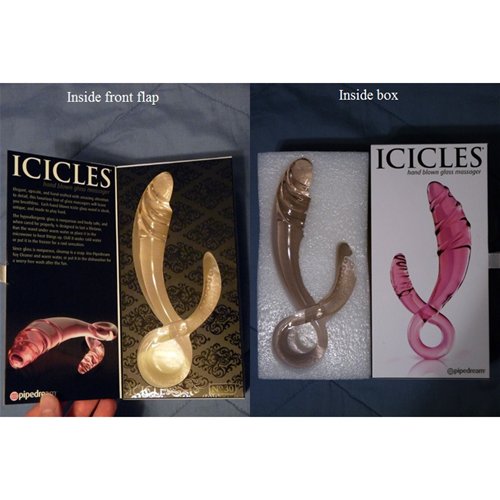 Experience
I was quite skeptical of the Icicles No. 30 before I finally purchased it. While I loved the slight curve and how it reminded me of one of my favorite G-spot toys (SSA Glass's
Love Bone
), I was worried that the shorter arm would poke my clit instead of gently stimulate it. Once I finally tried it out, I found that it will work for me, but because of that pointy little arm, I have to slow down and use this toy differently than I do others.
For me, this is definitely not a "wham-bam-thank-you-ma'am" type of toy. As I just mentioned above, I have to slow down and take it easy with this one. Because my G-spot is fairly shallow (about 2" in), I can thrust the larger arm in and out using the loop and smaller arm as a handle without the smaller arm making any contact at all. However, the ridged texture really isn't breathtaking for me and my G-spot, I definitely prefer smooth glass. I can get that textureless area by inserting more of the longer arm which brings the smaller arm in contact with my clit. Now this arm and where it hits you is definitely dependent on your anatomy...for me, the arm hits right above my clit, right where I do like to place small clit vibes. But I do have to be careful when thrusting because the pointy little tip hurts. I have to thrust gently with this, or rock with it, which I'm not used to. However, I found that gently rocking or humping it while lying on my side is lovely. Also, placing a pillow under my lower abdomen, right about on top of my pubic bone/mound, allowed me to basically hump the toy cowgirl style as long I pulled the loop down towards my anus, thus making sure the pointy tip of the smaller arm wasn't poking into me.
All in all, this is an interesting toy that isn't going to work for everyone, though gladly it actually does for me. Though as I said above, it does cause me to masturbate differently than I normally do, but that really isn't a bad thing. I just wish the tip of the small arm wasn't so pointy, thus this gets 4 out of 5 stars from me.
Follow-up commentary
3 months after original review
Even though this was a nice glass piece, I couldn't get over the very pointy clit arm and how painful it could be if I wasn't extremely careful with it. This has been sterilized and sent off to a new home.
This product was provided at a discounted price in exchange for an unbiased review. This review is in compliance with the FTC guidelines.

Thank you for viewing
Icicles No.30
– sex toy review page!