Eh. Nothing Else I Can Say.
I had really high hopes for this toy. It looked like something I would enjoy, but alas I was kind of let down. It is a beautiful toy, but I think the shaft is where it fails for me. It is thinner in person, and the curve simply isn't curved enough. However, the swirled texture feels amazing, and it is just enough to push me over the edge. While this can still give me vaginal orgasms, I have yet to have a G-spot orgasm with it.
Published:
Pros:
Pretty, Slightly textured, No surface damage with this one, Classy packaging, Friendly for all
Cons:
Not as curved as advertised, Not curved enough for me to achieve G-spot orgasm, Slim
Okay, I know what you are thinking. Jessica has
another
glass toy to review! I know, I know. I am addicted. Anywho, the glass dildo that I am reviewing today is called the Icicles No. 30. It is a new toy in Pipedream's Icicle line. I am always looking for weird and unusual sex toys, so I was instantly drawn to this toy. It comes in a very feminine and soft pink color, but the glass is still see through. Unlike the Icicles No. 35, this dildo came without any surface damage or scratches. Just like with any other glass or rigid toy, be careful when thrusting as it could easily bruise the cervix and other tender things.
The Icicles No. 30 is a curved glass dildo. It isn't as curved as Pipedream made it out to be, but the curve is good for shallow erotic zones. Another little stem comes out of the curly handle, and this is meant to stimulate the clitoris. It has some tentacle sucker looking things on the clitoral arm, so it delivers both pressure and texture to the clit. Even though this was made for a woman in mind, men can definitely use this for P-spot pleasure. The clitoral arm could be used as a perineum massager. If the Icicles No. 24 was too textured for you, I highly suggest trying this one out.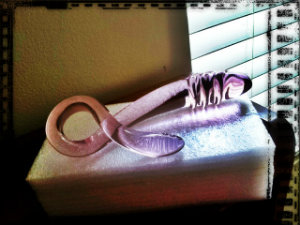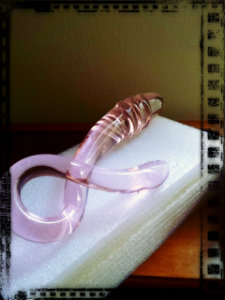 Material:
The Icicles No. 30 is made out of Borosilicate glass or better known as Pyrex glass. This type of glass is less dense than regular glass. Thanks to this, the toy will not splinter or break into thousands of pieces if dropped and broken. Instead it will break into large and manageable pieces. Pyrex is perfect for temperature play. Simply lay it in a bowl of water (choose your desired temperature) for about 5 minutes. Glass is a non-porous, smell/taste free, and hypo-allergenic material. It is also phthalates free and latex free, so it is safe for everyone. However, the rigid nature of glass will not be pleasing for everyone. The rigidity of glass is perfect for those that need pressure to achieve an orgasm (either via the G-spot, P-spot, Clit). Glass can be used with any kind of lubricant, and it also doesn't have any drag so it gets super slippery super fast. The toy does not collect any lint or pet hair, so no worries there! There are a few textures on the toy but nothing too extreme. We will get to that later.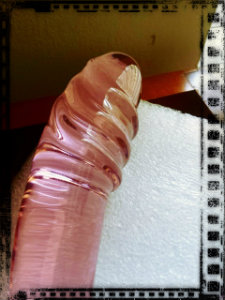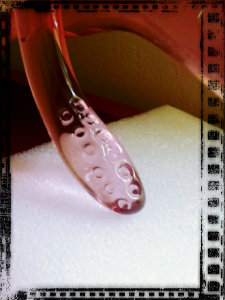 Design:
The curved and tentacle-like design of this toy reminds me of a less textured version of the Icicles No. 24. The one thing that I have to say is that the picture of the toy on the box is kind of misleading. The picture on the box makes the toy's shaft look full, curvy, and thick. In reality, the shaft is pretty thin and not as curved. The tip of the shaft has three swirls that go all around it. They are pretty raised and can be felt during insertion and thrusting. Luckily, these swirls are located right where the shaft starts to curve upward, so the swirls rub efficiently against the G-spot. The upward curve is very small, so this will work best for those with shallow or easy to stimulate G-spots. Other than those swirls, the shaft is completely smooth. The clitoral arm even has a little bit of texture on it to help stimulate it. The clitoral arm has two rows of tentacle-like suckers on it. They are indented and therefore not raised, so it is a very gentle texture. For this reason, I think everyone (even those sensitive to texture) will find some kind of pleasure in this texture. The toy is complete with a circle handle. There is a space between the handle and the actual shaft, but this doesn't bother me. I prefer to put one finger into the handle and use the rest of my fingers to curl around the handle's outside. For me, this makes guiding the toy during insertion and thrusting/rocking motions very easy. This is also how my husband tends to hold onto the toy.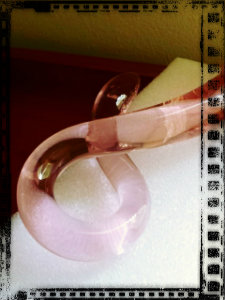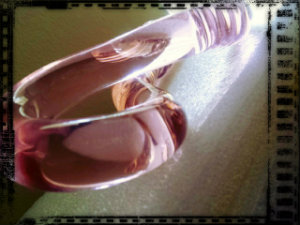 Experience
Measurements:
Insertable length of shaft: 5 11/2"
Diameter of shaft: 1 3/8"
Length of Clitoral arm: 2 1/2"
Diameter of Clitoral arm: 3/4"
Care/Cleaning:
Just like any other glass toy, this one is super easy to clean. For every day cleanings, I use warm water and antibacterial soap. Toy cleaners and toy wipes are also very good for cleaning on a tight schedule. None of the textures have given me problems when it comes to trapped fluids. For sanitizing purposes, boiling the toy for about 5 minutes should do the trick. You could also wipe it down with a 10% bleach solution or stick it in the top rack of a dishwasher (no soap). Glass is compatible with silicone, water, and oil based lubricants. As for storing the toy, I use the original packaging at the moment. You could buy a padded pouch from Eden or you could use an old (but clean) sock. Just to be on the safe side, I would always use a condom over the toy if sharing with a partner. Also, be sure to clean properly before going from anal to vaginal play.
Packaging:
Just like the other Icicles toys, the No. 30 comes in some very classy packaging. Although it is classy, it is not discreet. Every side of the packaging has a picture of the toy. There is a magnetic flap on the front that opens up to show the toy through a window. The packaging does contain some information regarding the toy. It isn't much, but directions aren't really needed when it comes to this dildo. I would not hesitate to give this as a gift, but I would also give the person a storage pouch as this one doesn't come with one. The packaging can be used for storage, but it does take up a bit of room.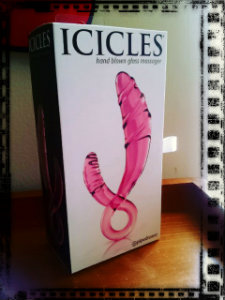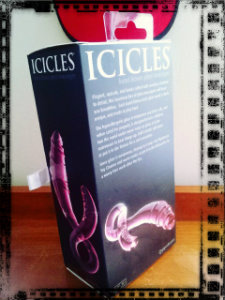 Performance:
I have only had a few experiences with this toy, and all of them are not worth mentioning. I have yet to have a G-spot orgasm with this toy, but I have had plenty of vaginal orgasms. That being said, I can have a vaginal orgasm at the drop of a hat and with pretty much any toy meant for vaginal penetration. While I enjoy this toy, I won't be using it in the near future. I feel like this will sit around and collect dust because I have other toys that give me better and more powerful orgasms. Like I said, this toy would have been amazing if the shaft had been thicker and more curved. Pretty much, I am disappointed with the Icicles No. 30.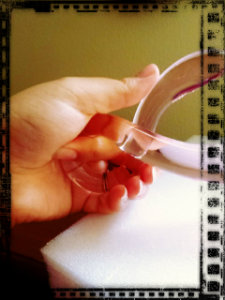 This product was provided free of charge to the reviewer. This review is in compliance with the FTC guidelines.

Thank you for viewing
Icicles No.30
– g-spot dildo review page!