Turned On By A Tentacle?!?
Icicles No. 30 is a gorgeous pink dildo that is uniquely shaped and reminds me of a tentacle. This is absolutely delicious for temperature play and can satisfy even the wildest fantasy!!!
Published:
Pros:
+Glass
+Beautifully Designed
Cons:
-Expensive
-No Storage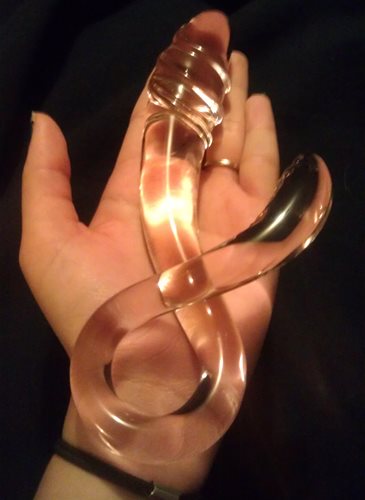 USE
The Icicles No. 30 is a beautiful piece of glass that is designed to deliciously stimulate your G-spot and clitoris at the same time.
This would safe for anal play because of the body safe material and the second arm would prevent it from getting lost. This would also be a good toy to use for foreplay to get warmed up for the real thing or it can take you all the way.
I wouldn't recommend this as a beginner toy as it does have a bulbous, textured head that may be too advanced for some new users.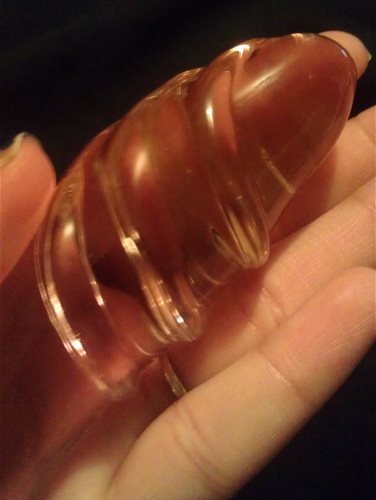 This could also be used for massage. With some firm pressure applied, it could work out some mild kinks. This dildo would be ideal to use during anal play to stimulate the G-spot and clitoris. You could probably use this during oral sex as well but you risk the chance of it getting in your way.
This glass masterpiece can be used in the shower or bath but I wouldn't recommend it because it could be very dangerous if you dropped it.
Material/Texture
Icicles No. 30 is crafted out of glass which rates a solid 10 on the Eden Safety scale. Glass is very rigid with absolutely No give to it. It doesn't collect lint at all which is a huge plus.
There is texture on the head of this toy that is very pronounced and very noticeable during use. There is also texture on the arm that resembles suction cups on a tentacle but its only for looks and can not be felt during use. There are no seams on this toy and it has absolutely no drag.
It can be disinfected by boiling it for 3 to 5 minutes or washing it with a 10% bleach solution.
One thing that disappointed me about this toy is the fact that is not true to color. The product page and the packaging make it seem more of a hot pink but the toy itself is actually very pale.
I wouldn't recommend thrusting with this as the hard material could bruise the cervix if you aren't careful.
You probably won't need lube with this toy as it is very smooth but if you do a small amount will go a long way (Any kind will do). It can be a little harder to hold onto with it all lubed up.
I recommend this material to someone that is looking for a rigid, body-safe material. There were no smells or tastes upon opening this toy.
Design/Shape/Size
This toy is tapered with the widest point at the head of the toy. It is hard to compare to the size of an average penis because of the unique shape. This dildo does have an upward curve to stimulate the G-spot. It is a great shape to hold as it has a loop at the end of it that makes it ideal for solo or couple play.
The measurements are as follows (from the product page):
Length: 7 1/2 Inches
Insertable Length: 5 1/2 Inches
Circumference: 4 1/4 Inches
Diameter: 1 1/4 Inches
Weight: 0.6 Lb.
People with large and tiny hands alike should have no problem holding on to this toy. It isn't very discreet and I'm sure if you left it sitting out people would know exactly what it was.
CARE
This dildo is very easy to care for. It can be cleaned many ways such as:
1.) Putting it in the top rack of the dishwasher
2.) Anti-bacterial soap and water
3.) Your favorite toy cleaner
4.) Boiling it for 3 to 5 minutes
5.) A 10% Bleach solution
This can be stored with other toys but I recommend putting it in a padded pouch of some sort.
PACKAGING
The packaging was very simple. The front of the box had a picture of the toy as well as both sides and the back. There was no suggestive or vulgar language or photos. The box had a window that displayed the toy and on the inside was the toy itself in a foam clamshell cut-out.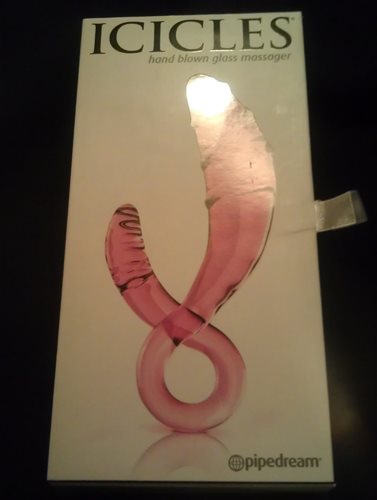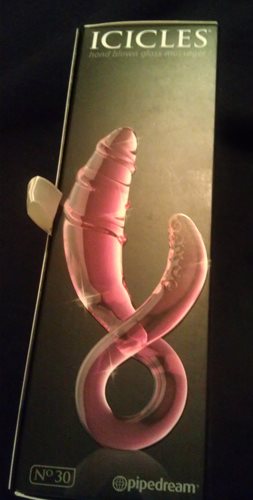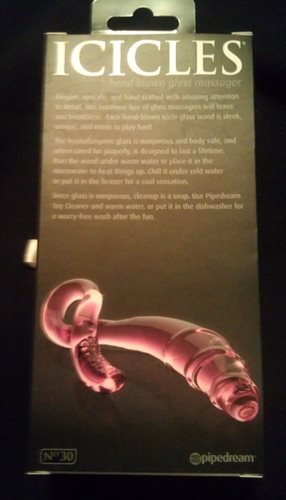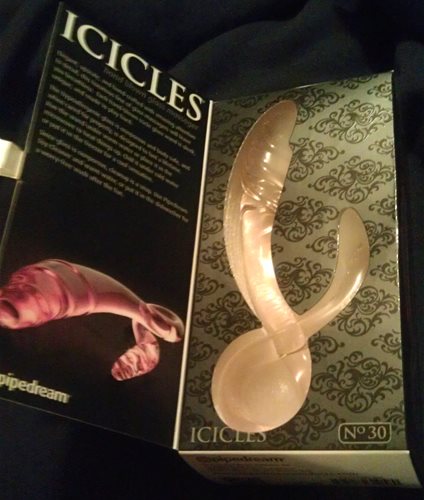 Considering the price and the fact that its GLASS it would have been nice to include some storage. You could use the box it came in for temporary storage but it is a little bulky.
Experience
I am giving this 4 out of 5 stars. I would have given it 5 if it included storage but that does not take away the beauty of this toy. If something happened to this one I would whole-heartedly purchase another.
This content is the opinion of the submitting contributor and is not endorsed by EdenFantasys.com

Thank you for viewing
Icicles No.30
– g-spot dildo review page!