Some minor imperfections
The Icicles No. 30 is a very beautiful glass dildo, but it has its downfalls. Although this may work for some people it won't work for most. I love that it's glass but I think this would have been better if you were able to move the clit arm around and if the shaft was a little thicker. I loved the lite texture on the head of the shaft and the clit arm because it does add a little extra stimulation, but that isn't enough to make it my favorite glass dildo.
Published:
Pros:
Texture, Slim, G-spot, Clit Stimulation, Glass, Beautiful, Unrealistic,
Cons:
Slim, Won't reach all g-spots, Won't reach all clits,
When this first appeared on the site I knew I had to have it. I wanted so bad that I didn't wait for reviews or anything. I just ordered it. Now, I wish I would have waited until I read some reviews before I decided to give this one ago. I normally love Icicles glass dildos, but this one isn't my favorite one but I do like it. The Icicles No. 30 is perfect for any women who enjoys glass dildos. You can use it to not only stimulate your g-spot but also your clit. It's wonderful for temperature play. You don't have to be experienced to enjoy this glass dildo.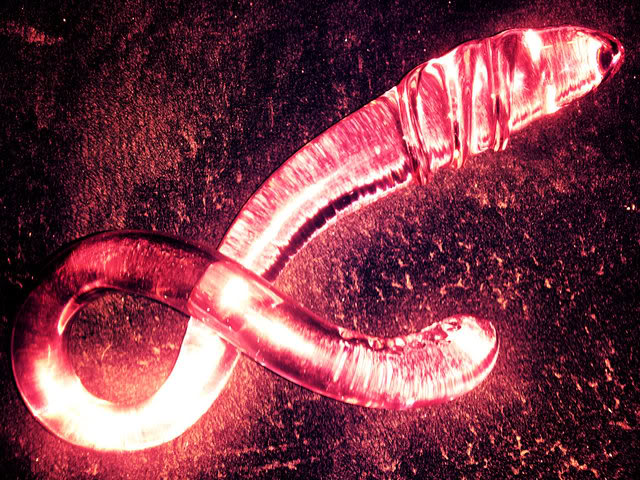 When you receive the Icicles No. 30 it comes inside of the normal Icicles cardboard box. The item is pictured on the front and the back of the box, so it may not be the best to give this in public settings. TH box doesn't really have any information on how to care for the toy, but there is a little description about the toy. The box also has a magnetic flap in the front so that you can see the toy without actually taking it out of the box. The box doesn't come with a storage pouch and can be used for storage but it would be best to find other means of storage because the box can take up a lot of room.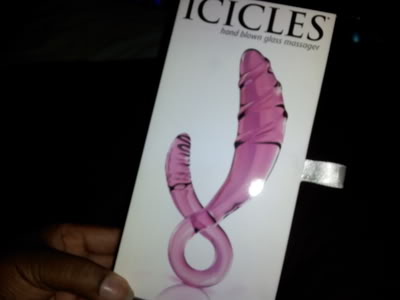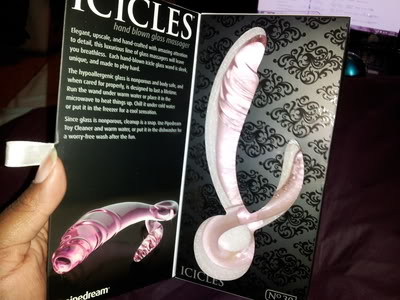 When you open it the first thing you notice is how beautiful the Icicles No 30 is. The whole dildo is made out of glass so there is no give to it at all and can cause pain if you aren't careful. The Icicles No 30 is made out of glass and like I've stated before glass is a very unforgiving material and can cause some damage to the vagina, cervix, and even cause small tearing around the anus if not used properly and carefully. You shouldn't be too rough and try not to get carried away. The Icicles No. 37 is made out of Borosilicate Glass(also known as Pyrex glass).
Pyrex is a hard material with a high chemical resistance and mechanical strength. The boron in Pyrex reduces any stress caused to the material due to temperature changes. It is less dense than ordinary glass, making it much more resistant to shattering and breaking as well, if it were to break it would not shatter or splinter into tiny pieces but instead it would snap or break in large pieces. The Icicles No. 37 is also perfect for those who love to share their toys because it's glass you don't have to worry about it holding onto bacteria.
The Icicles No. 30 does have a bit of texture but the texture isn't too much. It should be suitable for the most average user. The Icicles No. 30 has texture on the head of the glass dildo, and there is some texture on the clit arm. The texture on the clit arm mimics the suction cups on a tentacle. The Icicles No. 30 has his very weird shape, I don't really know what to compare the shape of the Icicles No. 30 too. It reminds me of a eel with a curled tail. The curled tail makes the perfect handle. You can slip your fingers into the whole and have a secure hold on it so you don't have to worry about it slipping from your hands when in use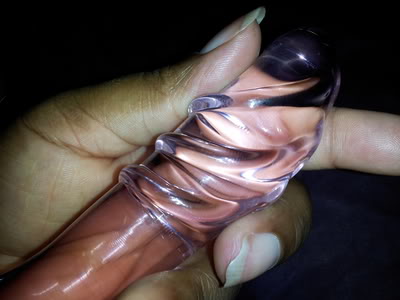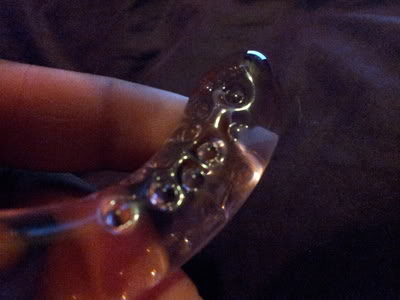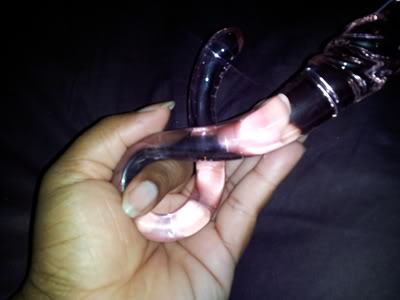 Experience
Continued...
Because the Icicles is completely made out of glass it doesn't have any give at all, and this can be a problem for those would like to use the g-spot stimulation with the clit stimulation, but because the clit arm maybe too high for some and you can't move it this can be a problem and now allow some to enjoy one of the main reasons for getting this glass dildo..
The shaft of the Icicles No. 30 is much smaller then I had originally thought and it's not as curved. It's supposed to be able to reach your g-spot but it won't reach everyone g-spot. I personally had a hard time reaching my g-spot with this glass dildo. The Icicles No. 30 has a Length of 7 1/2 inches, a Insertable length of 5 1/2 inches, a Circumference of 4 1/4 inches, and a diameter of 1 1/4 of an inch. It's suitable for the most newest users.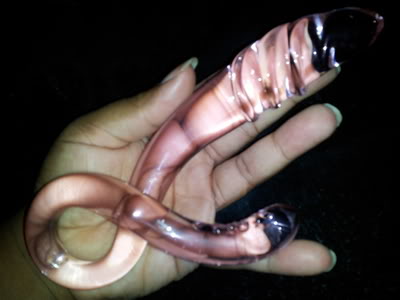 When it comes to caring for the Icicles No. 30 it's very easy. You can wash it with mild soap and water, you can clean it with your favorite toy cleaner. You can even clean it with a 10% bleach and water solution. When you aren't using it you should be sure to keep it where it won't bang against anything or fall. You should be sure to check it before and after every use to make sure there isn't any chips or cracks in the glass, if there is you should discontinue use right away. You can also use any lube when it comes to this glass dildo.
Experience...
I was a little let down by this glass dildo, only because it didn't work for me fully. I mostly just ordered it because it thought it was so darn beautiful. When I got it home the first thing I noticed is that the pink isn't as nearly as pink as it's pictured on the product page, but that was easily looked over. The next thing I noticed is that it's much smaller then I had originally thought and that was kind of depressing. On the product page the shaft looks a little thicker and a little more curved but that isn't the case. The glass is curved but not as much as I would like it to be. I also didn't like that the clit arm was so far up. The clit arm to me is a little too far away from the shaft. When I inserted the shaft I was able to get the clit arm to reach my clit but I had to hold it at a weird angle and that just made it uncomfortable. I wish the clit arm could be moved around but sadly it can't.
This product was provided at a discounted price in exchange for an unbiased review. This review is in compliance with the FTC guidelines.

Thank you for viewing
Icicles No.30
– g-spot dildo review page!