Oh-La-La-Latin!
I've owned many realistic-looking cocks, but the Noches Latinas from Doc Johnson is the most realistic one I've played with and the hold of the suction cup base is stronger than many others I've tried. Its fleshy UR3 material feels like soft skin and the blue veins appear as if this cock is really pumped full of blood and ready to go.
Published:
Pros:
Very realistic, soft, ideal size, suction cup base, storage bag included.
Cons:
Smell; skin-like, therefore could tear.
Hot, spicy playtime is only a click away when you purchase this realistic suction-cup dildo from Doc Johnson. However, don't avoid buying this toy just because the name targets users who have an affinity for latin lovers. This one is a great find, because it actually looks like it has some life to it, rather one of those pale peach colored cocks that are supposed to mimic a Caucasian male but end up looking like they belong to the undead! The detail is really fabulous.

"Noches" from Doc Johnson (Made in the USA) is a great choice for vaginal play and may be enjoyable for anal; however, I STRONGLY advise any user to use a condom, as this material is porous. Just because it says it's made from an anti-bacterial sil-a-gel/UR3 doesn't mean that it can't harbor bacteria. Yes, it's latex and phthalates free, but it's still not as safe as silicone and it can't be sterilized. It is much more delicate a material than firmer ones or even silicone, so any sharp objects must be kept away from it. Even biting it hard enough could leave unwanted marks or tears, so don't get over excited and use teeth, which few real men even like. It has a very strong smell to it, sweet, almost like baby powder. Even licking it tastes like baby powder. The smell should fade over time with several cleanings.

The texture is very skin-like; it actually pulls a little just like the real thing would when a finger is dragged across the surface. It is so velvety soft that it's hard to resist stroking it over and over again. The UR3/Sil-a-Gel material covers a firm but flexible core. Molded after a real cock, no detail was spared during the making of this toy, save for pesky pubic hairs. Several bulging veins are visible on the shaft, some markedly bluer than others. The head has folds of skin around it and the balls, WOW, they are beautiful, big, and soft!

This cock comes in two lengths, a 6" inch and an 8" inch, although the product page lists each as .5 inches larger, which is more accurate. It's just that the packaging labels them as the even sizes. I'm reviewing the smaller one, which honestly, it the PERFECT cock size for me. Frankly, it looks much larger than the said 6" and in reality, it is 8 inches in total length, from tip to the suction-cup base; however the insertable length is 6.5 inches if you cram it in balls deep. The girth is also very nice for most users, with a circumference of 5-1/8 inches and a diameter of 1-3/4 inches.

This does have a suction-cup base, which will adhere to most flat, smooth surfaces, such as a headboard, shower wall, or the floor. I stuck it to my door, which isn't completely smooth and it stayed put! The suction cup on this is shaped as it should be, more conical when looking at it from the underside rather than flat. The shaft isn't so heavy that the weight of it would cause the seal to break.

CARE
Either a silicone or water-based lubricant can be used with this toy. It comes with a special red storage bag that has a silky/polyester feel to it so that the dildo will not stick to it. Wash with anti-bacterial soap under warm water, let air dry.
Experience
The following pictures show my three realistic dildos with balls. As you can see, the "Noches Latinas" is hte most lifelike one out of the bunch. Only the Vixen Goodfella is designed for strap-on play, while the other two are stick & screw models. See the accompanying video for a better look at this toy.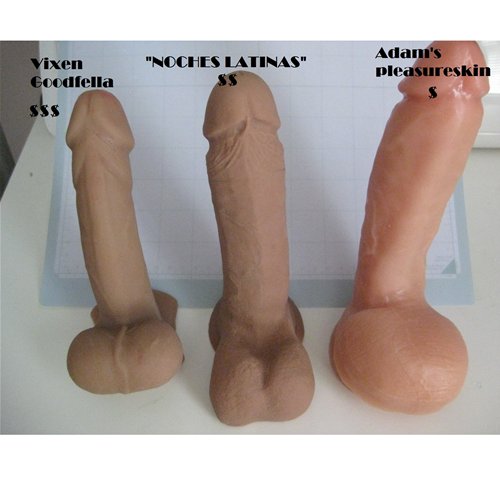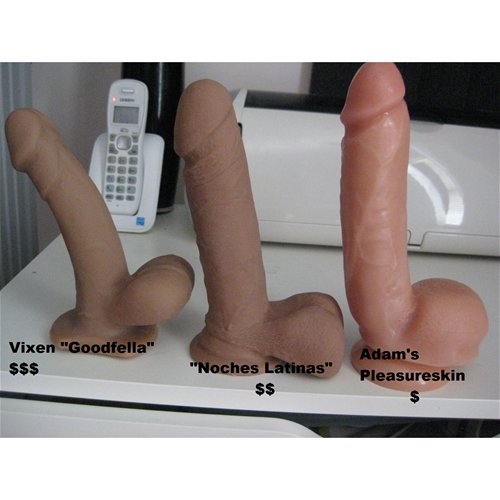 This product was provided free of charge to the reviewer. This review is in compliance with the FTC guidelines.

Thank you for viewing
Noches latinas realistic cock
– realistic dildo review page!