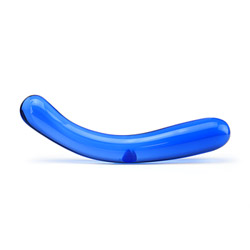 OMGspot
Glass G-spot dildo
by EdenFantasys
Oh my g-spot? Oh my blue!
The OMGspot is like a pair of shoes that goes with everything but does not go perfectly with anything - although there are plenty of ways to use it, it's not the best at any of them. It can be your g-spotter, your warm-up, your body massager, along with many other things without being perfect at any. Fans of smoothness and simplicity will rejoice; others may be left wanting. However, if you are looking for a good, sturdy, versatile glass piece, this toy definitely deserves your consideration.
Published:
Pros:
Versatile
Smooth
Useful "handle"
Cons:
No g-spot curve
Simple
Ends are very similar
The OMGspot by EdenToys is a gorgeous piece made from dark blue glass. It has two smooth ends, one slightly larger than the other, and can be used in a variety of ways. This can serve as an excellent introductory toy to many different kinds of play, but users with larger toychests, such as myself, may find it rather dull in its execution. I would compare this dildo to a pair of shoes that goes with everything and yet does not quite go perfectly with anything - although there are plenty of fun ways to use this toy, it does not excel with any of them.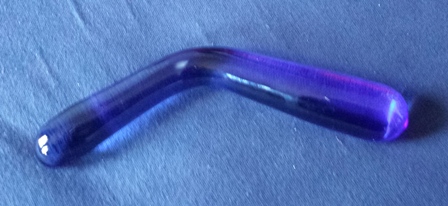 DESIGN
As with all glass EdenToys, the OMGspot is made entirely of borosilicate glass, commonly known as Pyrex. This glass is shatter-resistant and, should it break, will break into large pieces. I have dropped several of my other EdenToys glass toys before (for science) and found that they have (so far) survived the falls unharmed. However, I would not recommend dropping them on purpose. Should they ever fall, be sure to inspect them very carefully for cracks, as these can harbor bacteria and/or cut your sensitive inner organs. Glass is also one of the safest sex toy materials to use because it is non-porous, food-grade, hypo-allergenic, and free of both latex and phthalates. There is no smell or taste to this dildo and it retains none.
This dildo has a shape best described as a straight dildo slightly folded to a 130 degree angle. The two ends are slightly different, with one slightly smaller (3.75" long, just under 1" in diameter and just over 3" circumference at the widest) than the other (4" long, 1.25" in diameter and just over 3.5" in circumference at the widest). The widest parts are almost at each tip, both of which are relatively round. I would say that the dildo is insertable on either side up to the angle, but if you can insert more, nothing will stop you.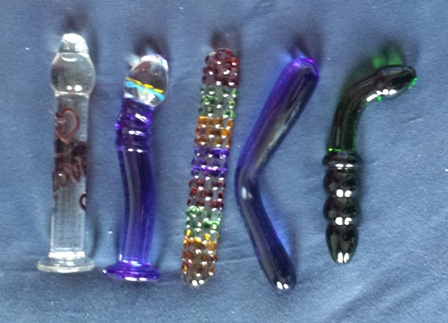 Heart Wand, Royal Blossom, Rainbow Nubby Wand, OMGspot, Amethyst
Although neither end of the dildo is particularly pokey, insertion is still a breeze. The very slight curves on both tips are just enough to ensure an easy time. Personally, I valued this fact, as insertion is often painful for me. Likewise, the insertable length is not quite enough to easily bruise the cervix, letting this toy avoid two common glass toy problems.
The surface of this toy is entirely smooth and rigid. Even with little to no lubricant, there is practically no drag when used. Although not needing to smother this toy with lubricant can be a major advantage, people that love texture will be disappointed.
USE
As this is a dildo and not a vibrator, it can be used anywhere and at any time. There is neither noise to worry about nor any motor or power source that would cause concern should it get wet. Possible uses for this toy are nearly endless, going as far as your imagination can stretch. I have listed several below, but there are probably more of them than I could think of.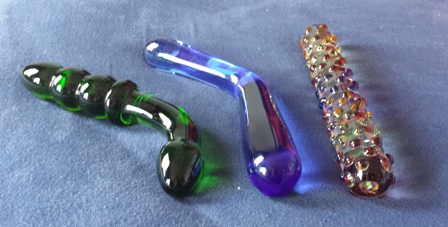 Amethyst, OMGspot (large end), Rainbow Nubby Wand
The OMGspot's primary intended use is to, as the name suggests, provide g-spot stimulation for female-bodied users. The angle is meant to help the toy rub against and stimulate the g-spot. While using the dildo in this way (and most other ways mentioned), the second end of this toy can be used as a convenient handle to hold.
If you are not partial to g-spot simulation but still enjoy insertion, this toy can act as a warm-up for larger toys to come. The two differently sized ends are perfect for this purpose, as you can always start with the slimmer one if you are very tight or with the larger one if you are comfortable with the size already.
Glass has a wonderful ability to hold temperature. Even if you just pick this toy up at room temperature, you will feel a slight chill to it. Putting this toy in the freezer or running some warm water will heat or cool it respectively. Alternatively, you can heat up the toy by keeping it between your thighs (or almost any other body parts) until it reaches a warmth that you feel comfortable with. Glass's ability to hold temperature, along with this dildo's shape, would also make it a decent body massager. I have used it before, warmed up, to knead my own sore back and it did the trick.
Because my reviews is over the word limit, I continuing this section (along with the rest of my review) in the Experience portion below
Experience
The angle on this toy might be sufficient to make it anal safe, but you will have to use your own judgment for that. This would not be an appropriate anal toy for a beginner, but could potentially be used by intermediate or advanced users.
I just started kegels, but while I tried pulling this toy out while testing it one time, my PC muscles clenched around it and I was met with the slightest bit of resistance. I feel like the larger end of this toy can be used for advanced kegel training. There are better items for this purpose, but I found the handle made it possible to try using this toy. However, keep in mind that glass is slippery, so this toy's effectiveness may very.
MAINTENANCE
The OMGspot comes in a red fluffy storage pouch. This pouch is not padded but still offers some of protection, especially if it is stored near other hard toys. Padded storage pouches are available, but a cheaper option would be purchasing a bulk package of fuzzy socks and storing each of your glass toys in two layers of fuzziness. I would recommend hiding this dildo if you are concerned about people seeing it because, although this dildo is not phallic, a casual passerby might guess its purpose.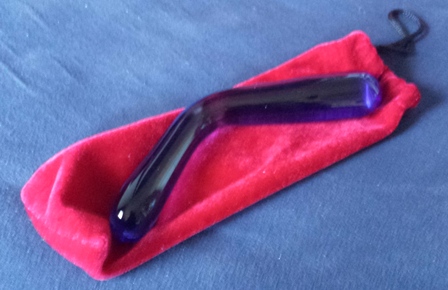 Cleaning this dildo is easy as well. To sanitize it, you can either boil it for 3-5 minutes, put it on the top rack of a dishwasher or into an oven, wipe it down with rubbing alcohol, or soak it in a 10% bleach solution. For less intense cleaning, both toy cleaners and soap-and-water are sufficient.
Glass does not react with any materials, so maintaining this toy is a breeze. Your biggest concern with glass should be not letting it fall or bang onto any hard surfaces, but, even so, this toy can probably survive several unfortunate accidents. Because there is no motor, the OMGspot is entirely waterproof. There are no batteries or power sources to worry about either, making this a very low-maintenance toy.
EXPERIENCE
My biggest complaint about most glass toys is that many have bases instead of handles, which I find uncomfortable; it goes without saying that I adore the "handle" aspect of this dildo. However, I wish I could say that I was as pleased by the rest of it.
As I have said before, this toy has a lot of uses, but is not spectacular at any of them. As a g-spotter, it is decent... but even though I can feel the OMGspot caressing my g-spot, the sensation is not enough to bring me to orgasm. The smaller end is a bit better at hitting my g-spot than the larger, but there is a difference between an angle trying to help a straight dildo and an actual curve (my g-spot prefers curves).
However, I do wish that the OMGspot had been one of my first toys. If I did not already have many glass dildos, I am sure that I would have enjoyed this toy more, but, alas, this toy was met with overall indifference from me. It is a great toy, don't get me wrong, just not for me.
Follow-up commentary
3 months after original review
Choosing whether I still like or still don't like this toy was difficult, considering how indifferent my opinion was. It still works as well as it used to; the glass still hasn't cracked despite one unfortunate fall, I can still feel it against my g-spot, but it still cannot bring me to a g-spot orgasm. I simply have too many toys that fit a similar role and have a general distaste for the "traditional" shape.

If you're interested in smooth glass toys, though, I would recommend this for you to try out, especially on one of those two for one sales. There is something about smooth glass that other materials simply cannot emulate, and the angle is just enough to make it stand out from most other smooth toys.
This product was provided free of charge to the reviewer. This review is in compliance with the FTC guidelines.
Thank you for viewing
OMGspot
– sex toy review page!