Our first experience! Wow...
This was worth it because other than having to take care of it, it definitely does its job. It's exactly what it says it is-- a realistic cock.
Published:
Pros:
Super realistic
Nice length and size
Suction cup base
Cons:
Porous material
Extra care needed
After waiting so anxiously for a week we finally received our toy, and boy was it impressive. This is our first time using any toy of any sort (other than a really cheap bullet we bought but never used) and I do have to say that it was quite successful and fun!
We wanted something as realistic as it gets, and we found it!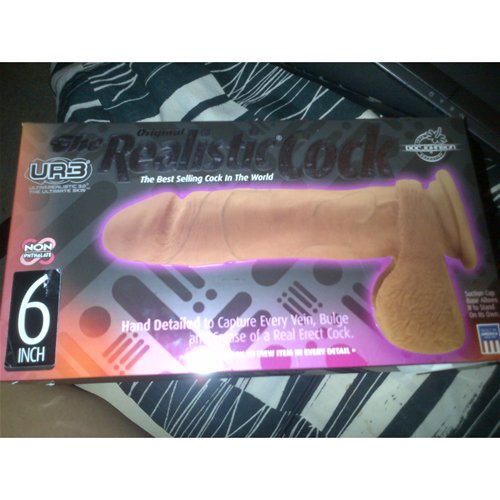 The Doc Johnson UR3 Realistic cock is super soft to the touch! I expected it to feel more rubbery, but I am definitely impressed with how the UR3 Material feels. The first thing I noticed when I took it out of the packaging (which wasn't very discreet but doesn't bother me) was the smell of the UR3 and Sil-A-Gel formula. Luckily I am not sensitive to smells and neither is my partner, but either way Doc Johnson was smart and made it smell like Vanilla, which doesn't really bother us.
The best quality of the UR3 Realistic cock is the realness of it. It feels exactly like a hard cock to the touch, and is so soft when it's rubbing against your skin-- just like a real one! It is a lint catcher but I don't find it to be that bad; after it being in a pair of pants, rolled over on our bed, and what not, there were only a few lints at the end and wasn't too sticky either (even after applying a generous amount of lube).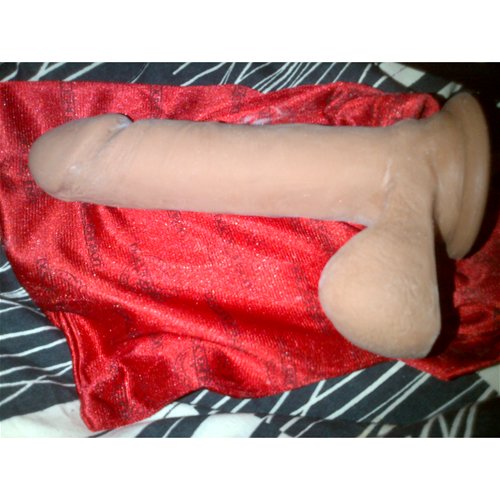 UR3 material is very controversial. As most say, it is very porous, meaning bacteria can get trapped in the material easily and it can never be sanitized, unlike other materials. It requires some TLC to keep it fresh and soft like the first time. You can wash it under warm water before and after use with some mild soap, and literally any lint that was there is now gone and any stickiness has been rinsed off. It feels pretty fresh after it has been washed, and feels pretty new. You do need to apply a "Refreshing Powder AKA Cornstarch" (which comes with the package) to the cock to keep it super soft and un-sticky. I don't find it to be much trouble to do this steps after sex, but it is recommended that you use a condom if you are using this with a partner, as it is easier to clean and it probably will keep your material in better shape in the long run. It's safer too!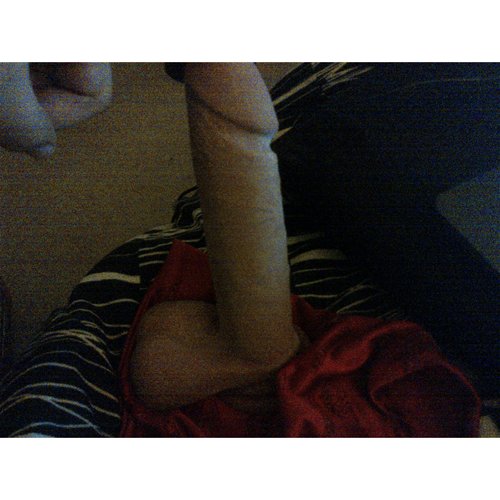 Only water based lubes can be applied to the cock, as silicone can eat away at the material, but there is such a great variety of lubes out there that this isn't too much of a big deal. Like I said previously, I didn't find the water based lube to be super sticky on the cock, even after use, which is just more of a plus!
Being so realistic, the cock was used in a "O" ring harness for vaginal play, and it stayed in the harness pretty well. The cock is pretty heavy and doesn't stand straight in the harness like if it were a glass or firm silicone dildo. It does droop a little from the weight of it, but for me, that doesn't take away from the realness of it as a lot of cocks aren't pin-straight like glass or firm silicone dildos. This one just looks meaty and giving! Since I did use it in a harness I can say that the cock is pretty bendable. It is a little hard to slide it in if your partner is tight, but once it's in you're good to go. It still has nice density to it though, thanks to the dual density material (soft and squishy on the outside but nice and firm on the inside).
I did notice, after washing it for the first time, that the color on the veins disappeared completely. I was pretty surprised that it wasn't even on there for a bit. Either way, the painted color on the veins were too prominent against the material. I find it looks better now with only the bulging veins in the material showing.
I find it to be pretty much perfect in size and in length, for now! Not too girthy but not too skinny. It does come with a nice suction cup base, but I doubt we will ever use it for wall play. It works though!
Overall I find this toy to be exactly what I and my partner needed. It does require some cleaning after using it, but it is so worth it for the amazing realistic feel of it. This is only my first experience with a toy and I am eager to continue exploring!
This content is the opinion of the submitting contributor and is not endorsed by EdenFantasys.com

Thank you for viewing
The realistic cock
– sex toy review page!