Prepare to be Amazed
This double-ended dildo of glass is swirled with primary colours and honestly is pretty amazing. It's got texture but nothing crazy, it's got colour enough to be classy but not at all gaudy and it's the right size for beginners to glass and old hands both. Two different ends gives this toy two different feelings of penetration, and for some women this may even stimulate the g-spot. Amazing Swirls? Yeah, I'm gonna say this was well named.
Published:
Pros:
gorgeous, low-maintenance, sterilizable, great design, enjoyable texture
Cons:
none that I can think of
The Amazing Swirls is 8 ¼" of double-ended gorgeous glory. I'm a fan, I'll say that right off the bat. This was my first glass piece and it made a convert of me. Glass just feels so decadent and luxurious, even at this totally reasonable price point. I mean, look at this loveliness: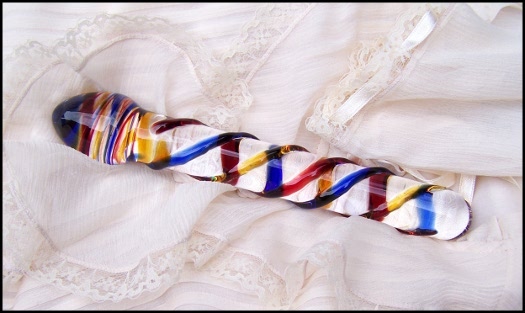 Gorgeous, no?
The Amazing Swirls has got some texture but not overwhelmingly so – the way the ridges swirl down the shaft on an angle makes this an easier piece to handle because it's more of a streamlined edge than it would be if the ribs lined the shaft horizontally. This makes it a great piece for someone who hasn't tried a lot of textured glass, but it's also got enough going on to satisfy more experienced players as well. And of course, glass takes temperature excellently so warm this up or cool it down by running it under hot or cold water. Do make sure not to go to extremes with it lest you end up burning yourself or such.
Although this toy has no flared base, it can be use anally if you're careful with it. The length will probably keep you safe, but do keep caution in mind when your hands are all lube-slippery and you need to be keeping a grip on it. Having a partner help you may be a safer choice.
The total length of this toy is 8 ¼", with 6 ¼" of either end being insertable. The Amazing Swirls features two different but similar ends. The bulk of the toy is made up of about 6½" of swirled shaft that measures 1" in diameter, with one end featuring a bulbous head measuring about 1¾" long and 1 3/8" in diameter at its widest point. This head makes for a lovely popping sensation if thrust in and out of the vagina. If you're not a fan of this sensation, the more uniform-sized opposite end will happily provide a smoother penetrative feeling. As well, the bulbous end does make the toy look pretty phallic so although you may really want to keep it out on display, people are probably going to know what it is. I must admit that I'm tempted anyway.
Although the thickness of this toy could be considered slim (especially in regards to the side of this double-ended dildo without the head), because glass is so hard the Amazing Swirls feels larger than other toys of the same diameter that are made from different materials. Glass is also a bit weightier than other materials – this dildo weighs 10.5oz. The heaviness also lends itself to the fuller feeling of the Amazing Swirls. Take care when thrusting with this toy because these unforgiving qualities make bruising a risk for the cervix and vagina. Listen to your body to figure out what's comfortable and don't get caught up going too hard in the heat of the moment. I'll admit this is sometimes easier said than done!
The Amazing Swirls is very straight and doesn't do much of anything for my g-spot. Other reviewers of this toy found it to be g-spot magic, so it could potentially be magic for you, too. However, I prefer a bit more of a curve to my g-spot toys and there are many glass toys made in much curvier shapes than this straight beauty. I love the Amazing Swirls because it's wonderful for straight thrusting and the swirls makes twisting and spinning this feel brilliant. Although the swirled texture is a little bit subtle, it's still absolutely noticeable. and really quite lovely. If it happens to also rock you rg-spot, then double win for you! But I wouldn't buy this as a specifically g-spot dildo in case you do require more of a curve, as I do.
Glass pieces are generally hand-made and there will often be slight differences between toys of the same model. The Amazing Swirls I received is a bit less swirly than the one shown in the product pictures, but very beautiful none the less. My piece has about 6 swirls of colour down the shaft whereas the product pictures appears to have about 7 or 8.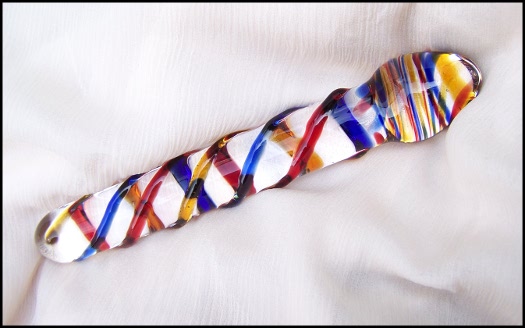 Con't Below
Experience
Glass is lovely easy to take care of because it's completely non-porous and clean. It's totally compatible with all lubes, so feel free to bathe with this one and bring the silicone lubricant. Washing is a breeze, just soap up with warm water and you're good to go. Do note that fluids can become trapped in the grooves by the spirals, so you may want to pay a little extra attention making sure everything washes away proper. You can also boil this one if you like, but be careful about quick drastic temperature changes with glass. Throwing your toy into the freezer straight from being boiled is probably not a good idea.

Because the Amazing Swirls is made of pyrex glass, it'll break into chunks rather than shattering if you drop it hard enough. More likely though, it'll just chip. Pyrex is the same stuff that kitchen glassware is made of and it's very hardy, though not quite indestructible. If you do for some reason drop this, make sure to carefully inspect it to make sure it's whole. Using it if chipped can have some very obvious adverse effects.

PERSONAL NOTES
This piece feels so nice when thrusting that I'm sometimes guilty of going a bit too deep and getting that cervix-hurting moment. Oops!

Because glass is so dang hard I don't often use this with my partner because a slight change of angle makes this go from amazing to painful. If using this (or any glass piece) with someone else, be sure to use lots of communication about what feels good and what doesn't so that everyone stays comfortable. I'll often do the initial insertion of the toy myself as that seems to be the trickiest part for someone else to figure, and then hand the reins over so that he can control the thrusting. When we do play with glass we both enjoy it a lot because such a unique-feeling material. As a Dom, he also finds it really sexy to be penetrating me with something so unforgiving- glass will never go easy on me. That said, glass is the material that he has to be the gentlest with, and I like that contrast.

This was one of the first toys that made me realize that I do enjoy texture quite a bit. The first time I used it and twisted those swirls around, ooh. It's such a sweet feeling.
This content is the opinion of the submitting contributor and is not endorsed by EdenFantasys.com

Thank you for viewing
Amazing swirls
– double ended dildo review page!