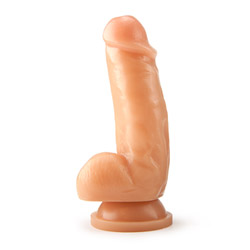 Stout
Realistic dildo with suction cup
by EdenFantasys
Short and thick
Loved this thing! If you're at all into vaginal stretching or girthy toys and don't like things bumping your cervix, then this is definitely the toy for you (as long as you're not sensitive to PVC).
Published:
Pros
Thick, short, no odor
Cons
Porous material, too big for most anal, not a vibrator
I'll get this out of the way right in the beginning: I'm a little teapot. It's hard not to think that looking at this guy.
Short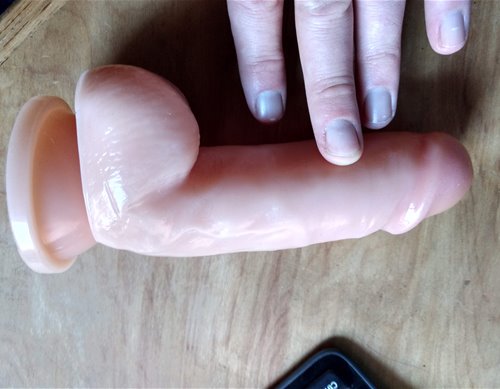 Stout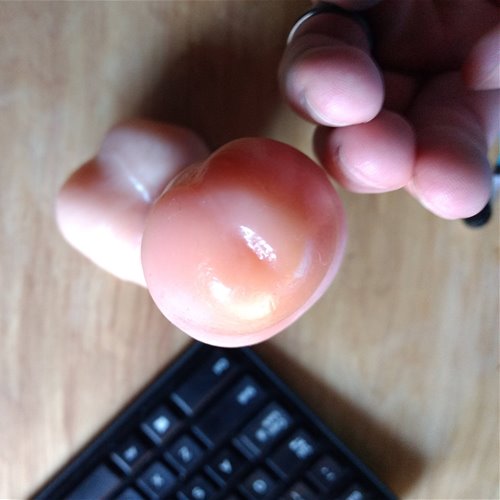 It's actually kind of difficult to fully capture the scale of this thing. As you can see it's about as long as my palm from balls to tip, and bigger across than two of my fingers. It tapers slightly from the tip to the center of the shaft and stays the same diameter as my two fingers at the tip, but at full size, it's fully the same width as my three fingers.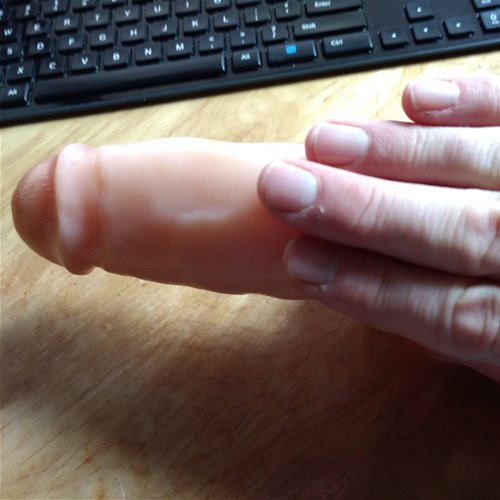 That picture feels more true to the size. My wife likes wide toys, I thought we had a fairly significant collection of pretty big toys, but this one edges out even the largest in our collection (other than some VERY special purpose devices). Here it is next to a standard stapler.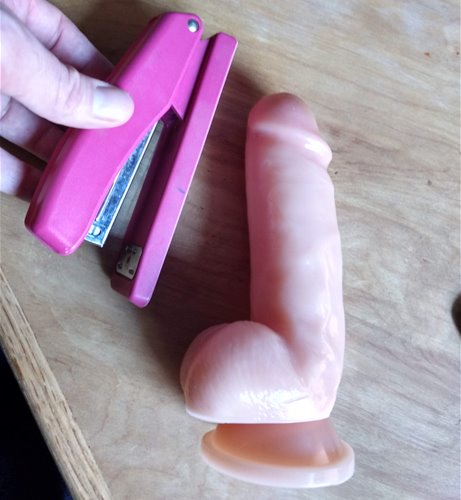 Not sure why I thought that that would help, but I'm struggling here.
In any event, it's made of Phthalate Free PVC, so pretty safe, but not sterilizable so you shouldn't share it and should probably put a condom on it if you're going from back to front if you get my picture. That said, this is definitely for advanced anal size queens. Probably best to stick to the front hole unless you really know what you're doing.
For a PVC toy this guy has almost no odor or taste (thank God, I just got rid of different PVC cock that made the whole toy drawer smell like rotten new car flowers). It's pretty aggressively textured (veins and such), so you get a good bit of friction during insertion. The tip is small enough to easily get you started, the texture is very soft and stretchy which mitigates its girth a bit.
It holds lube well which is important because you'll probably want some lube to get this guy in. It took a bit of doing to get it into the wife, but it was well worth it. From my perspective, It was amazing seeing the stretch and feeling the feedback through the toy that her opening was well and truly stretched. We combined it with one of her favorite
rumbly clitoral vibrators
(go ahead and buy that one. You won't regret it) and her orgasm came fairly quickly and was definitely on the more intense side. Her comment was "Well, that was fun!" Which is a pretty shining endorsement.
A good stretch to the opening of the vagina definitely makes the clit more sensitive. The short length of this guy lets it be inserted fully (so the lovely textured balls can come into play) without bumping the cervix.
It's really pretty ideal. I can only wish it vibrated, but then it'd be a whole different toy, I suppose.
To round out, it's got a nice suction cup with more than enough power to hold it down (or to the shower wall) if that's your thing, it's harness compatible (at least theoretically, our harness only has one ring, and it's too small to go over the cup, so check your harness if that's what you're buying it for) and the whole experience has been really positive.
Very likely to be in a fairly heavy rotation.
This product was provided free of charge to the reviewer. This review is in compliance with the FTC guidelines.
Thank you for viewing
Stout
– realistic dildo with suction cup review page!