Squishable Satisfaction
It's not made of the safest material, so most experienced buyers will steer clear (for good reason) but it's still a good beginner's dildo. I enjoy it and as long as you have realistic expectations for the toy, it is very satisfying.
Published:
Pros:
Nice feel, good length, cheap, exellent beginner's toy
Cons:
JELLY, could be thicker
Use
This toy is the perfect size for beginners! It is a great toy for vaginal penetration, during sex or just for masturbation, and practicing deep-throating techniques. Unfortunately, it doesn't have a flared base so it would not make a good anal toy. It doesn't have any bells or whistles but it's easy to use and does what it's supposed to.
Performance
Like I said before, this dildo is a wonderful beginner's toy. The ridges aren't too intense and flow with the toy, making a really nice feeling inside of you. There's also enough length to the toy to fully penetrate and leave some room to hang on. Its squishy material is filling without being overwhelming for a newcomer. I really enjoyed the slight realism to the toy but without it being too overwhelmingly realistic. The head really gave some nice texture and drag, but the toy itself wasn't curved enough to hit my g-spot.
Specs
It comes in a easy snap-open container. The container itself isn't very discreet and very flimsy, so I wouldn't recommend keeping the toy in the original packaging. Its dimensions include:
• Length (total and insertable): 7½"
• Width: 1½"
• Circumference: 4½"
This toy is made of jelly, a plastic polymer commonly found in many cheap sex toys. It rates a 2 on Eden's safety scale because it is so porous and it is impossible to sterilize completely. It also contains phthalates, which are on the FDA's short list for questionable materials.
Design
This is a dark pink translucent toy. It has a slightly realistic head at the top; at the base you can see a slight difference between the toy's core and its outer circumference.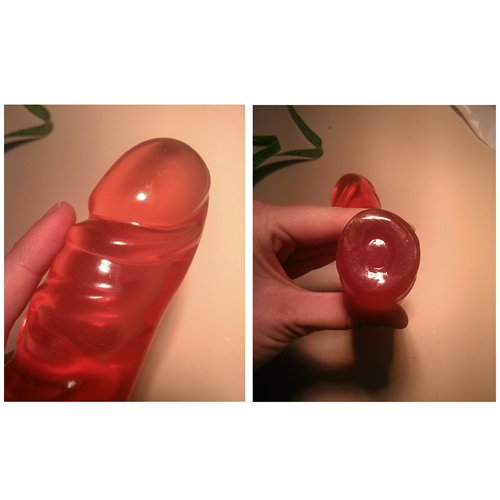 The toy has slight ridging down one side that flows smoothly from the head to the base. It is very slick and very squishy. When I first got the toy it smelled slightly like a beach ball, but after I washed it, the smell wasn't noticeable. When I first got the toy, it was perfectly (ok, roughly) circular. After the toy had been in my drawer for a while I started to notice that the material started to settle on one side.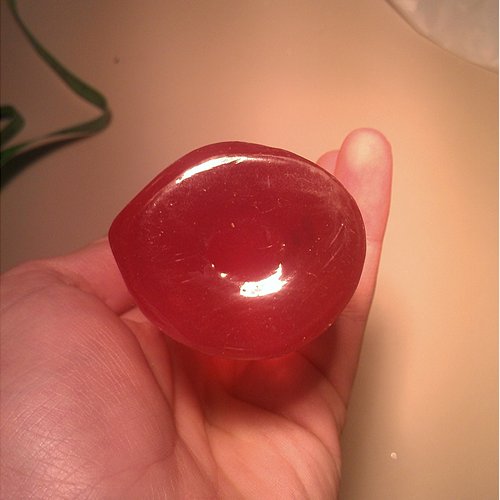 There wasn't a lot of settling, but just enough to notice.
As you can see from my pictures, there is some wear and tear on the material's surface, which I can't feel while I'm using it, but is something that comes with jelly toys.
Functions
This is a great toy for basic vaginal stimulation. It is very smooth but it has enough girth to make a nice, full feeling while it's inside. It didn't affect my g-spot, but if you have a very low set g-spot you might be able to get some stimulation out of it. This toy is NOT made for anal stimulation, if you get too greedy it might get lost up there. This toy is also not made for sharing between partners without some form of toy covers.
I also enjoyed practicing deep throating with this toy! It is a nice size and has an interesting texture to practice with but was slick enough so I didn't have to worry about too much drag. I would suggest you wash it before it goes anywhere near your nose, sometimes its beach-ball smell comes back and can be very distracting.
Toy Care
It can be cleaned with a toy cleaner or soap and water, but not boiled or bleached. That, combined with jelly's porous nature, means that this toy cannot be disinfected. This could lead to yeast infections or other uncomfortable consequences. Ultimately, this means that this dildo should not be shared between partners without toy covers and should probably be replaced every few months.
Final Thoughts
Most sex-toy collectors will see 'Jelly' and immediately pass. Even I can't give it more than 3 stars because of its material. But, if you realize the restrictions of the toy, it can be a nice staple for any sex drawer.
Experience
I really enjoy the toy! It's great for just some simple stimulation, a nice full feeling, and I really like the feel of jelly, even if it isn't made of the safest material.
This content is the opinion of the submitting contributor and is not endorsed by EdenFantasys.com

Thank you for viewing
Translucence dong
– dildo sex toy review page!