Star Light, Star Bright.
In a galaxy far, far away there was a planet called Phallix. It was this planet's job to make some of the most beautiful and safest glass toys for the rest of the galaxy. One day, they managed to trap part of the moon and stars and they celebrated by making the Mini Moon and Star Pocket Rocket. Not only is this a true one of a kind, but it makes me believe that a wish upon a star really does come true!
Published:
Pros:
Amazing for Anal play, Small size, Adorable Moon and stars in the head, Blue spirals, High quality
Cons:
For Me- None
For Some- Too small/thin
Use:
This cute mini glass dildo is meant for vaginal or anal play. It can go in either the vagina or anus, and the slight curve of the shaft will possibly hit the G-spot or P-spot. This is the perfect toy for those that want to try a glass toy for the first time as the insertable length is short and the overall diameter is slim. This would also make a great toy for someone who wants to experiment with textures. I think this makes a better anal dildo than a vaginal dildo, but everyone will have different experiences and preferences. The toy's small size makes it perfect for beginners but anyone can enjoy this small beauty.
Even though this would be a great starter toy for texture beginners, I highly warn those who are sensitive to such things. The spirals are very raised, and they can be felt very easily. Although some may be left annoyed and frustrated by the small length and diameter, it does make an awesome travel buddy. It comes with a nice pouch, and it easily slips into a purse or suitcase. It takes up the tiniest bit of space, and it is just adorable! This is where I would warn against heavy thrusting as it could bruise the cervix or tender tissues, but I really don't see this happening. It feels like it only delivers shallow penetration at best during vaginal play. However, it feels bigger and deeper when using this for anal play, so I guess I am warning you against fast thrusting during anal play.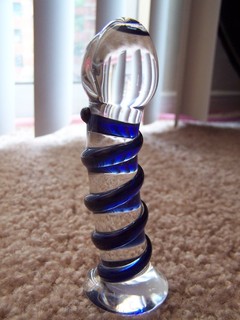 Material:
Glass is one awesome material. It is hypo-allergenic, latex/phthalates free, and it is non-porous. Non-porous means that the toy will not collect or trap bacteria. Materials like glass are perfect for those who tend to get a lot of yeast infections or anything like that. Glass is super rigid and will not bend with the body at all, but this is great if your G-spot or P-spot needs pressure. Glass is compatible with any type of lubricant whether it be silicone, oil, or water. Glass is very cool to the touch, so some may want to warm it up by placing it in warm water for about 5 minutes. It can also be turned the other way around by placing it in very cold water (ice water perhaps). This kind of play is known as temperature play, and it is very fun. I wouldn't suggest extremes such as boiling or freezing because this could damage or harm the skin by causing burns or frostbite. Any texture on glass toys tend to feel more raised or pronounced. This toy definitely falls in that category. The swirled texture is very pleasant, and it has never caused me any discomfort or pain. I only suggest this toy to those who know that they can handle this kind of texture.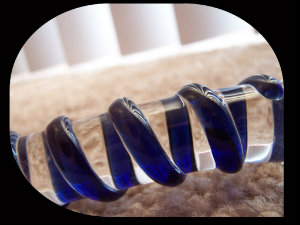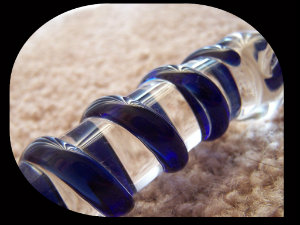 Design/Shape/Size:
The Mini Moon and Star is definitely mini, but it has all of the same features a regular sized glass dildo would have. It has a small, bulbous shaped head. It features a tapered tip for easy insertion, and the side of the head has two indented ridges for some added stimulation. The head tapers down into the shaft very gently, and this makes the head less pronounced and less likely to catch on the pubic bone. Before I move onto the shaft, I want to just take a minute to talk about the adorable moon and star design that Phallix put into the head of this dildo. This design is located at the very tip of the head, and it is very easy to see when looking directly down into it. I cannot see it when I am looking at the side of the toy, but it does create a wonderful visual when it is being inserted and removed. I showed this to my hubby, and he thought it was the coolest thing. He was fascinated by this little piece of art, and it has quickly become a favorite in our bedroom. My hubby gets bored with the same glass pieces time after time, so this toy offered some variety and creativity to our sex life. There are a lot of bubbles that are in the tip of the head, but it does not take away from the toy.
We mainly use this for anal play as it does not really do anything for me vaginally. Anally? This thing feels fantastic! The vibrant blue swirls can be felt individually when inserted into the anus.
Experience
Design continued...
I think this is because of how raised they are and because they are not tight or close together. Like I said, the swirls are a wonderful shade of blue. This color matches the blue background of the moon and star. The base is nice and thin to help it fit between the cheeks comfortably, but it is large enough to keep the toy from being sucked all the way into the anus. I have used this toy for some double penetration play. Because this isn't a plug, the toy will not stay in unless it is held at the base by a hand. We used it in the shower with both of us standing and him behind me. Whenever he would pull out, the toy would slip out a little. Whenever he would thrust back inside of me, the toy would slide back in. It felt like I was actually getting some double thrusting action! It was amazing. For long term wear, I can only wear this for about 30 minutes before my anal muscles are tired from holding the toy in. The base only gets uncomfortable when sitting on it for long periods of time.
Measurements:
Total Length: 4 1/2"
Insertable length: 4 1/4"
Diameter of head: 1 1/8"
Diameter of shaft: 1"
Spiral width: 1/8"
Length of base: 1 1/2"
Base thickness: 1/4"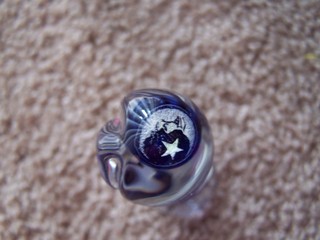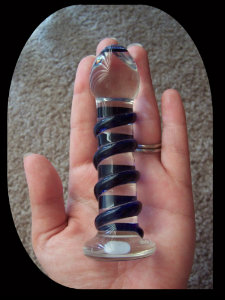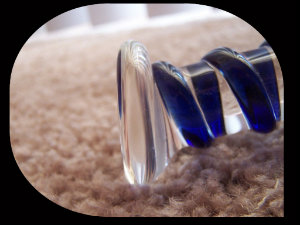 Packaging:
For such a small toy, this dildo came in such a huge package. Like all Phallix toys, the packaging consists of a large plastic tube. Inside the packaging is the toy itself, a little catalog of other Phallix dildos, and a velvet pouch. The pouch came to me in a lovely shade of hot pink. These velvet pouches seem to be a little more thicker than those that are made of that silky material that some are made of. As with all of the other Phallix pouches, this one has a handy plastic fastener to keep the bag closed and the toy secure. The packaging is way too large to keep for storage, so I threw mine away the first chance I got.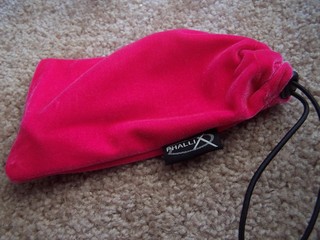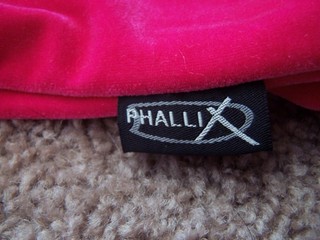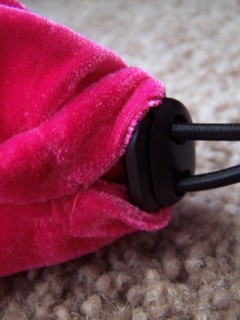 Cleaning:
When it comes to cleaning glass, well, it is insanely easy. It can be cleaned by warm water and antibacterial soap, a toy cleaner, or a toy wipe. These are the fast methods of cleaning that I use on a day to day basis. When I want to get down and sanitize the toy, I use the boiling for 5 minutes method. However, the dishwasher (top rack/no soap) method and the 10% bleach wipe down method are just as potent. If sharing, please be safe and use a condom over the toy. Clean properly before going from anal to vaginal play as well. When cleaning, pay extra attention to the indented ridges on the head and the spirals on the shaft as they tend to trap fluids. Any type of lubricant can be used, but a little goes very far with glass toys. I highly suggest keeping the toy in the provided pouch to protect it from scratching during storage or travel.
This product was provided free of charge to the reviewer. This review is in compliance with the FTC guidelines.

Thank you for viewing
Mini moon & stars pocket rocket
– glass g-spot shaft review page!