Let Me Play Among the Stars!
Honestly, I prepared myself to judge this glass dildo pretty harshly. I was going to crack down on its size, on its packaging, on the graphic on the tip. But it has thoroughly impressed (or pleasured, rather) me instead. I tested it for weeks until I was seeing stars and I gave it every opportunity to fail my expectations. But despite the packaging and storage pouch, it didn't. So I give it my full 'Darling' stamp of approval to this amazing product!
Published:
Pros:
~ Curved for G-spot
~ Perfect Size for Juicing or Plugging
- Anal-Safe Base
Cons:
~ Storage Pouch Not Padded
The Arrival
Fly me to the moon and let me play among the stars!
What's going to take me there? My 'Mini Moon & Stars Pocket Rocket'! This darling little toy (and trust me, I
know
darling) arrived in a deceptively ordinary plastic package. You can tell from the shape and hole in the top portion that it's meant to be hung and displayed for maximum temptation.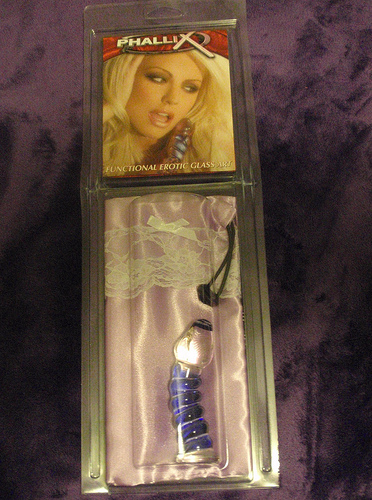 There is a paper insert in the upper portion that opens up into a very enticing advertisement with some other sexy glass toys. But other than that, you won't find any other information on your new 'crotch rocket' of sorts. Oh well. Let's get that little baby out now, shall we?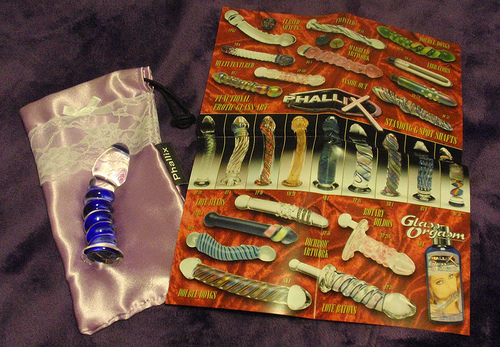 The adorable lavender and white fabric behind the glass toy is actually the storage bag. It wins the award for the most attractive pouch ever! Isn't it
darling
too? With the decorative lace and extremely well designed drawstring, I really want to love it. It's only downfall, and a bit of an important one, is that it's not padded. Aw, this is my sad face. Style but little substance. Oh well, I shall handle my Mini-Moon with care, trust me.
Material & Design
Do I really need to tell you it's glass? I sure hope not. It's hard – so use caution when thrusting because you can certainly bruise your insides. It's smooth – so it not only can slip into your tight places with little to no lubricant with ease but it can also be magnificent for massages. It's the epitome of non-porous safety – it can be completely sterilized between partners or orifices through boiling, a 10% bleach solution, or in the dishwasher.
And while this may be unconventional, instead of using up a lot of review space telling you about the many wonders of glass, I'm going to link you to another one of my reviews about glass. I explain how glass toys can be used, heated, cooled, cleaned, and stored. Glass is pretty marvelous in how unique (and amazing!) it is compared to other sex toy materials but it also requires a little caution. Read at your leisure for further enjoyment:
In Awe and Wonder
. (Also my other reason for linking this review is because I'm about to reference it as well. Yeah, I'm sneaky like that.)
But I have to say that
my
Mini-Moon is not quite the same as the Mini-Moon in the Eden photos. I immediately thought, "oh no, not again!' But really, this time, the change was not extreme. In fact, I was lucky with my toy's difference this time! It's not a straight shaft as pictured in the photos. It's curved for aaaamaaaazing G-spot (or P-spot) stimulation. Mais oui, mes amis. It's fan-tabulous.
The tip of the glass is absolutely intriguing and sexy. Look closely at this Eden photo (because my own wasn't anywhere near as clear). On the "underside" of mine is where this lovely double-indentation is. It's roughly triangular in shape and very smoothly transitioned. I think it helps to "juice" the lubrication, at least for me. Also, I know it's hard to see, but there's a pretty little design in the glass just on the tip of the dildo. It's a partially eclipsed moon and stars in a glitter coloring. It's so whimsical and I love the touch of detail.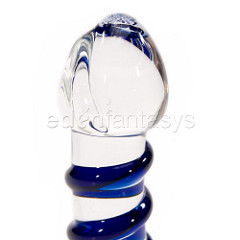 And, of course, you notice those lovely blue swirls around the shaft, yes? Now
THIS
is how swirls should be done! They smoothly transition at the head and down at the base so that they don't poke you uncomfortably inside your body. Also, they're not thin and sharp like another glass piece I have so it doesn't feel like a cheese grater. I just love love love it.
And the pièce de résistance? It has a safety base that is just large enough to allow for safe anal usage and just small enough to not get in your way! And as long as you have a versatile harness I think it could fit in an O-ring. Just, ya know, make sure you be careful with the thrusting.
Dimensions
It's approximately 4 inches long, from base to tip and not including the curve. At the widest point of the "head" of the toy it's 3 and 3/4 inches in circumference (just slightly over 1 inch in diameter). The shaft of the toys is roughly 3 inches in circumference and 1 inch in diameter. That measurement was the hardest to estimate with the swirls and curved shaft. And the ever important base of the toy has a 1 and 1/4 inch diameter. And with the unique (aka - frustrating) differences in glass toys under the same name, don't be surprised if yours is a bit different than mine.
Experience
How to Use It

Put it in and fly into outer space! Where? Anywhere you want! It's great for vaginal juicing, G-spotting, anal plugging, or P-spotting. Oh yeah, you'll be seeing stars.

Oh, you wanted more information than that? All right, you dirty thing!

The best way I've found to use it, from a female perspective, is one of two ways. They are both as right and enjoyable as the other. First one is using it as an anal plug (with the curve facing anteriorly) and then letting it provide delicious pressure while enjoying vaginal penetration. This will be intense and lovely for both the receiver and giver of penetration.

The other way I recommend is using it vaginally. You can rock it against your G-spot, as long as yours is shallow since it's a short shaft. You can gently twist it around for a juicing effect and delightful pleasure torture. Or you can simply insert it and rest against your G-spot while stimulating another erogenous area.

Honestly, it all feels simply stellar! Just be cautious of bruising because this toy has no squish or give to it unlike jelly, rubber, or TPR. And considering its smaller girth and length than an average dildo, I believe this glass piece could be great for beginners as well as advanced!

Care & Cleaning

Did I mention that glass is fabulous yet? Oh I have? Well, I shall reiterate with another example. You can use any type of lubricant you want it! Yes, any! Water-based, oil-based, silicone-based, flavored, warming, or tingling. It's all good!

And as I mentioned before, this toy can be cleaned in a myriad of ways ranging from merely washed off to fully sterilized. There's no wrong way of cleaning the glass piece – unless you plan on dropping it or taking it from one extreme temperature to another (which can crack glass).

As for storage, what's most important about this toy is that it not break. Seriously, that's all you have to worry about. It won't stain other toys, it won't degrade, and it has no 'allergies' of which to speak. So what I suggest is either a better, more padded pouch, a special drawer or box that can't get kicked over, or maybe stick a sock in the bag it comes with for a little more fluffy insurance.

Personal Comments

I just have to say that I was beginning to lose faith in glass toys after receiving some rather disappointing and downright painful ones. They broke my heart which once had fallen head over heels for the luxurious material. It's really just too bad that you have to spend this much to find a really good glass dildo though. But if you have a love of plugs, G-spot stimulation, or glass in general, I don't think this one will disappoint you.
This product was provided free of charge to the reviewer. This review is in compliance with the FTC guidelines.

Thank you for viewing
Mini moon & stars pocket rocket
– phallix glass sex toy review page!