Swirl With Me...
The colorful spiral wrapped G-spot wonder is a double ended glass dildo. It is reasonably size and lined with lovely spiral texture, that could be too much for some. Being made of glass, it is a safe material that can be used for temperature play. The design of this dildo is really beautiful, but it is not designed for anal. The shaft is curved to help with G-spot stimulation.
Published:
Pros:
Safe material, textured, G-spot curve, GREEN, beautiful, and temperature play.
Cons:
Not ideal for anal and too textured for some.
Use:
Colorful spiral wrapped G-spot wonder is a glass dildo that is suited more for those who love texture. This dildo would not be suited for a first glass piece, because of this texture. This glass dildo is designed for vaginal insertion and not so much for anal insertion. Should you decide you would like to use it anally, be sure to keep a good grip on it, as the anal cavity can suck things inside. Glass dildos can be manipulated anyway you would like, but be sure you aren't thrusting too hard. Thrusting an unforgiving material too much can result in bruising of the cervix. This dildo can be used for solo play or couples play, but the rigid material might not be ideal for double penetration. The double ends of this dildo allow for one end to be inserted and the other end to acts as a handle for the one manipulating it.
Material:
This G-spot wonder is made of
Pyrex
glass. Glass is a wonderful material for those who enjoy temperature play. When you want to change the temperature play you can run your dildo under hot and cold water. You should not boil this dildo for temperature play; however, you can boil it for sterilization purposes, which means you can share your dildo without the use of a condom. If you decide to share your dildo without a condom you should boil in between partners. Another great thing about glass is that it is latex free, phthalates free, hypo-allergenic, and non porous, which bring glass to a safety rating of a 10 out of 10. It is also odorless and tasteless. Pyrex is a brand name for borosilicate glass that is made from adding boron, sand, soda, and ground lime, which results in a liquid. This liquid is cooled at a rate where crystals can't form. Your ending result is a beautiful piece of glass. Should you happen to drop your glass piece, it won't splinter or break into tiny pieces, but instead will break into larger pieces. Be sure to check all your glass toys upon arrival closely and never use a glass piece that is cracked or chipped.
Design, Texture, and Size:
The colorful spiral wrapped G-spot wonder is available in two colors, which are green and blue. The green is a darker green, but not so dark that it isn't see thru. There is only one bulb that is not green and that is the clear bulb. This clear bulb has a flower inside of it. The product page shows this flower as a white daisy, but this must vary.
Shellz31's
review has images of her flower, but this does not match mine. I have a violet and white flower inside my clear bulb. This is still really pretty, so I don't mind the variation.
This dildo is 8" long with an insertable length of up to 6", but that varies person to person. The dildo starts off on one side with a tapered head like end. The head like top does not have a real pronounced bulb to it, so insertion is really easy. The head is attached to a curved shaft. The shaft is curved for G-spot stimulation. This shaft ends with two bulbs. The bulb closest to the shaft is green and the bulb that ends the dildo is clear with the flower inside. Starting at the crease from the head, down to the start of the green bulb is a single band of 0.25" thick texture. This texture is swirled down the curve shaft. The largest circumference that can be inserted with this dildo is at the single green bulb. This is 5" circumference or 1.75" diameter. The shaft of the dildo has a 3.75" circumference or a 1.25" diameter. The head has a 4" circumference or just over a 1.25" diameter.
***Note: glass toys are hand made and can vary is size, but usually the sizes are close.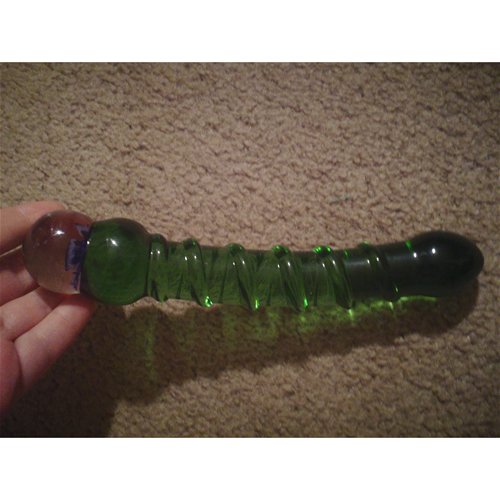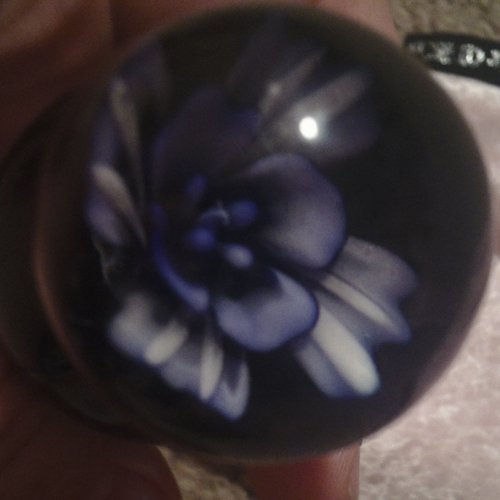 Paired with Blossom G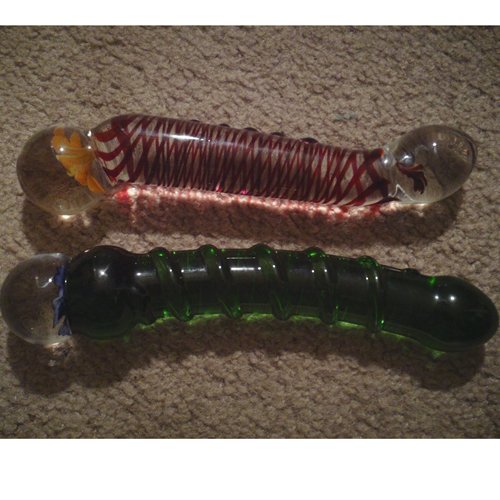 Experience
Performance:
There is a reason this is called the G-spot wonder! The curve to the shaft was really nice for my shallow G-spot. It allowed the spiral texture to rub right on it with every thrust. the length of the shaft should allow this curve to accommodate for all deeper G-spots. Being made of glass, I was able to put pressure onto my G-spot. This brought me to orgasm fast. The head like end is easier to insert, but the double bulbed end was no challenge for me, but it might be for you. It is best to start with the head end. Be sure to used a lot of lube with this dildo. You can use any kind of bottled lube with glass or you can use spit, but your natural lube can be enough too. Glass does become slippery when it get wet.
Care and Storage:
You should wash all your toys before and after every use. Before your first use, be sure to remove the Phallix sticker that is on the shaft. Glass can be washed with warm water and antibacterial soap. You can also use toy wipes or your universal toy cleaner. Glass can also be boiled for sterilization. You should not boil this for no longer than 3-5 minutes. Be sure you allow it to cool fully before inserting it.
This dildo comes inside of a plastic clam shell packaging along with a pouch. This pouch is light pink with a black draw string. The draw string has a plastic piece to adjust the string and keep the pouch closed. The pouch is made of a soft velvety material. This is not padded, but effective for storage. The toy should remain in the pouch for traveling. If you are gifting this toy, they pouch would be a presentable gift bag.
***Note: pouches may vary toy to toy.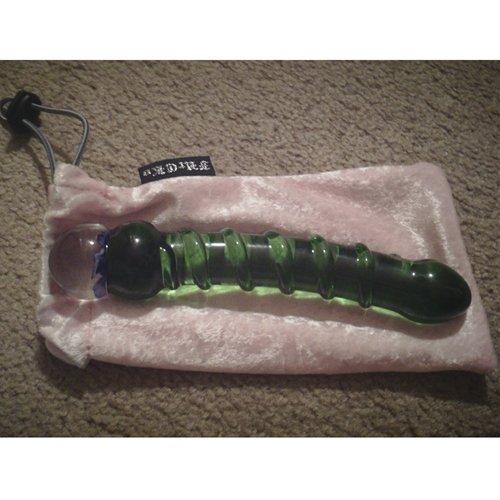 This content is the opinion of the submitting contributor and is not endorsed by EdenFantasys.com

Thank you for viewing
Colorful spiral wrapped G-spot wonder
– glass g-spot shaft review page!