User Friendly Casper
Thick and filling with just the right level of texture, Casper delighted me with his realistic shape, stimulating veining and flared base for handy gripping and strap-on sessions. Casper really is the user friendly dildo!
Published:
Pros
Weighty, textured but not overwhelming, can be warmed or chilled, flared base for strap-on/anal
While I wouldn't usually be the biggest fan of glass toys, spotting the realistic design of the Casper I was excited by its veined texture and thick realistic shape. Having wanted a thick, realistic glass toy for a while now (after spotting that other toy manufacturers were making them) I was happy to see that SSA Glass now make one.
Packaging:
The Capser arrived well protected in a generously sized sheet of bubble wrap which had been securely taped around it. In my experience with other SSA Glass toys they would usually arrive just sitting in a thin bubble wrap envelope so this packaging was more protective than on other glass toys of theirs that I own.
Inside this bubble wrap the Casper sits inside the usual red velvet drawstring bag that SSA Glass toys include. This red velvet drawstring bag makes the toy a perfect gift for a partner and is ideal for long term storage of the Casper too.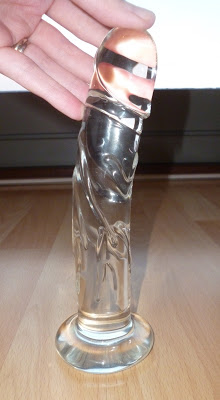 First Impression:
Seeing the Casper in person for the first time it is about as thick as I had expected but almost seems a little lengthier in person than it does in photos. The head on Casper is realistic but not too pronounced and just under the head is a slight skin fold. The shaft features raised veining in a pattern that evenly covers the insertable length of the toy and the inch of length just above Caspers base is completely smooth.
Caspers base is flared and flat so he can stand upright on his own, be displayed as an ornament or be placed in an O-ring harness for strap-on play. This flared base also makes him suitable for anal use and pegging.
Being the first realistic glass toy in my collection, I found him to be an impressive sight. Realistically shaped like a penis but beautifully transparent as he glistens and reflects light.
Measurements:
Total Length: 7 ½ Inches
Insertable Length: 7 Inches
Circumference: 4 ¼ to 4 ¾ Inches
Diameter of flared Base: 2.4 Inches
In Use:
Holding the Casper in my hand ready for his first use I was surprised by just how weighty he feels. Made of glass he is suitable for use with silicone, water or oil based lubes and his smooth surface works incredibly well with lube too. He can be warmed in your hands before use if you are not a fan of the feel of cold glass or equally he can even be chilled if you are a fan of colder toys. Placing him in a bath or sink of warm water is a great way to warm him up to body temperature before use.
The smooth shaped head of the Casper makes him easy to insert and the fact that he works so well with lube is what makes his head ridge comfortable too. Once you get past the slight raised head, the sensation from his veins becomes teasingly apparent around the entrance of the vagina while his thick head comfortably fills you without feeling too hard or pokey (which is often what would put me off glass toys)
With seven inches of insertable length, I found that I only needed six of its inches to feel incredibly filled. If only inserting six (or less) inches of Casper you will feel the veined texture around the entrance of the vagina which I found to be surprisingly stimulating.
As texture on a glass toy can often feel exaggerated or intense, the fact that Caspers head ridge is subtle is probably a godsend for most when playing with this. The veins along his shaft are quite perfectly designed too, covering the shaft in an even design without being too raised or overwhelming. The base of the toy is easy to grip onto and comfortable to thrust with. If there's an excess of lube on the Casper it can drip onto the base and make gripping hard but as long as lube is kept at a good level this isn't a problem.
The base of the Casper is ideal for use in a harness too; fitting a 1.5 inch O-ring it stays well put in a sturdy harness and can be faced either way depending on what position you are in. I find that the Casper feels best with his very subtle head tilt pointing towards the g-spot and my partner finds the same thing with his prostate. Casper doesn't particularly provide stimulation to the G-spot or prostate during use though as the curve that begins right under his head is just too subtle.
...
Experience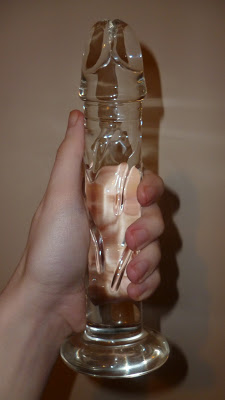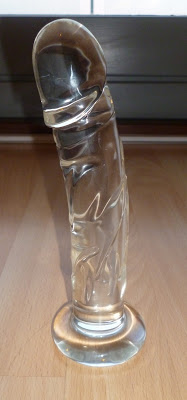 Overall:
Overall the Casper is a wonderful choice for those who don't like their glass toys to feel 'pokey'. His thick head, realistic shape and light veined texture are enough to fill and stimulate without being overwhelming or uncomfortable. While there is no real level of G-spot (or prostate) stimulation provided, the fulfilling thick shape and the texture of both the veining and head ridge is enough to thrill with each thrust. Suitable for use in a harness it also proves that glass toys can be comfortable for strap-on play and pegging too.
Material/Care:
Casper is made of Borosilicate glass which is similar to Pyrex glass, it is an extremely smooth and safe, non-porous material. Being non-porous and smooth, it is very easily cleaned with warm soapy water or specialized toy wipes or spray. It is Non-porous, food-grade material, hypo-allergenic and both Latex free and Phthalates free. Borosilicate glass is quite resistant to shattering and breaking and if somehow a Borosilicate toy breaks it will not shatter or splinter into tiny pieces but will snap or break in large pieces instead.
It also retains temperature very well meaning that it is great for heating and cooling for temperature play. I found that sitting it in luke warm water just before use or even simply warming up in the hands before use is effective in warming it up to body temperature. For those who like the sensation of a cold toy it can be cooled by placing it in cold water or the fridge/freezer. Silicone, water, and oil based lubricants are all safe to use with the Casper and being made of smooth glass, surprisingly little lube will go a long way.

This content is the opinion of the submitting contributor and is not endorsed by EdenFantasys.com
Thank you for viewing
Casper
– sex toy review page!