Whatta Man!
If you really enjoy texture to your glass toys, you won't be disappointed in this amazing toy that can be used a bunch of ways. If you aren't a fan of texture, you will probably want to look elsewhere.
Published:
Pros:
Body Safe Material
Beautiful
Multipurpose
Cons:
None
The Nubby Boyfriend is a glass dildo. It is quite beautiful; the deep blue is lovely in natural or artificial light. The coloring is very dark, very deep and can look black if it isn't back lit. It can be used for some light clitoral stimulation if you slide the shaft along your clit. The small nubs provide a nice amount of stimulation if used that way. It could also be used anally if you can handle the size of this toy that way. The base is wide enough to ensure that it won't be pulled in to far. Obviously, the toy is mainly designed for vaginal play. Slow thrusting seems to be the name of the game with this toy, as too much speed or aggressive movement can result in a bit of discomfort. It could be used in a harness if you like, as it has a rounded base that would work in an O-ring.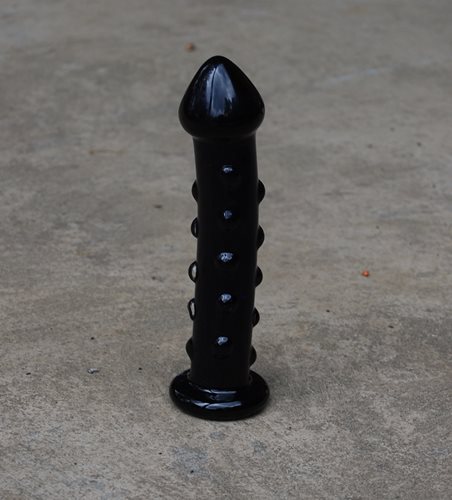 Starting with a spade shaped head, the Nubby Boyfriend has a phallic look without being overly realistic. It has an overall length of 7", with most of that being insertable. The base measures 1 7/8" in diameter and 3/8" tall. The head measures 1 1/2" in diameter, and the shaft comes in at 1 1/16" in diameter. The little nubs are about 1/8" tall and 3/8" wide. Make no mistake, this one has a lot of texture. If you are sensitive to texture or have not enjoyed nubs on glass in the past, you won't like this one. These nubs mean business.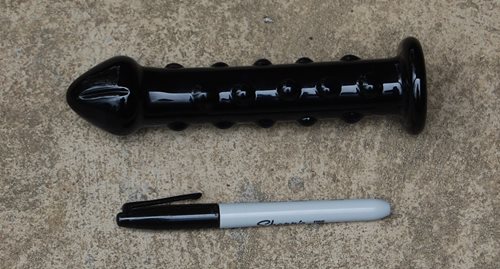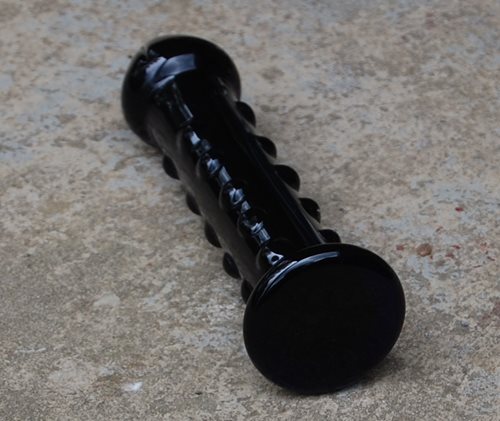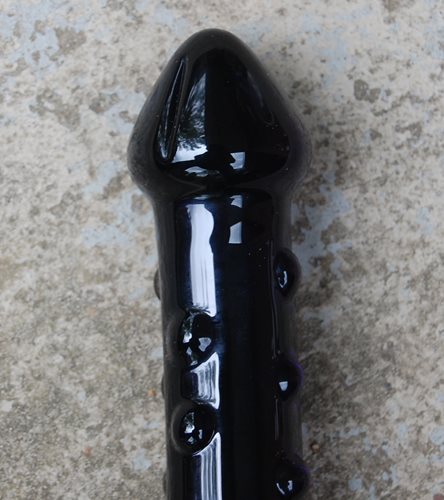 One thing to note is that the nubs are clear glass applied to the blue shaft. If you hold it at just the right angle you can see they are clear. This doesn't bother me personally, but I thought it might be good to disclose it.
You could use the Nubby Boyfriend for some temperature play, as glass holds heat and cold well. Place the Nubby Boyfriend in a dish of warm or cool water before using it to tease you or your partner. The flip side to that coin is that if you don't enjoy the feeling of a chilly toy, you should take a moment to warm this one up before you use it. This toy could also be used for body massage, with a nice massage oil. The nubs feel nice when the toy is rolled, and are helpful to work out any muscle kinks you have. Obviously, the toy is waterproof as well, so it could be used in the shower or bath.
Nubby Boyfriend is made of borosilicate glass, which is non-porous, hypoallergenic, non-toxic, latex-free and phthalate-free. It has no smell or taste. Borosilicate glass is better known as Pyrex, the bakeware and dishes popular in kitchens the world over. Borosilicate glass is designed to break into large chunks instead of tiny slivers if it would happen to shatter. It's glass, so it has no bend or flex, but that rigidity allows you to get some amazing sensations and pinpoint pressure.
Cleaning Nubby Boyfriend is simple. You can wash the toy with soap and water, or you can use your favorite toy cleaner. It can be sterilized by placing it in boiling water for three minutes, or washing it in your dishwasher. Because it is a glass toy, you can use any lube you like. It does not tend to collect lint or hair.
Unlike other glass toys I've purchased, Nubby Boyfriend comes in a cardboard box, resting in a plastic insert. The cardboard box has a clear window, enabling you to see the toy inside. You can choose to use this box for storage or recycle it and store the Nubby Boyfriend elsewhere. For storage, be sure to avoid storing Nubby Boyfriend up against other glass toys, or anywhere it might bang against anything which would break it.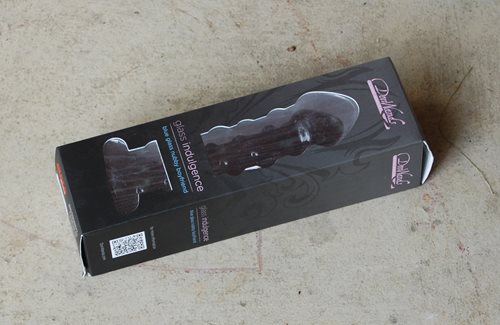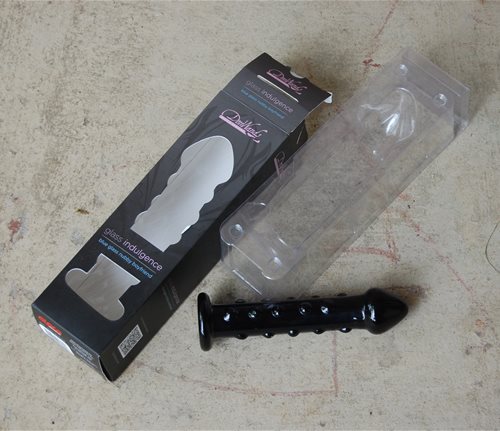 Experience
This glass piece is another fabulous addition to my collection. The head is well shaped and well designed. It doesn't tend to catch on my pubic bone or cause discomfort when it's inserted. The shaft and the nubs feel equally amazing whether the shaft is being slowly thrust vaginally or slid against my clitoris.

It's a bit larger than the other glass I own, but it isn't large enough to be uncomfortable or make me avoid using it. The nubs add just the right amount of sensation, without being too much to handle for me. But be warned, I really enjoy texture. If you really enjoy texture too, you will probably like this toy. If you are iffy on texture, this isn't the toy to gamble on. It's not subtle texture; it's in your face texture.
Follow-up commentary
8 months after original review
I can't say this is the glass toy I reach for the most often, but it gets used. It has held up well, and shows no signs of wear or any imperfections.
This content is the opinion of the submitting contributor and is not endorsed by EdenFantasys.com

Thank you for viewing
Nubby boyfriend
– g-spot dildo review page!