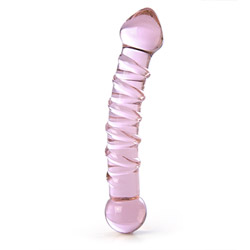 Pink swirl G
Glass G-spot dildo
by EdenFantasys
You Spin Me Right Round, Baby, Right Round. . .
My wife usually has an aversion to sticking things other than me in her vagina for stimulation, but she loves this thing to the point where I may need to hide it so I can get a turn in the sack.
Published:
Pros:
Solid body and texture result in easy cleanup.
Curve and size great for g-spot stimulation.
Cons:
May require initial hot water bath to bring up to body temperature.
We as a couple (or as individuals) have never bought a dildo before. Our sexual purchases had been limited to cheap vibrators and lingerie. But being the brave and outgoing people we are (sarcasm), we decided to journey into the unknown word of glass dildos.

The Pink Swirl G caught my attention for several reasons. Since it was our first experience with something like this, the pink coloring seemed less threatening, and the shape was pleasing to the eye. The price was also a great point, as I am a very frugal shopper (My wife prefers to call me "stingy"). When we received the product in the mail, the tone was immediately set with the purple satin draw string pouch. It told us that this product was different than the blister pack vibrators we were used to, this product was sophisticated. This product drives a BMW M series to work every day, where it sits in a room with many leather books behind a desk that smells of rich mahogany. At least that's what it said to me, it may say different Anchorman quotes to different people.

The usage of this new toy was also different than the vibrators we usually were accustomed to. My wife's first reaction upon insertion was both the smoothness of the object and how damn cold it was. After a quick run under a hot water bath, it was of a much better constitution. While this toy by itself was reasonably pleasurable, it was when we used it in conjunction with a vibrator where it really shined. This may be different for different people, but since my wife is very much a clitoral stimulator, she found that the arousal was heightened by the use of the two toys together. With a few short strokes of the lightly curved shaft pressing on her g-spot, it was smooth sailing to a nice large orgasm.

We used both ends of the dildo on separate occasions. One was more phallic shaped, with a rounded triangular bulb, while the other was more spherical. However, my wife could not feel a noticeable difference. The swirl down the center of the shaft also helped stimulate the outer end of the vagina, which was a plus for my wife. For me, it's just all kinds of fun watching and fucking with something other than my own member. Clean up is also one of the great pluses of this toy, as the single body construction of the dildo and smooth texture means that there are no nooks for things to get stuck in or accumulate.

I think my wife summed up this toy best when she said "If it weren't obviously a dildo, I'd display it on my desk as a paperweight." It's that kind of simple elegance and form function that make this toy a great buy. If you're in the market for a glass dildo, you can count on this one satisfying any need you may have.
This product was provided free of charge to the reviewer. This review is in compliance with the FTC guidelines.
Thank you for viewing
Pink swirl G
– sex toy review page!