Almost as good as the candy.
The jumbo life saver is a basic, traditional vibrator that is perfect for someone just starting out, or someone who just wanted to add something simple to their collection. It comes in a really cute casing that can be reused. It is perfect as a gift stuffer at a bridal party. Athough it only has one setting, it it's a decent toy.
Published:
Pros:
Price, Completely smooth, Pinpoint stimulation, Quiet
Cons:
Not waterproof, One setting, Not strong enough
Jumbo life saver vibrator is pretty much the basic of the basic. You can not go wrong with just the normal, basic vibrator. The jumbo life saver is perfect for beginners, or the advanced that are looking for something pretty straightforward. It is reasonably priced so it will not cost you an arm and a leg.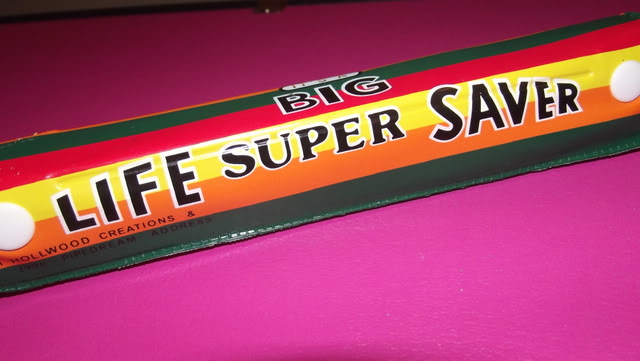 The packaging that the jumbo life saver comes in is pretty cute. I was expecting it come in an unattractive, non-reusable package. It comes in the really cute package, and can be reused over and again if you like. The package is made of vinyl, and if anything ever gotten spilled on it, you can just wipe it off. It is also can be opened and closed as much as you like. It has a snap closure in the front. The package is not pretty obvious. When looking at it without dissecting it, it looks like a huge back of life savers. It has the colored striping and everything. The packaging is so cute. It is my favorite part of the toy. On the packaging, it does not have any instruction on it, but if you ordered it. I'm pretty sure you know what it is used for.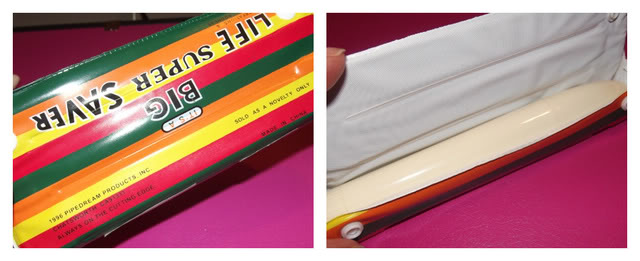 When you open it the package, the toy is in full view. The inside of the package is white, and the toy itself is an off white. So if, you are not paying attention, you could miss it ha-ha. So, now let's talk about texture. The jumbo life saver actually has no texture at all. It is a totally smooth toy. The lack of texture makes it perfect for beginners and people who just do not care for texture. It does have a pointed end. The pointed end makes it perfect for pinpoint stimulation, and for applying pressure. I do not require pinpoint stimulation, but I do like have the option when I need it. You can use it with water, oil, and silicone lube.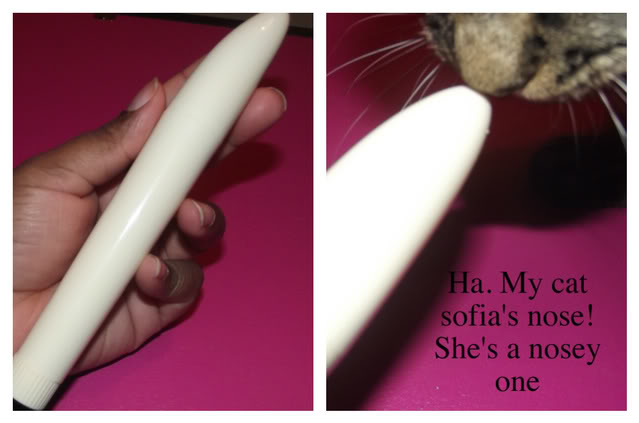 The jumbo life saver is entirely made of plastic. Plastic is Non-porous and phthalate-free material with a firm, smooth textures. This information can be found on the EF material page. Plastic can easily be cleaned with antibacterial soap and hot water or by wiping down with isopropyl alcohol. You can also use your favorite toy cleaner.
When wiping it down you can just use a dry cloth, or paper towel. The product page nor the item says that it is waterproof, so I would not recommend fully submerging it. When cleaning I'd try to keep water out of the battery compartment. If you do happen to get water into the compartment, allow it to air dry before trying to use it again.
So, how does the jumbo life saver work? The jumbo life saver runs on two double A batteries. It is a pretty common sized battery. So, if you running low, you can always "barrow" some from your remote. It is operated by a turn dial that is at the bottom of the toy. This is also where you place and remove the battery. It does not have multiple settings. It just has one setting. This can be a problem for some people who like variety. If, you do not mind one setting I'd say give it ago. The one setting is around a medium. It could be a low to some people. When used it lets off a low buzzing sound, and it can barely be heard through the cover, and certainly not through a closed door. The low sound makes it perfect for shared living.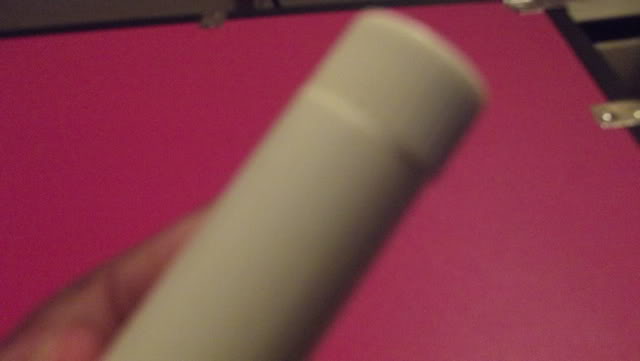 Experience
I wondered why it was called "jumbo" but then I ordered the "now and again massager" and I seen the size difference. The normal one is about 5 inches and 3 inches insertable. The jumbo life saver is 7 1/4 inches and 6 ¾ inches insertable. There is a considerable difference between the two sizes. Traveling with the jumbo life saver can be a little tricky. You can carry it around in the case it came inside of, or you can place it into your favorite toy box without worrying about materials interacting. You would not be able to toss this into your pocket. But, you can still easily travel with it. You cannot insert this toy anally, and I would not recommend trying. You can use it to stimulate the areas around the anus, but you should never try and insert it. Although it is kind of long enough, it does not provide a base for safe insertion.

How did I like the jumbo life saver?
Well I thought it was a cute addition to my collection. I did not have high hopes for it, only because it was 6$. It was well in my price range, and it worked well for the price its set at. The vibration were not strong enough to get me off with it alone, but it makes for the perfect starter toy. To get your body warmed up this is perfect. It is also perfect for some lite sensory play. It is also perfect for women who are generally just sensitive. I felt it is perfect for someone who is just starting out and do not want to spend that much. When I used it, I needed to pair it up with another toy; the vibrations just were not strong enough for me. I did like for the price that it was quiet. I was not expecting it to be silent. I thought it was going to be much louder, and that the sound alone would make me not want to use it. So it was surprising when it was not loud at all. I know that when I have my bridal party I'm going to get a bunch of these for goodie bags. I think this vibe is perfect for gift giving. I did not try and use it in any type of water only because I was worried about messing it out. I did not want to use my toy to test if it is waterproof or not. I also did not like that when used with a lot of lube. It can be extremely slippery.
This content is the opinion of the submitting contributor and is not endorsed by EdenFantasys.com

Thank you for viewing
Jumbo life-saver
– sex toy review page!