Classy and Naughty (OS)
These come in OS or XL. They sit on your hips and it can stretch from 28"-37" (OS). It isn't obviously crotchless so you can surprise your partner. The lace trim around the crotch opening is a bit scratchy. It was a bit uncomfortable but when you are in the heat of things that wasn't a deal breaker. These look great with the Spellbound Corset. There were several loose threads so I took off one star as I do not know how these will hold up. But they are darn pretty and worth a try.
Published:
Pros:
Design
Black and Silver Lace
Hard to tell they are crotchless
Cons:
Loose threads
Maximum hip measurement is 37"
Lace at crotch opening should be softer
I love how the Silver and Black set each other off. I find the combination to be very classy. When wearing these panties, you cannot tell from looking at them from the front or back that they are crotchless. Your partner will never know the surprise that awaits him or her until they get up close and personal.
Design
A Great design for this little crotchless bikini panty. The front and back are black floral lace with silver accent thread stitched in the flowers and leaves. This lace is very soft. The front is a v-shape that is stitched down the middle.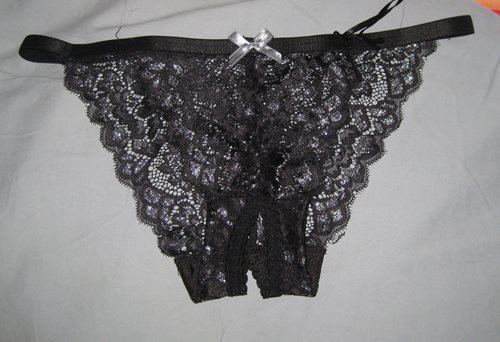 There is a silver bow in the center. The back is also in a v-shape with two lace pieces stitched together down the back.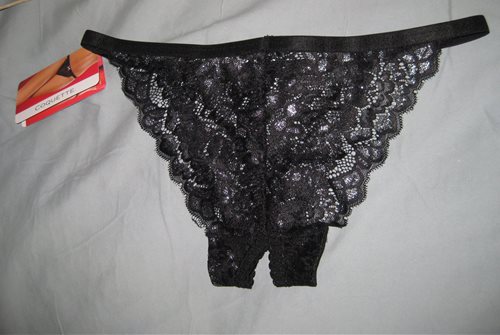 Connecting the front and back is a solid nylon crotch with the same lace covering the outside. In the center of the crotch has a slit down the middle. The length is 4". It is well placed to allow for either vaginal or anal penetration. The opening is lined with a lace ribbon sewn around it. This lace trim is slightly scratchy and can leave your partner a bit chaffed.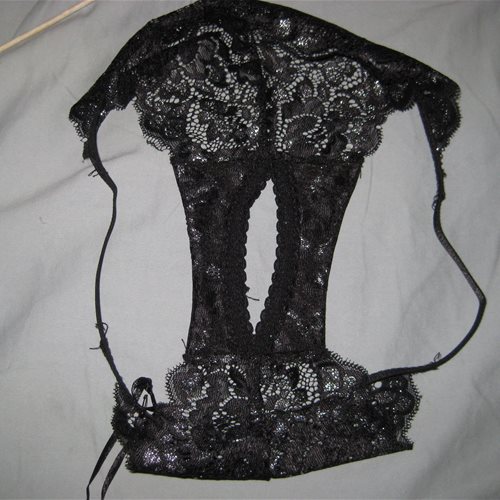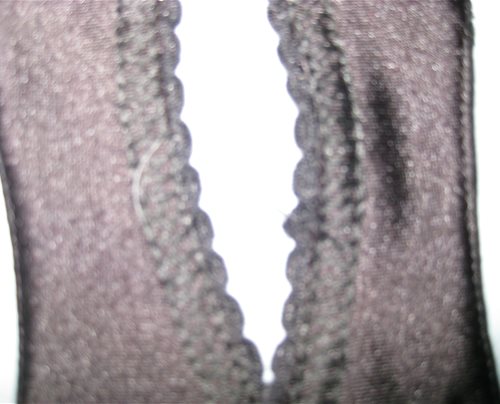 The sides are and band are made of a stretchy 1/2" black satiny elastic.
Sizing
The only size you need to worry with is the hip measurement as the panty rests on your hips. Un-stretched the band measures 28" and stretched it is 37". If your hips are more than 37" you may want to order the XL.
Packaging
These come in a small square pouch that measures 6"*6". It is clear plastic with Coquette in silver written across it. The panties are visible as is the tag with a woman wearing them on the front. The package also has the bar code item number, color and size.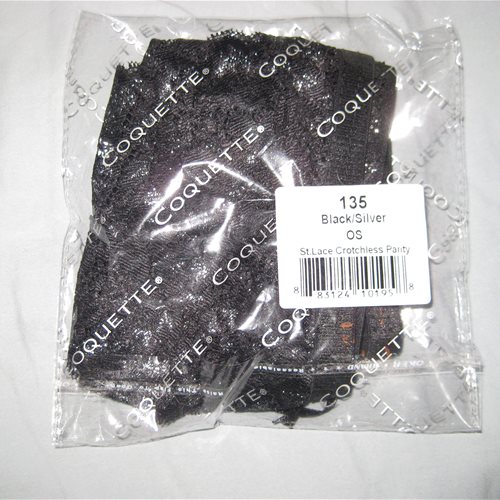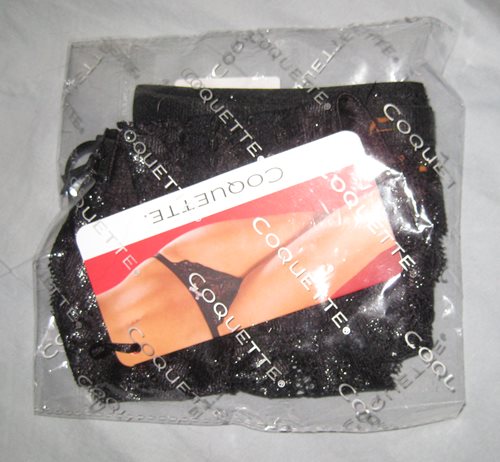 Material
The material is a mystery. There is no material or care tag on the panty. I would guess it is a nylon and spandex mix. On the hang tag there are care symbols. I found a key to the symbols at http://www.textileaffairs.com/c-common.htm. The symbols indicate that you should hand wash, do not tumble dry, do not bleach and do not dry clean. These would care instructions would go along with it being part nylon. If it is nylon you will want to avoid any oil based liquids as they can stain.
There are several loose threads. The long-term wear as a result is a bit worrisome.
Experience
I purchased these to go with the Spellbound Corset. They also go with the Starburst Corset. This is the panty that is shown with that corset. It looks as good in person as it does in the ad. The fact that these were crotchless was well hidden until he went for my lady treasures. That was a definite turn on. The only issue was that the lace trim that is stitched to the crotch is a bit scratchy and can chafe a bit when used for it's intended purpose. It was not enough of an issue to stop but was not a plus.

Wearing a crotchless panty with a corset and stockings is very nice because you do not have to bother with taking off the stockings to get to the main event.

These are comfortable enough to wear all day.

I will be putting up a review of the Spellbound Corset and the Starburst Corset soon, so check out those reviews.
This content is the opinion of the submitting contributor and is not endorsed by EdenFantasys.com

Thank you for viewing
Black crotchless panty
review page!