Cute but short
For being a crotchless panty, these work fantastic, while looking great, but from the front only. Looking at them from the rear, they are way too short, and look like a major design fault. Overall, we are disappointed with these panties, and they will be getting the heave ho!
Published:
Pros:
Good crotchless width, nice color, multiple sizes
Cons:
Cut too low in the rear, doesn't look right on
Intro
I got these as a surprise for my wife. The only other crotchless panties we got were from Victoria's Secret a few years ago, and we didn't really enjoy them for their crotchless part, it seemed to more get in the way. I then saw these on Eden quite a while ago, and they seemed to get good reviews. Also, they looked cute and nice enough where I thought it was worth another shot at crotchless. So I placed these in my wishlist, and after quite a long wait between them not being in stock or not getting them, I finally purchased them a few months ago.
Design
Crotchless panties have a delicate balance between having too much material, or not enough material. Or between being too flexible, or not flexible enough. The first pair we tried had its straps placed too close together, so they were constantly rubbing against my penis, and were quite uncomfortable. This pair looked a lot nicer while holding them up. Their straps appeared to be thick enough to "grab" onto the skin next to the vaginal lips, and stay somewhat in place. They were also cut long enough where either vaginal or anal sex were possible without having to reposition them. They have a red see-through floral lace pattern to them, with a small bow in the front, and a small V in the back showing off the ass cleavage.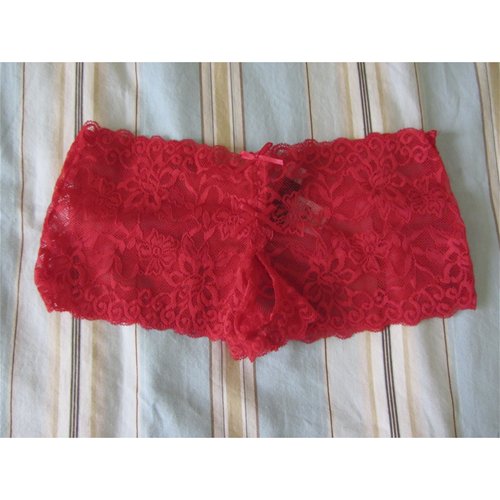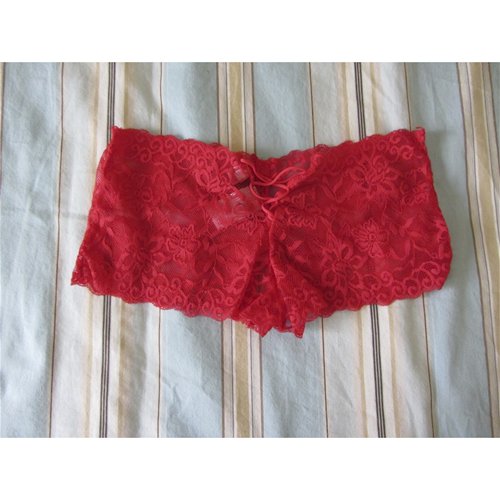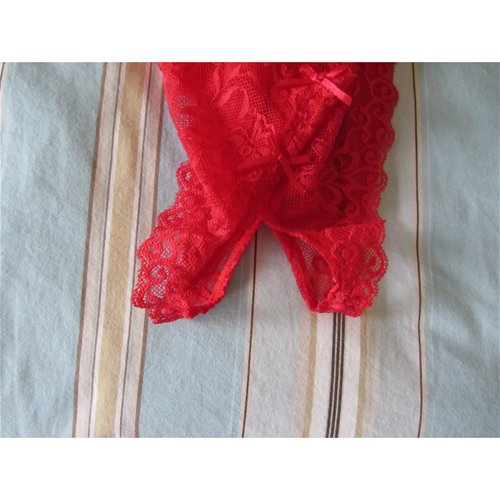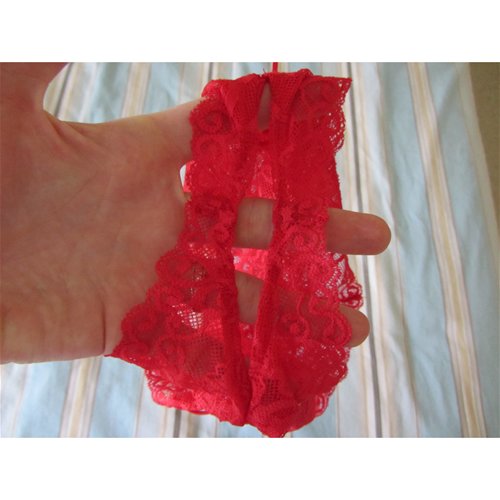 Sizing and Material
My wife is in between a size 4/6, with a 28 inch waist, and 38 inch hips. She is 5'9", and weighs about 130 lbs right now. Dreamgirl's size chart says that for a M, the size range is for a size 6 to 10, with a 26 to 28 inch waist, and hips of 36 to 38 inches, and for someone who weighs between 120 and 140 pounds. These fit her properly without being too tight or loose, and from the front, they looked great. But from the back, they were nothing but problems.
Laying flat, the M measures 12 inches across the top unstretched, 13.5 inches across the bottom unstretched, and 6 inches tall on the sides and at the crotchless section. Pulling on the sides, I could stretch it out about another 3 inches. The V detail at the back is only 2.5 inches across, while it looks a lot larger in the packaging photo. The crotchless section is 6 inches long, 3/4 of an inch wide at the narrowest in the center, and 3 inches wide at the widest part.
The label which hangs strangely from the back of the panty says it is Made in China out of a 90 % nylon and 10% spandex mix, to hand wash cold, and line dry.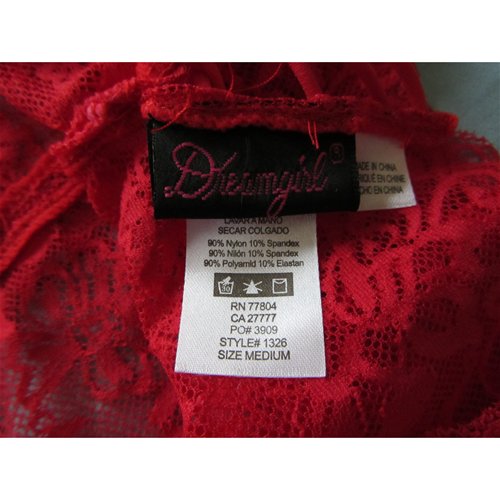 Wife's Reaction
At first when my wife saw these in their package, she was interested. But when I said they were crotchless, I could tell she wasn't quite as excited. But we didn't pull them out of the package yet. Then a few weeks later she saw the package again, and said that they looked really really cute. It was still about another month before they finally came out of the package, and this is when the disappointment started.
After placing the panties on and pulling them up to a normal location, my wife turned around, and these panties were hanging way too low on her back. She said something before I did, and we compared her amount of ass coverage to that of the models on the packaging, and we could tell there was a definite difference in the rear height of the panties, almost half the coverage. They just didn't look right, and we were both unhappy. She tried pulling the fronts up even more, and it only made a small difference in the back. But she kept them on for the moment so we could at least get this review completed.
Crotchless panties in use
We tested these in both foreplay and vaginal sex. With my wife leaning back in our sex swing, and with her legs spread wide, I had no problems getting access to her pussy with my mouth, and the panties were never in my way. Then we tested these during vaginal sex, and they still worked decently well. Initially they stayed out of the way, but after about 10 minutes of bouncing in the swing and grinding back and forth, we eventually worked one side of the panty against my penis. It wasn't uncomfortable enough to force me to stop, but I did notice it.
Experience
Cleaning
Since these are very delicate in nature, for maximum life I would recommend hand washing these in cold water, then hanging them up to dry. But since the first and only time we used these we got them really dirty, I just decided to throw them in the wash on a cold delicate cycle with the rest of our underwear. I then hung them up to dry. They appeared to come out of their only wash just fine with no damage done to them. They have a half dozen loose or uncut threads hanging off around the back detail, but I believe these were hanging loose before the wash.
Packaging
For packaging, the panties were folded up inside of a clear plastic bag with a small piece of cardboard inside. Over this, was a folded piece of cardboard that featured one photo showing the rear of the panties on the front of the packaging, and a front photo of the model with a small amount of information on the back. All of the packaging will be recycled.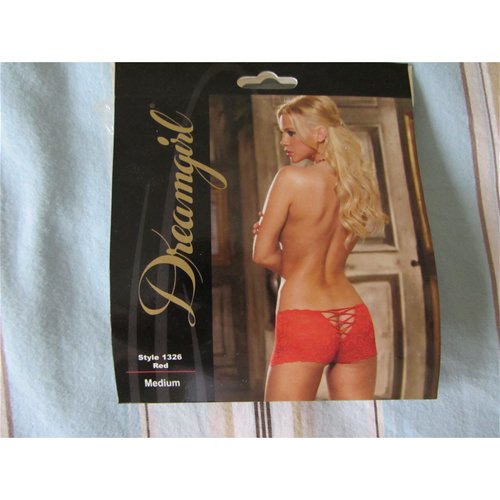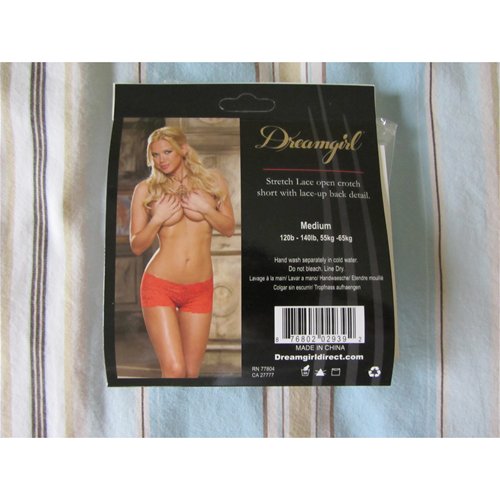 Follow-up commentary
5 months after original review
My wife has tried 2 different crotchless panties, and both have been a disappointment. Out of the 2 pairs, these stayed in our collection for the shortest amount of time. My wife wore them once, we realized they were too short, and then I wrote the review. After the review was finished, they did get thrown out. There was just no reason to keep them, and there was no other use for them. It is disappointing since they looked nice, and the crotchless part did work well. But the extreme shortness in the rear just made them too strange.
This content is the opinion of the submitting contributor and is not endorsed by EdenFantasys.com

Thank you for viewing
Stretch lace open crotch short
– sexy panties review page!