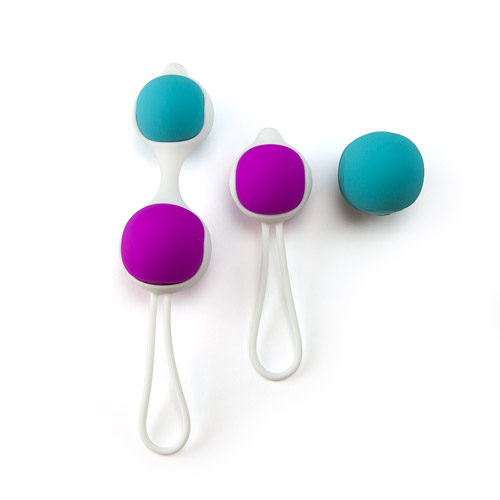 Kegel trainer set
Kegel balls
by EdenFantasys
Fantastic Kegel Training Set
I love The Kegel Training Set. It is cute, easy to use, and offers a lot of options. While it isn't the Je Joue Ami (the first set I ever had), it is darn near close. With the ability to change the weights, the weight is printed on the balls, and the benefits of strengthing your pelvic floor, there isn't anything to not love about this set!
Published:
Pros
Easy to Use
Multiple Weight Varieties to Use
Super Cute
The Kegel Trainer Set

The Kegel Trainer Set is the perfect gift or self-indulgence for anyone looking to tighten up their pelvic floor muscles. They arrived in a cute, but non-discreet black box, with little text, and no instructions. While I know how to use kegel exercisers, I know that a good bit of people do not, and feel that the lack of instructions was a huge mistake. I will get on how to use them in just a moment. This kit comes with four weighted balls and two slings. The two larger balls are the lighter ones, and the ones you should start out with - they are 30g. The two smaller balls are 40g and should be used after you get accustomed to the larger balls.

Instructions

For those of you who do not know, you will start with the single sling and the biggest (lightest) ball. The ball has a free weight inside that will bounce around and jiggle as you go about your daily activities. The bouncing of the internal ball with cause your body to think something is falling out of your vagina, and make you unconsciously clench your pelvic floor muscles. You may experience some soreness if you are not used to exercising these muscles.

Once you are used to wearing the single 30g ball, you can use a single 40g ball in the single sling. After you get used to that, you can move up to the two ball sling and wear both of the 30g balls. I find that it takes some time to get used to, and you may wait months before going up in weights. When you feel like you have reached your full potential with the two 30g balls, move up to two 40g balls in the double sling. The additional weight will cause your muscles to clench harder, further strengthing your pelvic floor. Changing the balls from sling to sling is super easy due to the stretchiness of the slings.

If you feel that you have reached your maximum strength with The Kegel Trainer Set, you can do other exercises with them! For example, laying on your back and tugging on the retrieval cord while squeezing the weights is another fun, and pleasurable way to use this set!

Purpose of Kegel Exercises

Kegel exercises and exercisers are used for a variety of reasons. When my mother taught me to clench those muscles (without an exerciser), she told me that it was to tighten your vaginal muscles for better sex. When I began looking into it, I found a plethora of other benefits. Don't get me wrong, it did tighten my muscles, but are you aware that strengthening your pelvic floor can also support the womb, the bladder, and the bowels? The muscles in your pelvic floor help to control your bladder and bowels, meaning if you have bladder control issues, kegel exercisers can help you to control that better or even prevent issues in the future! Furthermore, it can aid in making birthing a much easier process. Another added benefit that you will not find in many articles detailing the advantages of using kegel exercisers is that the constant motion in your vagina will keep your mind on dirty things for the better part of the day and help to increase your vaginal lubrication!

Back to The Kegel Trainer Set

This set is made of silicone, and the slings are elastic enough to hold both the smaller balls and the larger ones without any problems. I have not seen any issues with stretching. If they do stretch in the future, you can use the weights without the sling. The Kegel Trainer Set is made entirely of a silky smooth silicone that is addicting to touch. While the retrieval cords are strong enough to withstand a good bit of tugging, they are a bit too short, and I have had to dig for them on more than one occasion.
This product was provided free of charge to the reviewer. This review is in compliance with the FTC guidelines.
Thank you for viewing
Kegel trainer set
– sex toy review page!