Frosted Glass Ecstasy
This toy is a wonderful new way for glass lovers to love glass! The frosted glass has an unique texture in use and the ridges can provide a "juicing" type of feel to the vibrator. Slowly thrust and spin the toy and you have the makings for a truly unique experience. The vibrations are moderate and will not appeal to power junkies but add a bit of excitement to the other features.
Published:
Pros:
Frosted glass,
Ridges and texture,
Great materials
Cons:
Vibrations are moderate,
Might get scratched up,
Might break if dropped with force
I have quite a few glass toy but I didn't have any frosted glass toys. I like texture and a bit of drag on a toy so I figured I would try one. I know I like Doc Johnson's Reflections line of glass vibrators because I own the
Reflections Joy
. The Ecstasy is a frosted glass sleeve with lovely ridges down the sides of the vibe. Intriguing!
Since all of my toys are smooth glass I didn't know what to expect from a frosted glass toy. The surface of the toy has quite a lot of drag but feels incredibly different, almost velvety. I love stroking this toy, and it even feels kinds of different on the tongue. Now before you get the mental image of me sitting on the floor surrounded by glass vibes and dildos licking them, you should know that I actually don't do that...often, anyhow! Still, this one I had to give a taste. I found the surface rough but not abrasive and I didn't have any worries that the glass would bother my sensitive vagina. See? I DID have a reason to run my tongue, slowly and lovingly, all over the toy!
When I was done gratifying my oral fixation, I added a touch of lube to the side of the toy. I prefer a silicone/water blend but you can use whatever suits your body best. I found that I needed to add quite a bit more lube to this toy than my other glass toys because the ridges are so incredibly pronounced and the lube would run into the channels. Still it didn't take an incredibly large amount of lube, just a few drops more than usual.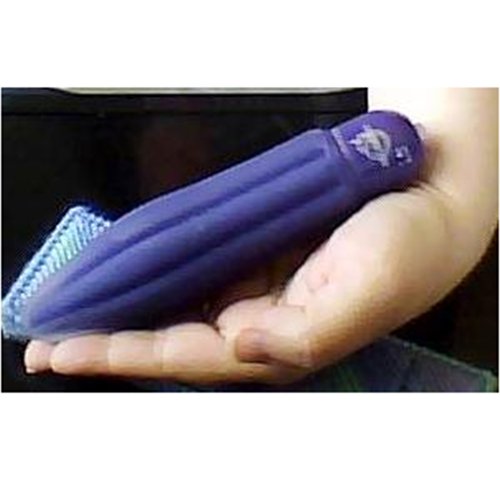 The toy is a moderate size, measuring in at 6.50 inches with a full 5 of those inches being insertable. It has a very tapered end that is also rounded so that it won't cause terrible bruising even with some vigorous thrusting. This is an unforgiving glass toy, remember, so it's going to feel a bit bigger than it is. It measures just over 5 inches around at it's widest point.
The glass sleeve has several lovely features including the frosted glass, the ridges that are deep and pronounced and a softly tapered bulge just after the tip. This bulge swells out to the 5 inches and then tapers back to 4.50 inches near the battery housing lid. It feels amazingly filling and provides an initial stretching feeling followed by an easing of the sensation. I found the best way to enjoy the unique sensations was with very slow thrusting and a slow twisting. The twisting will cause a sort of "juicing" of the vagina and is an indescribable sensation. If you are a juicy lady it can get messy but that's what towels are good for!
The Ecstasy takes 1 AA battery that slides into the body of the toy and provides good, solid, medium strength vibrations. The battery housing lid screws on and is made of hard plastic. The Doc Johnson logo is printed on the cap and there is an O ring attached to the toy making this a waterproof toy. After using the toy in the shower and washing in the sink I have yet to see any leakage.
The toy has three speeds; low, medium and high. The lowest speed is pronounced and moderately deep though not powerful. The medium is noticeably higher pitched, more vigorous and entering buzzy. It is still quite gentle and will not knock your socks off. The highest speed is also noticeably more vigorous, higher pitched and surface buzzy. The toy never leaves the realm of the moderate and will not appeal to power junkies. on the other hand if you know you like softer vibrations this could be just the thing!
Washing is easy since glass is non-porous. The O ring prevents any water leakage between the glass sleeve and the plastic vibrator as well as into the battery housing. It is easy to scratch frosted glass so be careful while washing that you don't scrub. Hot water and soap makes a good cleaning routine as well as a commercial spray or wipe.
This would not make a good anal insertion toy, obviously, as the glass gets really slick when lubed up and there isn't a good place to grip the toy or stop it from being fully inserted into the rectum.
Experience
My Ecstasy arrived with some visible scratches in the grooves of the toy which is why I chose to actually test the toy with my tongue. I didn't have any discomfort or cutting to any tissues so I am lead to believe that the scratches are in the frosted coating not the glass itself.

I would suggest storing the toy by itself to prevent any toy rubbing up and down the toy possible abrading the
finish.
While this toy does look like a vibrator it is small, compact and can be stashed away quite easily. It is quiet in use and unlikely to alert the neighbors to "toy time". Possibly your sleeping partner/roommate might hear it but it shouldn't bother them much.

All in all I really like the toy despite the lack of kick ass vibration. The slow gliding/twisting motion that I have adopted for play with this toy elevates it from a ho-hum vibrator to a really great juicer. If you have a sensitive clit or prefer softer vibrations this would be a great addition to your toy box.
Follow-up commentary
9 months after original review
I do still like this one but I did notice that the frosted glass has tiny scratches on the finish. It doesn't really mar the look or anything it was just a surprise to me. Otherwise the motor is still running great.
This content is the opinion of the submitting contributor and is not endorsed by EdenFantasys.com

Thank you for viewing
Reflections ecstasy
– traditional vibrator review page!