Blueberry Yum Yum.
The reflections ecstasy is a beautiful blue vibrating glass vibrator. It has multiple sittings and gives you a full felling when using it. You can use it for temp play, or use it in the shower or tub. It has three settings of vibration and is whisper quiet, which is perfect for shared living.
Published:
Pros:
Glass, Vibrating, Waterproof, Strong, Quiet,
Cons:
Lack of settings
I tried my first glass dildo about three months ago, and ever since I've been pretty much in love. I had no idea that glass could even be partnered up with a vibe in one toy. I've always just use an outside vibe to give me vibrations when using a glass toy. I was excited when I found the reflections by Doc Johnson. When you receive the reflections, it comes in a pretty purple, clear, and white box. The toy is in full view, but the box is so pretty that you can even still give it as a gift. The box has some pretty flowers, swirls and designs. It does have some information on the box; some are common sense some are not. The information is as followed.
Phthalate Free
Hygienic, body-safe
Borosilicate Glass
Velvet touch
Beautiful colors
Multi-speed
Waterproof
There is information on the back of the box; it is more of seductive way of selling the toy. The side of the box also has the same information that is above in other languages. The languages are English, Dutch, French, Spanish, and Russian. The box can be used as storage if needed. When you open up the box, the toy is sitting inside of a plastic try.

When you remove the toy from the box, the first thing I noticed where white marks all over my toy. I first thought that my toy was scuffed up. I later found out that it was not scuffed, and it was just white marks that can be wiped off. I made jokes about the toy being ashy and needing so lotion. I then notice that it did not feel like my other glass toys. This one had a little drag and did not feel as normal glass. I learned it was A glass is an inorganic nonmetallic material that does not have a crystalline structure. Such materials are said to be amorphous and are virtually solid liquids cooled at such a rate that crystals have not been able to form. If it were to break it would not shatter or splinter into tiny pieces, but instead it would snap or break in large pieces. You can use it for lite temp play, by adding it to some cold or hot water. I would not recommend freezing it or boiling it. When you tap the toy it sounds a little hollow.
The ecstasy is not a large toy. It has a length of 6 ½ inches and an insertable length of 5 inches, and a diameter of 1 5/8. It is a girthy toy, so if you enjoy toys that give you a full feeling than this one is for you. It does have a road bump texture all around it. The texture is not too noticeable when you are using it. You do notice it when you are touching it. Perfect for beginners. The tip comes to a rounded point; although it is rounded I would recommend using caution when using it. You would not want to hurt yourself or bruise your cervix.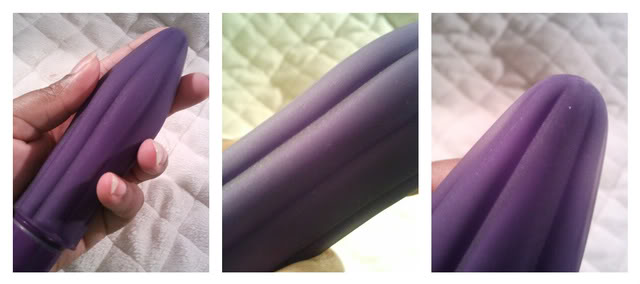 The ecstasy is a vibrating glass toy. It has three settings of vibrations and runs on one double A battery. When I first realized that it only ran on one battery I did not think it was going to be strong. I was a little off. The ecstasy only has three sitting, which is a little disappointing. I wish it had more settings, or at least one setting of pattern. The vibrations are a Low, medium, and a high. The vibrations are deeply felt when inside of you, and evenly felt throughout the whole toy. The vibrations are quiet, quieter than I thought it would be. I thought with glass and vibrations. It would have some rattling, but this does not. The vibrations can not be heard through the covers, and certainly not, through a closed door. The vibrations are controlled by a single push button with a number three on it.

Experience
Continued...
The ecstasy can also be used in water if you what too. You can take it into the shower or bath. It does have a clear protective O-ring around the top of the toy under the cap. This lets you know that the ecstasy can be used in water. You can fully submerge it, and this makes cleaning extremely easy. You can submerge it and clean it with mild soap and water. You can also use your favorite toy cleaner, which ever works best for you. Like I stated before, I needed extra lube. So, when using the ecstasy you can use water, oil, and silicone based lubricants. When cleaning, if you happen to get water on the inside, please allow it to air dry before using again. Even though it is glass, you should still use a condom when sharing.

When traveling with the ecstasy it is easy, because it is smaller than I originally thought. You can put it into your purse, or luggage, whichever works best for you. When storing it at home, you can place it into your dresser drawer or in your bedside table. If, no one goes into your room you can also just hid it under a pillow. This vibrator cannot be used anally. It does not have a base, nor is it long enough.

This content is the opinion of the submitting contributor and is not endorsed by EdenFantasys.com
Thank you for viewing
Reflections ecstasy
– traditional vibrator review page!