G Rock Your Body; Yea, Yea
Even though my initial excitement upon ordering caused me to sing Backstreet Boys songs up until it's arrival, after use I could see why my husband had told me that I was making a big to do about nothing. The concept of this toy is genius, and although it may work great for many, it just did not work that great for me. Don't get me wrong though, it was not the worst toy on the market either. Although not fabulous or disappointing, I would just use my money towards the rock-chick.
Published:
Pros:
Easy to clean, soft feel, comfortable size for all, hypoallergenic
Cons:
not very powerful, Does not work as intended
Guess how quick my husband became annoyed with me when I received the "G Rock Personal G-Spot Pleasurizer" in the mail and began singing old Backstreet Boys songs? It was pretty much instantly.
I could not help it though, I had to sing! I was so excited for this delivery, and would mope by the window as the delivery truck would drive by my house without stopping the days before it arrived.
Then finally the heavens opened and there was a hot steamy delivery man at my door who handed me the package with a smile. Ok, you caught me, he was not attractive at all, but I was still excited. I could not help but tell him of the contents because I was so thrilled (delivery drivers either love me, or hate me, there is no in between).
I ripped open the box with my husbands car key and pulled the contents from the mailing package. The G Rock was nestled in a plastic tray which slides out of a well designed plastic box.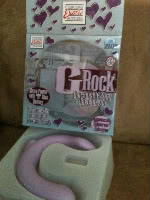 As you can see the box is not discreet as you can see the toy through the unfrosted plastic on the front. The back spells out the directions for assembly and use, including a handy diagram of where the clit and g-spot are.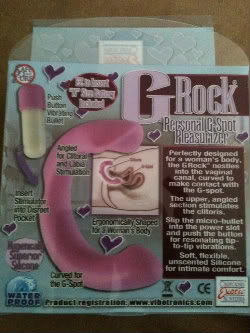 I suffer from OCD, so when I first saw the box I was a little overwhelmed by all of the information, and little hearts that graced the exterior. My mind was frazzled and my eyes did not know where to go. Honestly, I think that if there was less art work and cutesy little hearts the packaging would be more attractive.
♥♥♥ Also, I would like to point out that the packaging was different than what I had saw already on the site. Additionally, there seem to have been some changes made to the material of the toy itself. So please, no hate mail asking me about if I am sure it is not a different material.♥♥♥
The G Rock, or Gangsta Rock as I have nicknamed it, is made of silicone therefore not only is it flexible, but it is also non-porous, latex free, and hypoallergenic! Additionally, the material is not stinky, and provides an ultra smooth surface with seams that you can barely feel. This material is super easy to clean with antibacterial cleaner. Although silicone toys can be boiled to sanitized, do not do that with this toy. Although it claims to be waterproof, there is a disclaimer on the box stating not to immerse it into water. There is no gasket inside the top of the battery compartment, so I may suggest to just keep it away from water all together. As far as lubes go, make sure to stick with water-based lube if you feel lube is necessary.
The size of the Gangsta Rock (in terms of length and girth)is perfect for both beginners and advanced toy owners and connoisseurs. Now, don't get me wrong, I am not saying that everyone is going to be able to get the effect that it was designed for, but it will be comfortable none the less with it's roughly four inches of insert-able length (the specs say five inches, but that is pushing it because of the battery compartment).
The size also makes it a prefect travel companion, despite the fact that it cannot read maps or navigate. It can however store nicely in your bag or carry on if you want to have some solo mile high fun in a cramped restroom.
When you open the top to the battery compartment you will notice that there is a little piece of plastic inside indicating which way the (included) N-sized battery should be inserted. I have found that these pieces of plastic do more than just inform, they make the toys less noisy, without damaging the toy, or lessening the vavavavrooom. I removed the plastic to do a comparison, and it was noticeably louder than when the plastic is included. With the plastic I would say it has a buzz of two bees, but without it would be the buzz of three bees. So although not a huge difference, there is still a difference, and if you live in a house like mine (with thin walls) that one less bee is nice.
Experience
The G Rock itself is designed to pleasure both the clit and g-spot at the same time. Notice I said that it is designed to, I didn't say that it does. Honestly, I think that the designers had a great idea, I mean, the thought alone of this toy had me singing backstreet boys songs; that there should mean something!

So although the concept may be great, the design does not really follow through as well. Does it feel good; yea. Does it feel great; no, not really. I found that no matter what I did I could not get the g-spot end to actually hit my g-spot because the battery compartment got in the way. So I just focused on using the toy for clitoral stimulation. The vibration was weak because the actual bullet is in the center of the toy. Now if they could remake this and have bullets on each end, and also more than just the one speed that it currently offers, that would be genius.

The on/off switch is located in the middle of the toy, at the end of the battery compartment. When inserted it is a little challenging to turn on or off because of the angle.

Since it did not work out the best for what it was intended for I thought that maybe it could work well on men as a prostate massager. My wonderful husband has helped me with other reviews, but when I asked him to help with this one I got a big "fuck no. Nothing is going in my ass." Ugh, men.

If you decide to use this anally please, please, please make sure to use it with a condom. I know I already said how easy this is to clean, but I live by "better safe than sorry."
Follow-up commentary
5 months after original review
Still loving the idea of this toy, just do not love the toy.

I have attempted to use it, and flex it, as much as possible, but it is not "hitting" where I need it to.

I guess it will just remain in my closet.
This product was provided free of charge to the reviewer. This review is in compliance with the FTC guidelines.

Thank you for viewing
G rock
– g-spot rabbit vibrator review page!