Golden balls
If you're wanting to tone up your vaginal muscles, for whatever reason, or just to see what the hype is all about, the Crazy Girl pleasure balls are a nice pair to start out with. Use one or both at the same time. Wear them any time, anywhere.
Published:
Pros:
Small
Weighted
Body safe
Cons:
None
USE
Crazy Girl pleasure balls are weighted, metal balls designed to help strengthen the vaginal muscles by giving them a workout. These are designed for vaginal use ONLY. They can be worn anytime, even during sex for those who aren't as much of a wuss as myself. You can wear them in bed, in the tub, while out shopping, ect. All the while tightening your muscles which is supposed to help for many different reasons such as: improving sex/helping make orgasms better by having better muscle strength, improve incontinence issues, strengthen back up after giving birth, just to name a few.
MATERIAL/SIZE
They are made of weighted metal, chromium steel with 24 karat gold plating to be exact. You can feel the weight in just holding one ball alone. I'd say they're decent for beginners and intermediate users. The metal is slick and smooth, no odd added textures of anything. Obviously, they are round and look similar to a marble. They are small and discreet and can easily travel with you in the bag provided with them. The measurements of each ball are:
Length: 1/2"
Insertable length: 1/2"
Circumference: 2 1/4"
Diameter: 1/2"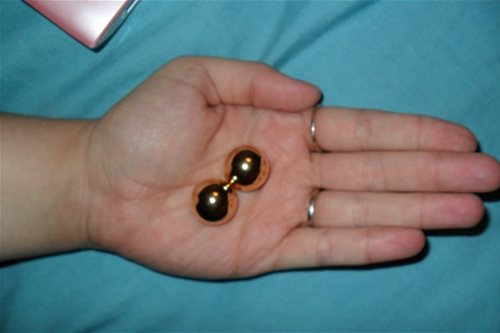 Next to EOS lip balm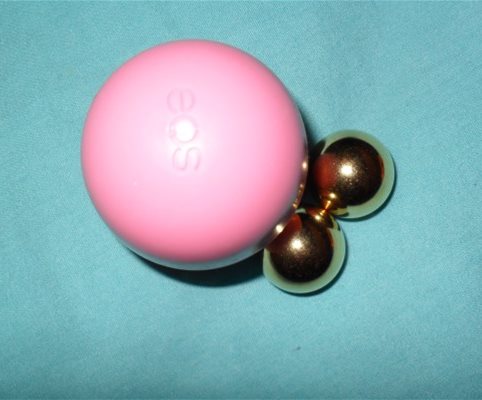 PERFORMANCE
To use, you simply insert one or both balls up into the vagina, then just flex/squeeze your muscles to keep them from falling out. You may want to start with one ball at first, then work up to both because they will slip out if you can't hold them in. It's simple- squeeze, relax a little, squeeze. Just be sure not to relax and push until you're ready to take them out. You can wear them minuets or hours, the choice is yours. I have read that these balls can be used during sex, though I haven't tried it myself. I know they won't get "lost", but I'm still a bit wary to have them in while having sex. They can be a bit intimidating without the cord, and you really do need to relax to get them out, while pushing, or you'll have to fish them out using a finger (which I've had to do). With regular use you should be able to tell a difference in your muscle strength. But it's something you have to do a few times a week, not just a few times a month if you want to see results. When wearing both balls, you don't have to worry about a jingling noise or anything. I like these balls because they are small and the larger ones intimidate me a bit. I tried some corded ones that were a bit girthy and they just ended up causing me cramps and were too uncomfortable to wear.
CARE
You can clean them with soap and water, toy cleaner or wipes. You can put them back in the plastic case they came in or the better choice- the small drawstring bag that comes with it. Then just tuck them away in a drawer. If you leave them out, I doubt anyone would really know what they are and will probably just think they're some sort of marble.
This content is the opinion of the submitting contributor and is not endorsed by EdenFantasys.com

Thank you for viewing
Crazy Girl pleasure balls
– vaginal balls review page!