I'm loving ceramic vibrations!
The Lovemoiselle Cecile is both a beautiful and elegant vibrator. The flower detail and "vein" make this vibrator interesting in appearance. It has 2 speeds and 3 pulses, and the power button can be held down to turn it off at any point during the phases. But sadly, the vibrations are not strong enough for most. Has a great size for beginners and it is optimal for those who don't require much vibration to orgasm.
Published:
Pros:
Lovely texture, has a "vein", looks beautiful, vibrates
Cons:
Dull vibrations, shouldn't go through drastic temperature changes
The Lovemoiselle Cecile comes to you in the beautiful black box all Lovemoiselle products come in. Inside this box comes your vibrator, a little booklet(with Lovemoiselle information and other products), a black satin storage bag(similar to the red ones that come with some of the cheaper glass from Eden), and a plat foam brace that keeps your toy from rolling around and cracking or breaking. All these little extra's are a sign you are buying from a good and trustworthy company.
In box, front view: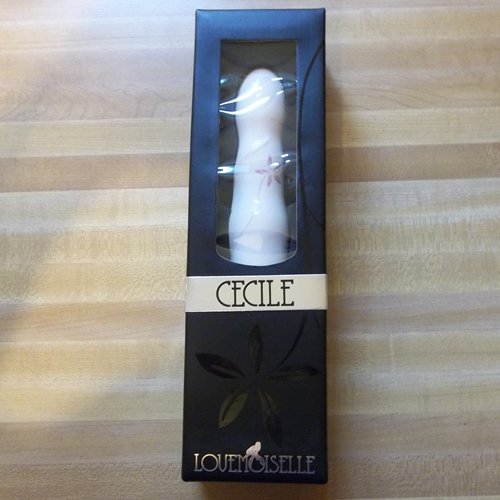 Side of box: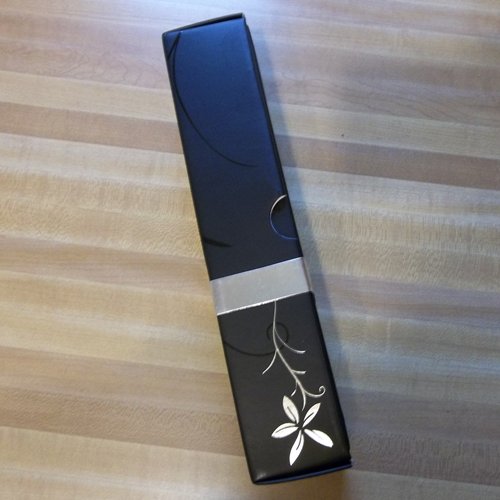 Rear view of box: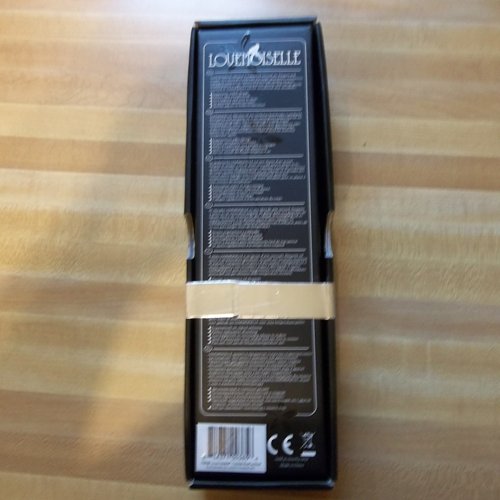 Foam brace inside box: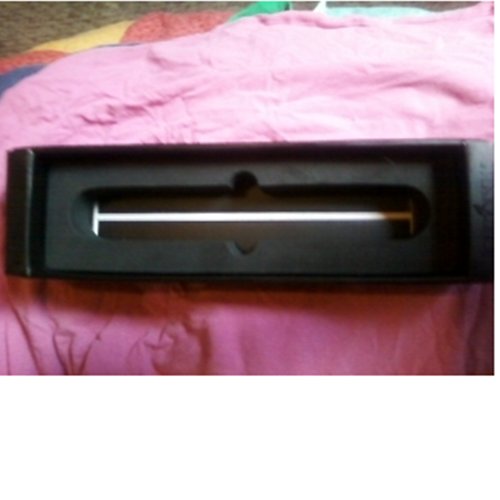 Toy side by side with the included pouch: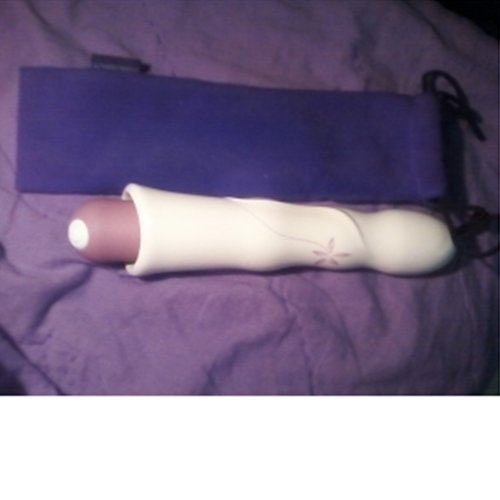 This toy is made of ceramic, all but the little screw on and off purple piece at the bottle. The little piece made of what I believe to be plastic is the cover for your 2 AA batteries. This toy has 5 functions all together and are controlled by the solitary white button on the purple battery cover. Two of the fuctions are speeds(low/medium and medium/high) and three patterns of pulse. Each of the pulses are mixtures of the two speeds with pauses. Continuously pushing the control button will bring you around and around through it's functions and will only turn off when the button is held down. This toy is not very strong and is incredibly quiet. It could not be heard across a room and definitely not heard through a door.
The only button: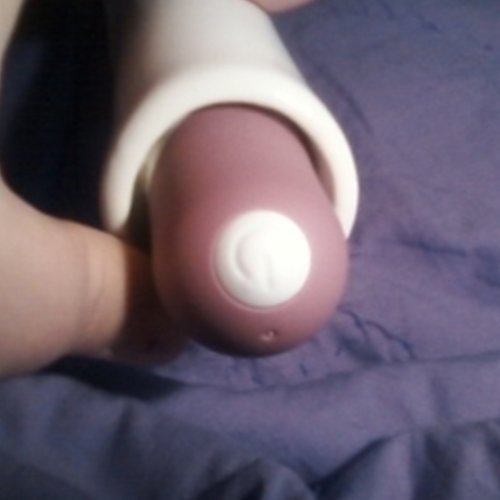 This toy is not huge, but not quite small, 8" in total, with 6 1/4" of that being insertable and a diameter of about 1.5". Since it is not intimidating I could see it being well used by beginners, as well as sexual connoisseurs for its beauty. This toy has a beautiful flower and stem accent painted along the front side of the toy for about 3". While this paint can barely be felt even under a finger, there is an upraised line, similar to a vein, running along side it, which is about 4" long. Personally for me, I enjoy veins, so I like this accent, though it cannot be very well felt while inserted.
Size comparison to a dvd or game case: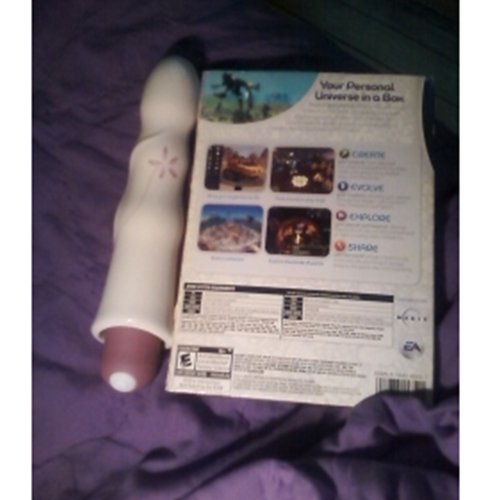 The flower painted on: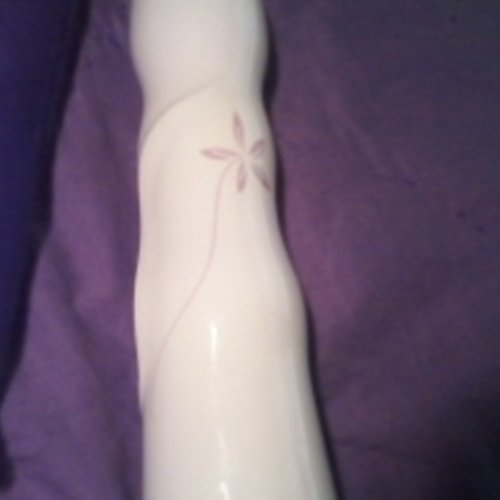 Close up on the vein: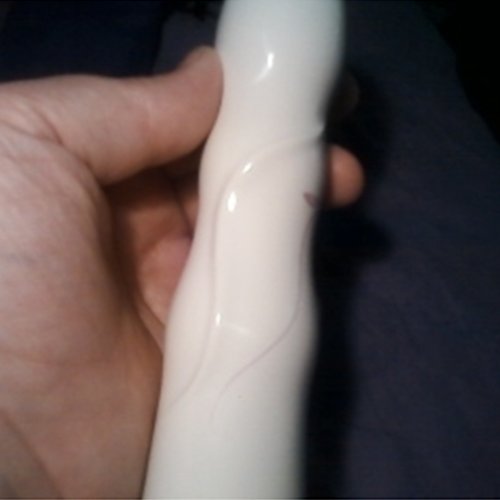 The booklet that comes with this toy lets you know it is not porous, and can be used with any lubricant, but they recommend water-based. Eden states on their ceramic safety page that silicone and water based lubes are the only lubes to use. As for cleaning, this toy is super easy. Simple soap and warm water does the trick! The booklet states to "Never use rough, abrasive or metallic scrubbers". Another thing I would like to quote from the safety advice is this: "Do not put your toy in the oven or microwave." I wonder how many people did that and why before they put that in their booklet.
The ceramic of this toy is silky smooth, so smooth you probably won't even need lubrication. The only thing I can compare the smoothness of this product to is glass. Ceramic is latex free, hypo-allergenic, non-porous, and phthalates free. Ceramic is awesome for temperature play, however, the booklet that come with this toy states "Do not expose the toy to extreme temperatures or temperature changes." I am not sure why personally, but I am guessing it has to do with the internal battery stuff. So if you are looking for something that can be used during temperature play, you may want to look into the "Elodie" which is also by "Lovemoiselle", but is not a vibrator.
If you happen to drop your toy, please inspect it very well before using it again and refrain from using it if it has any kind of crack or chip.
Experience
After purchasing Elodie, I decided I wanted to try vibes in ceramic. I love how easily cleaned ceramic is and I just love the silky smooth texture of it. I also loved the simple yet elegant designs on the "Lovemoiselle" collection.

I am slightly saddened this toy shouldn't be used for temperature play which I do so enjoy, and I do wish the vibes were stronger, but what it lacks in those departments it makes up for in beauty. But beauty isn't everything and that is why I am going to rate this toy 3 stars.
Follow-up commentary
3 months after original review
I hate to say that I don't like this toy anymore, but I really don't. I loved it so much for it's beautiful design, but after playing with it over a period of time, I have discovered it really is not strong enough for me. It doesn't have much variation and the variations it does have are weak. I love how quiet it is, but I need more power. It is far too expensive for the low vibes. You are really only paying for a pretty looking dildo.

I would not recommend this to someone who require high vibes to achieve orgasm.
This content is the opinion of the submitting contributor and is not endorsed by EdenFantasys.com

Thank you for viewing
Lovemoiselle Cecile
– traditional vibrator review page!