If Lily Munster used bullets
This is a little powerhouse of a bullet that's a good price compared to others and can sometimes be found in specials here on EF. While it's not rumbly, it's probably enough to get the job done for many people. Easy to care for and compatible with both water based and silicone lubes, if you're only going to buy one bullet in this price range then this is worth considering. Just be warned that no matter how bad people say the LEDs are on the controller, they're even worse in real life.
Published:
Pros:
Powerful, slightly unique design, takes standard (AA) batteries
Cons:
Lights from hell, corded, odd colour scheme, not discreet, not waterproof
At first glance, you'd be forgiven for thinking that this looks like a limited edition Halloween toy. Whoever thought of pairing purple with lime green is either colourblind or was on a Munsters kick.
This is a corded bullet, meaning that you're going to have to keep the controller somewhere nearby when you use it. It's not all bad though, since the cord is a surprising 33" long from the bullet to the plug. Yes, I said plug. The cord plugs into the controller, which is slightly unusual since corded bullets are often connected with a wire that leads straight into the controller.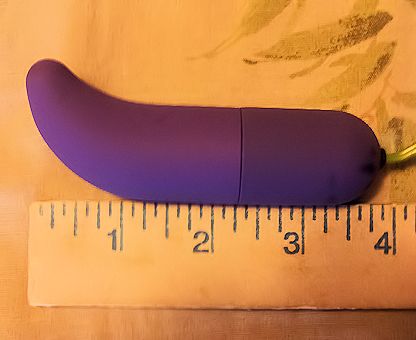 The bullet itself is an unusual shape, but don't worry, it works really well. It's a 3 3/4" traditional bullet with a difference - this one has a 1/2" slight upward curve at the end. It's a great feature that makes it great for pinpoint stimulation.
The controller is plastic, so no surprises there, but the bullet itself is PU (Polyurethane) coated plastic. This measures a 7 on Eden's
Safety Scale
. It is phthalate-free and easy to clean with warm soap and water. Being plastic with a coating means that this bullet won't flex, so if you like your toys with a bit of give then you might want to skip this. The beauty of material like this is that you can use water or silicone based lubes, which is always a plus. This isn't a waterproof bullet though, so that will instantly somewhat limit the options for where you can use it. It's also not discreet at all, though it is pretty easy to hide.
Although this is marketed as a G-spot bullet, men can use this too. We've found that it works well for most erogenous zones, and gives some nice vibrations when used on the perineum or for external anal teasing. As with all bullets, if you're brave (or foolish) enough to want to use something like this for your anal adventures make sure to put it in a condom first. We're not going to try it that way since we don't use bullets back there, but we'd also imagine that the curve on the end of this would make anal use difficult anyway, even if it were safe. Watch the settings though, this is surprisingly powerful and can actually be a little too much for some people. Surprising, hey?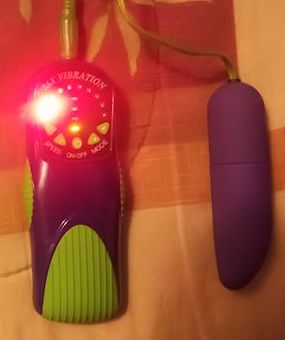 Ladies and Gentlemen, I present the newest Dr Who bad guy. He just blinks at you and you die
If the colour scheme can be ignored, one thing that can't are the LED's. These are so bright, they're almost migraine-inducing. They're so bad as to be quite painful if you stare at them for too long (and by 'too long' I mean anything more than 2 seconds). We've actually been considering researching things we could put over the display to darken the lights more. We're close to just using black nail polish and being done with it, but since those lights are there to show you what setting you've got this on, they really need to be seen to some extent.
The top of the control panel reads '35x Vibrations'. I hate things like that though, since they're almost always misleading. The bullet actually has 5 vibration patterns and 7 speeds which can be applied to each. That's
not
the same as 35x vibrations in my view. The vibrations that are though are good though, and powerful enough for almost anyone.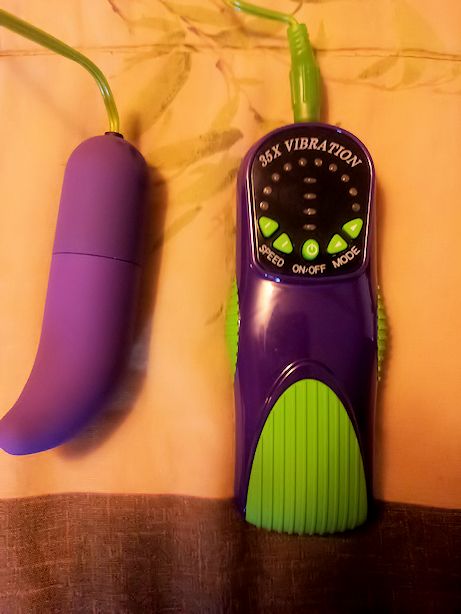 Five green buttons control the settings here. Up and down for speed, up and down for pattern and an on/off button in between the two pairs. The on/off button not only switches everything off when you're done but also acts as a kind of reset, meaning that there's no memory function on this. Once you turn it back on, you're starting over in position 1 again.
There's quite a pronounced seam on the bullet, and those with sensitive parts will almost certainly feel it during use. It also makes clean up a little more of a chore. The seam on ours appears to be a little mismatched (i.e. it feels slightly indented on one side of the bullet and a little raised on the other). That could just be a quality issue, but since we only own the one, we have no real way of knowing. Even so, the seam itself will still be there on others.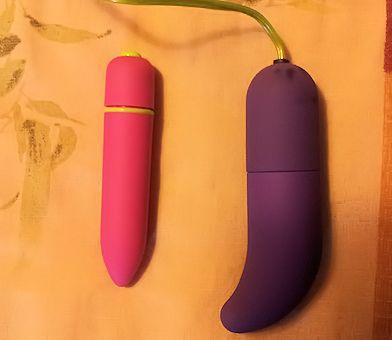 Pictured with the Cal Exotics High Intensity Bullet
This content is the opinion of the submitting contributor and is not endorsed by EdenFantasys.com

Thank you for viewing
Xtreme pack G-spot bullet
– bullet vibrator review page!