It's not free? Well just put it on my bill then
Looking for something a little quirky (or should that be 'quacky'?) and waterproof? The Duckie Massager might just be worth taking a look at. Compact and fun, this fella isn't going to compete with more powerful waterproof vibrators but the reasonable price should make for a cute little addition to your next order.
Published:
Pros:
Compact, waterproof, pretty quiet, more powerful than it seems
Cons:
Awkward rotary control
The Duckie Massager is made by Cal Exotics, and personally I think this type of cute & quirky toy is where the company excels. We didn't actually buy it as a sex toy, and didn't have particularly high hopes for it. But since this is currently on sale at a little over $13, it was worth taking a chance on to make up an order. It may not be top of the line, but it's not too bad either.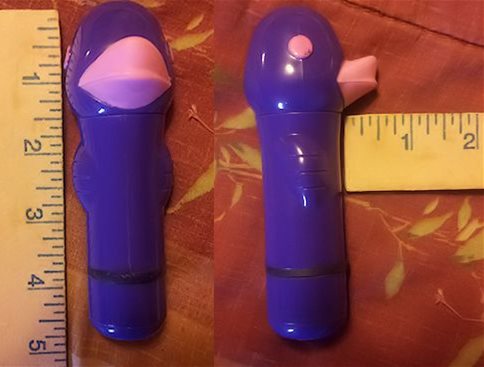 Wanted... for bathtime
Either my ruler is shrinking or Duckie measures almost 5" long (rather than the 4 1/2" everyone else is reporting), has a 1 1/8" diameter and features a semi-flexible rubber bill that's almost 1/2" long. Made mostly of non-porous and phthalate-free plastic (an 8 on Eden's
Safety Scale
), he's easy to clean and take care of. The pink rubber (a not-so-hot 3 on the
Safety Scale
} is the weak spot. I honestly think, though, that the size and nature of this toy mean that it's highly unlikely you'll be sharing it with other people, so you'll be able to live with the rubber this time.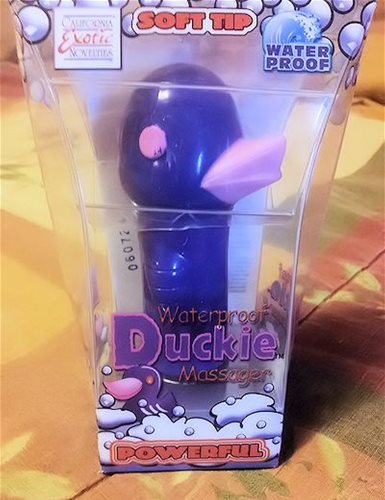 I said "Get me a box of CRACKERS"
The not-so-Ugly Duckling came in a pretty cute clear plastic box. Both the packaging and the vibe itself are totally indiscreet. Not only can you easily see the toy, but the box tells you that this is a waterproof massager. If you leave the Duckie lying around near your bathtub then there really isn't much you can pass this off as. I mean, it doesn't look like a vibrator, but there's honestly not much else it
could
be, all things considered.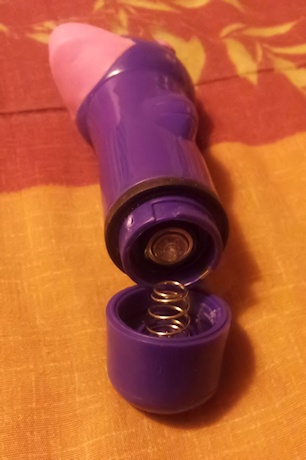 That's not really how they make Duck Spring Rolls is it?
The vibrator is powered by a single AA sized battery. Don't let that fool you though, Duckie packs a bigger punch than you might expect. The battery compartment comes off with a firm push and half-twist, and an even firmer push and twist to replace it since the negative battery connection is made via a surprisingly strong spring. When you put the battery cap back on though, you're almost certainly going to turn the vibrator on. That's because of the annoying control dial on the base. Granted, there aren't many places that the designers could have put the control on something like this, but I'd have liked to have seen a dial that was maybe twice as thick. As it is, this one is right on the very end of the cap and you have to grip it pretty firmly to get it to turn - there just isn't much room to get a good hold of the dial.
Something that does help with your grip is the fact that there are two little 'wings' protruding from Duckie's sides. These are a great idea, not just for twisting the cap but also to help give a little leverage when he's actually in use. Since the plastic is going to get
really
slick if you use lube (water or silicone based, it doesn't matter), the wings are a great help when you're playing with him.
1 'Wing' nubs
2 Rubber waterproofing seal
3 On/off dial
Once you have got your non-feathery friend vibrating, you'll notice that the vibrations are quite powerful. We're not talking
MiMi
powerful of course, but having just received the rather disappointing
Oui
(also from Cal Exotics), this proved to be a nice surprise. It's not rumbly at all and probably not powerful enough to get anyone off on its own, but it'll certainly get you most of the way there. And besides, it's enough to give a nice little distraction in the bath, too. The rubber bill is firm but flexible and gentle enough to be used on your most sensitive parts without worry (unless you've got rubber allergies).
A nice little twist on this is that if you don't fancy using the rubber tip you can always turn the entire thing around and use it as a regular - but short - insertable vibrator. The vibrations actually travel all the way along the 'handle' too, which means that you'll feel them no matter how you choose to use this. Just be aware that little wings could either be good or bad for this.
Even though there's that rubber bill, I really wouldn't recommend using this anally, although your man will appreciate this on his perineum if you choose to use it in the bedroom rather than in the tub.
Whether you're on a budget and wanting to start buying some little Christmas stocking fillers, looking a fun & slightly sexy gift for a girlfriend or just fancy trying something a bit different at bath-time then you could do a lot worse than the Duckie.
This content is the opinion of the submitting contributor and is not endorsed by EdenFantasys.com

Thank you for viewing
Duckie massager
review page!