Oui? Mais Non!
Cal Exotics 'Oui' is an example of designers trying to come up with something new and failing. While it's fairly ergonomic and fits well in the hand, it doesn't really do much once it's there. With weak vibrations and no way to pinpoint where the vibes are going, I can only honestly recommend this to someone who doesn't already have any sort of clitoral vibe or to those who collect unusually-shaped sex toys.
Published:
Pros:
Small, discreet, inexpensive, unusual shape
Cons:
Weak, single speed, very broad vibration area, odd shape
I admit it, the Oui from Cal Exotics isn't a toy that would normally make it into my cart. There's little about this that holds any sort of appeal to us, and while we don't like to add gifts purely because they're free, we were just about intrigued enough to add this to our last order.
I'm glad we added it just to be able to cross another toy off the list of 'things we've tried'. But other than that it's a bit of a waste. In a week that has seen us buy Je Joue's
MiMi
and rediscover our Lelo Nea, the Oui has fallen short. True, that's some pretty stiff competition for the little girl, but I think this would have been a let down even if we hadn't been so spoiled.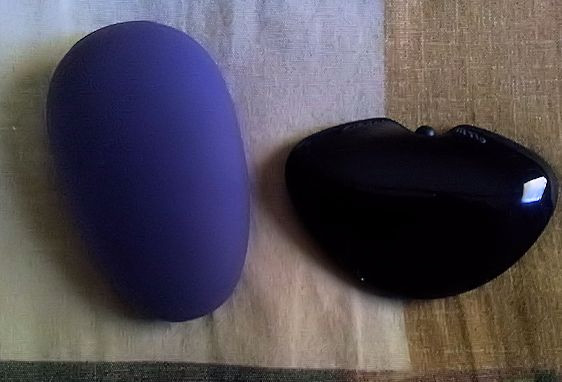 Close your eyes and see if you can tell the difference
Firstly the simple packaging didn't help. Arriving in just a stapled shut, cheap, clear plastic bag that looked like it belonged at the bottom of an Ikea box, I knew that was a bad sign. I believe in first impressions, and my first impression of the Oui was "It looks like something they're trying to get rid of".
Made of shiny black plastic (a not-too-shabby 8 on EF's
Safety Scale
), this is easy to clean & care for and easy to use. It's safe for any lube, and although I haven't used any with mine, the slick plastic will probably slip and slide over any part of you with a minimal amount. Cleanup is easy too - a quick wipe down with a trusty Eden Wipe or a little soap and water will do. This isn't waterproof, so don't submerse it or get it too wet, especially at the top edge where the little rubber button sits.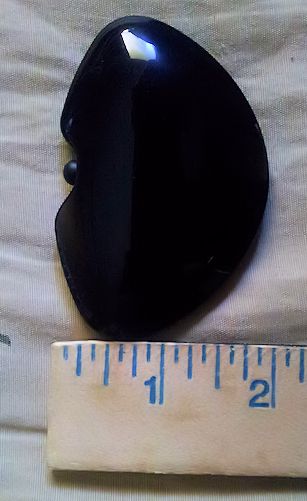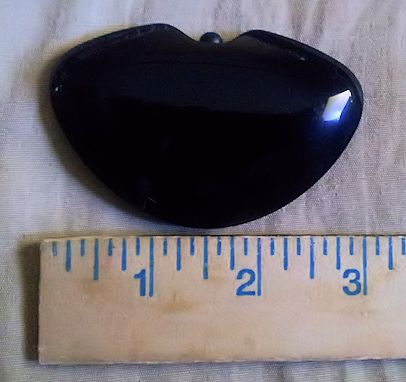 I think I'd get off better with the ruler
The Oui measures 3" across by 2" high and I've been racking my brain trying to decide exactly what the shape reminds me of - it's a flint tool that you see in recreations of the lives of cavemen. I can just picture someone over at Cal Exotics chipping pieces of black flint onto a piece of buffalo hide on their lap when they suddenly end up with this shape. It's not wafer-thin along the edges but it's thin enough to believe that you could probably carve yourself some deer meat with it when you're not using it to try to get off.
Ahh yes - trying to get off with this. I've got two words for you - forget it. This vibrator is a one-button, one-speed affair that's less of a vibrator and more of a tickler. I'd honestly say this is about as powerful as a regular electric toothbrush. The toothbrush has the edge though since its power is focused in a small area. The Oui, however, spreads its vibrations throughout its whole body. This means it's not recommended if you're a fan of pinpoint stimulation. In fact, even if you prefer broad stimulation this might be too broad for you. You could use it edge-on between your lips towards the clit, but once you've got that mental image of it being a Neanderthal's Swiss Army Knife, you'll have a hard time wanting to rub this up and down your most sensitive areas.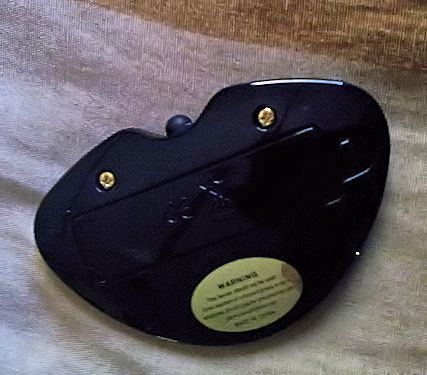 Speaking of how to use this, there's a little gold warning sticker on the back, right underneath the AAA sized battery compartment. The warning says (in extremely small lettering):
WARNING
This device should not be used
Over swollen or inflamed areas or skin
eruptions. Do not use on unexplained calf
pain consult physician
MADE IN CHINA
Other than the above warning, this can easily be used on different parts of the body. I've no idea why you'd want to, but you can. Actually I just tried it moving up my body as high as my hair line. Once I got to my neck, it felt like one of those Wahl electric trimmers that you buy to 'save money on family haircuts', though it wasn't as loud. It's actually very, very quiet - again, the toothbrush analogy is probably best, so this won't be heard through a bedroom door. I know for a fact that mine won't be heard through anything because I won't be using it again!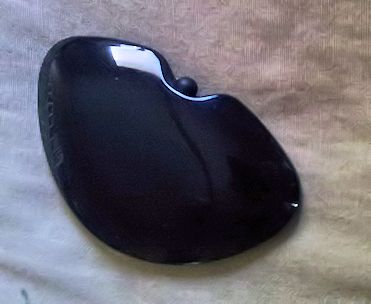 It's Mammoth for dinner. Who wants a leg?
I really don't think this is worth the asking price (since it doesn't even get stones out of horse's hooves), but if you're in the mood for something new then it's worth trying out as a freebie. If you prefer a ticklish, wide buzz over a focused rumble then you might appreciate this. Unfortunately for me, it wasn't so much Oui as "Non, merci"
This content is the opinion of the submitting contributor and is not endorsed by EdenFantasys.com

Thank you for viewing
Oui
– clitoral vibrator review page!