JO 9V Shock!
While I was excited to try these out at first, I quickly decided I was not a fan at all. It burns and has an awful smell to it that is almost unbearable. Nothing about this product says " I want you". My partner and I both decided this one just wasn't for us at all. It didn't enhance out experience at all, matter of fact, it ruined the mood all together.
Published:
Pros:
trustworthy brand
unique look
easy to open box
natural ingredients
Cons:
Horrible Smell
Burning sensation
wasteful box
JO 9v volt Arousing tingling Serum is one of 3 new arousal serums that come in different intensities. It's designed to stimulate, arouse, and excite the genital area, and to produce pleasurable sensations for women. It's supposed to create a tingling sensation that is pleasurable. Unfortunately the tingling was more of a stinging and burning sensation that quickly ruined the mood for me. It has a strong smell, which was a mixture between a medicine type smell and a herbal type smell. This is probably because of all the natural ingredients, but it was a complete turn off. It was much too strong for my preference.
performance:
It took approximately 10 minutes for it to have any results and kick in, but once it did it was powerful and very uncomfortable. I actually jumped over my hubby to run to the shower to wash it off, which didn't seem to do much for the burning sensation. It made the smell mild, but I felt the burning sensation for about 30 minutes afterwards.
While I had a bad experience to begin with, I was determined to try it again to see if there were different results or if this just wasn't the product for me all around. This time I only used 2 drops of the oil, but still ended up with the same results.
This is supposed to be a safe product that contains no parabens,and no L-Arginine. Plus. it is said that it won't upset the delicate balance of a woman's ph. Sadly, I wouldn't try this internally because of the results I experienced. I highly recommend doing a spot test before you jump in to have fun.
Ingredients:
All of the ingredients are natural, which is a huge plus for me! There is achance of allergic reaction, so make sure to read the label carefully. The ingredients consist of: Oley Alcohol, Zanthoxylum Bungeanum (Prickly Ash),Fruit Extract, Olea Europaea (Olive) Fruit Oil,Curcuma Longa (turmeric) root extract, Melia Azadirachta (neem) leaf, flower and bark extract, pearl powder, moringa pterygosperma (horseradish tree) seed oil, ocimum sanctum (holy basil) extract, Ocimum Basilicum (Basil) Extract
packaging and Size: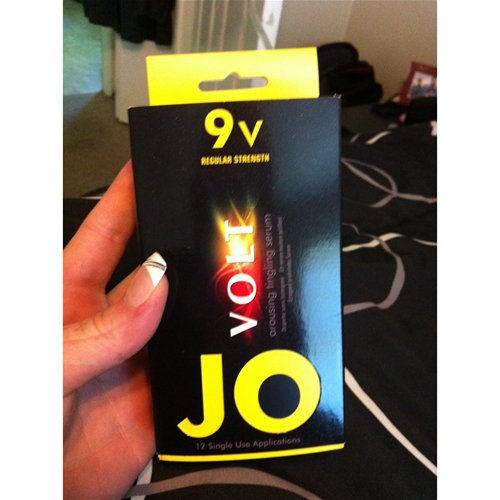 I received the 12 single use application ampules. It come in a nice box that is yellow and black. It's 6.25"x3"x1.5". It's fairly travel friendly as long as you pack it safely so the ampules aren't punctured during travel.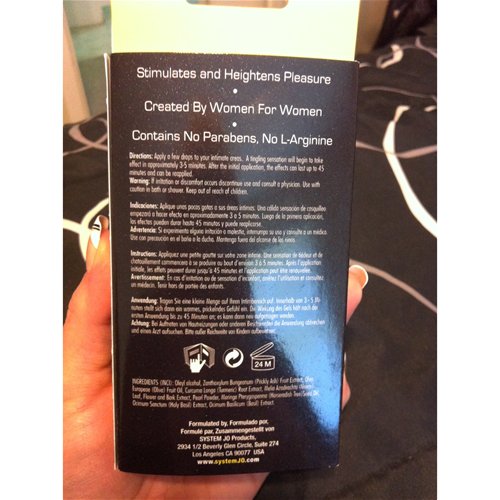 While looking at the package, the front states the product name and purpose. 12 single use applications is written at the bottom on the front. Both of the sides simply state JO 9v volt arousing tingling serum. The back of the box says that it stimulates and heightens pleasure, it's created by women for women, and gives the instructions for use as well as the ingredients list. It also gives a small warning to discontinue use if you are to have adverse reactions.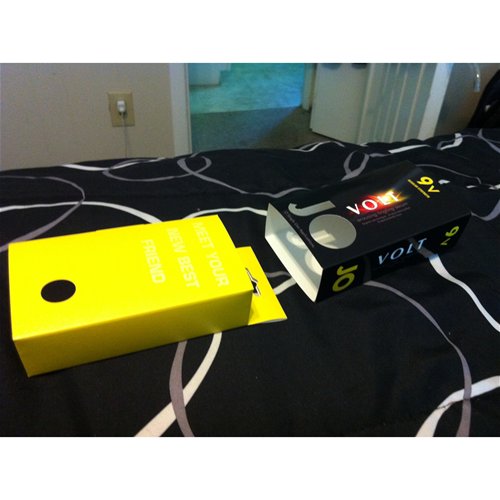 You simply place your finger on the bottom of the box to push the yellow box out of the black casing. The yellow box reads "Meet your new best friend" written on the front and back. Opening the yello box wwill then reveal your ampules.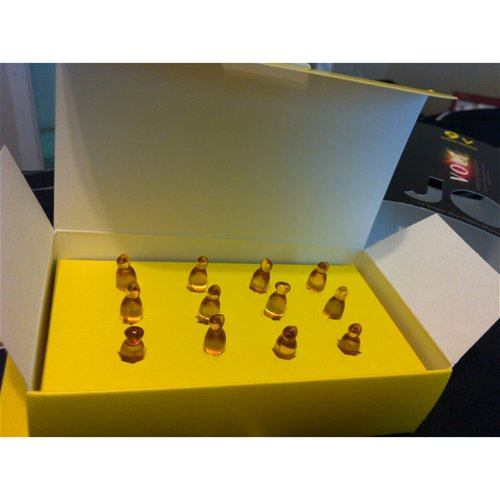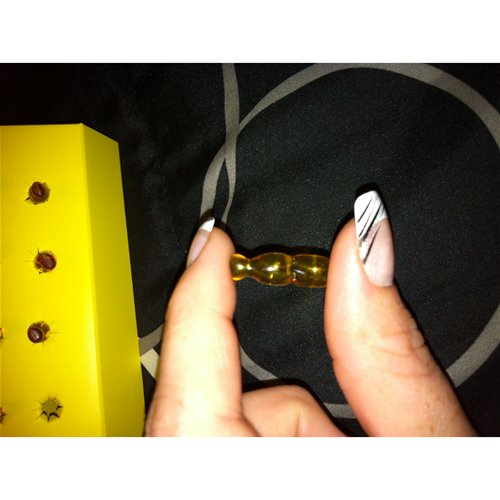 Each ampule is a golden color and pulls easily out of the packaging. They are fairly small at 0.875", which makes them great for one time use. You can twist off the top part or use a pair of scissors to cut it off in order to pour the oil out.
The only downside to the box is that it is wasteful. You have the sleeve, the yellow box and then a small piece inside the yellow box that the ampules sit in. While the product itself is all natural, they could have been a little more Eco-friendly and used less cardboard to make the packaging.
Texture / Consistency / Thickness / Viscosity:
The ampules contain a serum that is a light golden color. It's fairly thing and can spread easily. It leaves an oily, slick feeling on your hands and washes off easily using soap and water. Since the oil is very thin, it will spread if you use too much and makes it easy for a mess to occur. While I didn't experience any staining, it is possible.
Experience
While I am very open to trying new things, this is one product I wish I hadn't tried. It made it very uncomfortable for my husband and I and the smell was horrible. It's not something I would purchase or try again. It ruined the mood quickly and was a complete turn off for both of us not to mention the burning sensation lasted what seemed like forever!
Follow-up commentary
2 months after original review
I ended up tossing them as the smell ans strong burning sensation was too much to bare. :( Will not try this line again!
This product was provided free of charge to the reviewer. This review is in compliance with the FTC guidelines.

Thank you for viewing
JO 9v volt 12 pack
– clitoral gel review page!