Large and in Charge
This most definitely is jumbo; in fact, it's as long as my forearm! But, don't let that scare you off. This traditional, plastic vibrator has a standard 1.5" diameter girth and plenty of strength. The 3'C' batteries ensure you have as long, and as powerful, a session as you like without having to worry of running out of juice before you're finished. This is an inexpensive toy to help you discover what you do, or do not like in a vibrator.
Published:
Pros:
strong motor, price, batteries last long time, smooth
Cons:
NOT waterproof, LOUD, size, takes 3 C batteries, no texture,
This traditional, hard plastic vibrator may look intimidating at 11" long and 1.5" diameter, but since you control how much, if any, is inserted, it really is similar to many other vibrators in girth.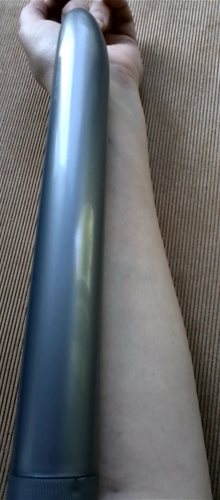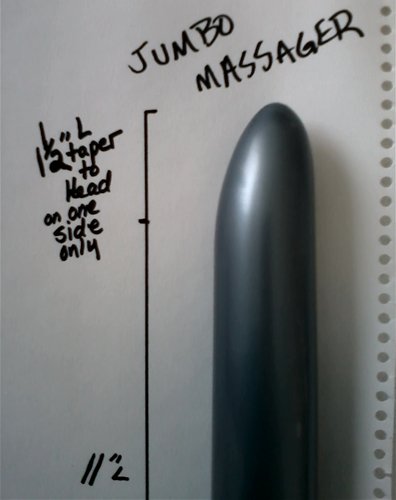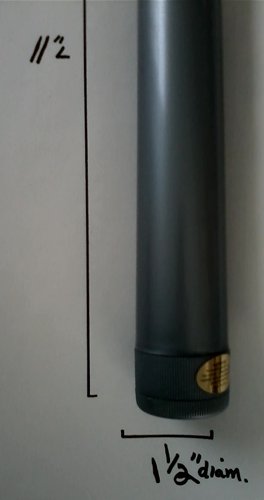 It is packaged in a clear, plastic clamshell making it less than discreet. However, there are not any nude photos and the only references are to it being a jumbo massager. I think it's just the shape, as well as people's prior knowledge about such things that tip them off as to it's intended use. The only information of the paper insert is that this is a smooth 11" massager "of pure power" and that it is multi-speed. It also says in the fine print on back that it is
not
waterproof, you can use any lubricant you want and to remove the batteries when not in use.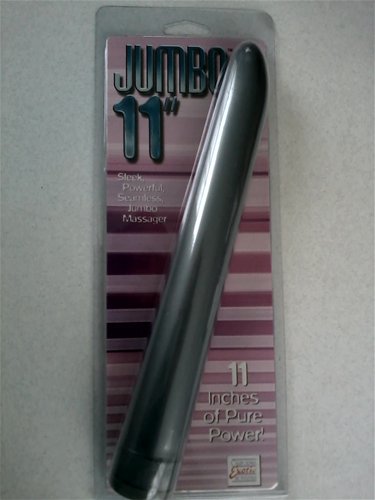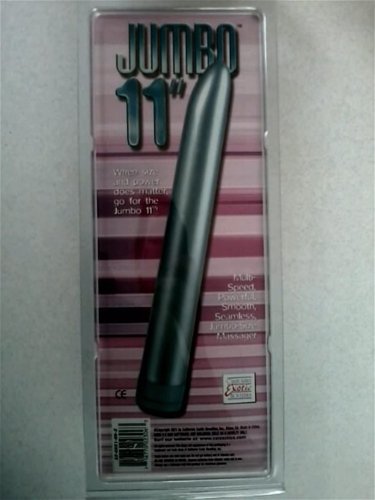 I chose the silver color, but it also comes in a lavender selection. The entire shaft is smooth without seams, has a tapered tip, (similar to a lipstick taper on just one side), and has as a finely ridged twist cap for the base.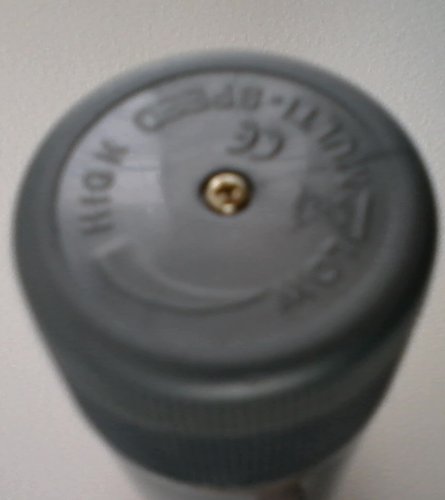 Those grooves really help you when adjusting the speed with lubed covered fingers! I also find the hard plastic doesn't need much lube, transmits vibration very well and makes this a great all-over body massager. Another benefit to the length is the ease of reaching your back, or feet without having to contort yourself. The lowest speed is similar to other vibrators' medium and the high is quite strong. I find the lower speeds are more rumbly while the buzzy vibes increase as you increase the power level. Unfortunately, all that power comes at a price; this is a loud vibrator, at any speed.
Included inside the clamshell package, is a little piece of paper with a diagram showing how to insert the 3 "C" batteries. There is also a printed paper board insert inside the shaft. I highly recommend you
not
remove this as I did. It is difficult to re-insert and it is also what keeps the batteries from rattling during use. When I tried it before removing it, the noise was moderate, but after removing it altogether, it was unbelievably loud. I finally got it back inside, but it never again was as quiet as it first had been. All you need to know is that the batteries all go in positive side down, going toward the tip of the shaft. In other words, all the nubbed ends of the batteries face the tip.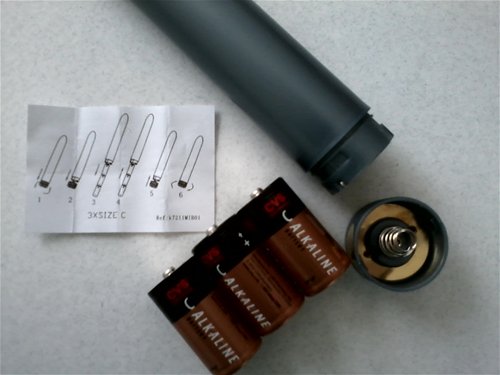 On the base is a gold sticker stating it was made in China and stating: "Warning: This device should not be used over swollen or inflamed areas or skin eruptions. Do not use on unexplained calf pain, consult physician" I have seen this on numerous other vibrating devices and wanted to address why it says that, as I have read people asking about it in the forums. The reason most vibrating devices tell you not to use them on unexplained calf pain is because there is the possibility that those symptoms are from deep venous thrombosis (DVT). A blood clot in one of the deep veins of the lower legs can become dislodged, (embolizes), with the vibration and travel in the blood stream where it can cause a blockage of blood vessels,(pulmonary arteries), in the lung. Pulmonary embolism is the third most common cause of death in the United States. So, this isn't just a silly warning and is worth remembering.
In all, I recommend this vibrator as a good introduction to vibrators. You get to sample a variety of speeds and don't have to worry about special care or which lubes you can use with it. It works just as well for external as internal use and if none of that appeals to you, it is a good all-over body massager! I subtract a star for it being excessively loud, as well as not being at least splash-proof for safer cleaning.
Follow-up commentary
3 days after original review
I know my photo of it next to my arm makes this look ridiculously huge, but it is only 1.5" in diameter. The extra length just comes in handy, it doesn't have to be used for insertion! I like being able to maneuver it with this self-handle. This is a great vibe to try to see what types of vibrations you like while not spending a lot of money. It really does help when trying to reach spots elsewhere on your body because this is a powerful enough vibe for body use. And, as some have suggested in the comments, with the batteries in it, it makes a pretty good weapon.
This content is the opinion of the submitting contributor and is not endorsed by EdenFantasys.com

Thank you for viewing
Jumbo massager
– traditional vibrator review page!