Gigantic Traditional Vibrator
The jumbo massager is a simple yet large vibrator. It is not the best for beginners, and those who are not comfortable with larger sizes. The vibrations are strong and can be used as a body massager, rather than a vaginal vibrator.
Published:
Pros:
Multiple uses, Strong vibrations, Price
Cons:
No beginner friendly, Not water-proof,
The jumbo massager is a relatively large vibrator. It is a larger version of a traditional vibrator. The traditional vibrator is smooth and truly pleasant to look at it. The tradition of it could and does appeal to a large group of people. Although the size may be overwhelming for some, when I ordered it, like most items you never realize how big they are until you have it in your hands. When I opened the box I was like goodness this is large ha-ha. I took it out of the casing. I sat it next to my cat that was lying next to me. It is the length of her back. I got a decent laugh out of that.
The jumbo massager is not for someone who is not comfortable with larger sizes, although it is a traditional vibrator does not mean it is for everyone. The massager is totally smooth, no texture at all. The end of the massager is a tapered round end. So when using it be careful not to thrust to hard, or shove it into the vagina. You could possibly bruise your cervix, or hurt yourself. The massager is not waterproof. You cannot take it into the bathtub, nor is it splash-proof so taking it into the shower is out of the question. When washing it just be sure not to let any water inter the battery compartment. The massager runs on 3 C sized batteries. The batteries add a little extra weight, but too much. Although, C sized batteries can be a little inconvenient only because most people do not keep that sized batteries just lying around.

The massager does not have that many settings; it is a turn dial control. You do not get any patters. Just one straightforward steady vibration on high, medium, or low, When you remove the bottom of the toy to place the batteries in, you will notice a rolled up thin cardboard. You can keep that in when in use, or you can totally remove it. When the cardboard is in place, the toy is noticeably more quite then when it is removed. In either circumstance, the toy is still a relatively loud toy. You could hear it through the cover, and perhaps a closed door. The massager may not be suitable for people who do not live alone.
The massager can be used as a body, or back massager. The vibrations are strong enough to use one. Although, it may be awkward to have a vibrating sex toy lying on your neck. If you do not mind, and are home with your partner then it is highly suitable for that. Some people may feel it is too large to be inserted, then it can be used to for the body.
The casing of the jumbo massager is not discreet what-so-ever. It comes in a normal, clear case. The toy is in full display, and the back of the case has a picture of the toy itself. This may not be suitable for gift giving. Only because it looks like and is a GIANT VIBRATOR. It screams GIANT VIBRATOR. It does have a paper insert. The paper insert does not have any useful information on it at all. You could toss that if you do not want it. The casing is reusable.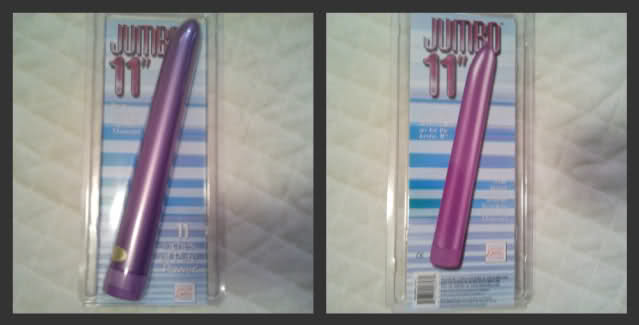 When using the massager as a vibrator you can use silicone, oil, and water based lubricants. You should always wash it before, and after every use. When sharing, you should always use a condom. On personal thought, I believe the massager can be used for anal, although I would not use it anally solo, but with a partner, I think it would be okay. I have not used it anally because I have not worked up to that size.
Traveling with the jumbo massager can require you to do a little work. You may not be able to throw it into your bag because of the size of the toy. This toy maybe homebound Storing it may, also be a little difficult. You would need a toy box to accommodate it, or keep it in the plastic case.
This content is the opinion of the submitting contributor and is not endorsed by EdenFantasys.com

Thank you for viewing
Jumbo massager
– traditional vibrator review page!