Let's Workout!
For those who like their pressure on the clitoris, and to get a good Kegel workout, this one is for you. It does not cause any pressure on the bladder or make you feel like you have to pee. You can increase the intensity as you please and you aren't forced to try to keep balls in place. This is a great alternative that gives you pleasure.
Published:
Pros:
Soft Velvety Silicone
Fun Kegels
Clitoral and G-spot Stimulation
Easy to care for
Cons:
No Vibrations
Evi By Aneros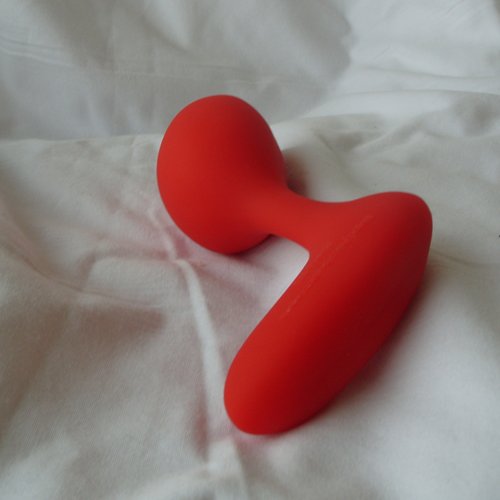 This is a very interesting piece of equipment. Yes, It looks really funny but it delivers wonderfully. It is meant to be a type of Kegel exerciser. So, basically, the Evi can give you pleasure while you are using it and then you can extended pleasure by increased PC muscle tone making your orgasms stronger and of course you have the added benefit of stopping the coughing and peeing episodes.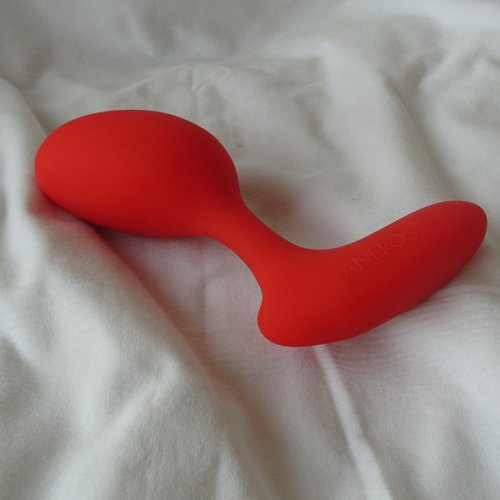 Use
The Evi is to be lubed up and placed inside of your vagina, the large bulb is internal and then it has the small shaft that attaches to the "Paddle" that is external. When you perform your Kegels, the squeezing action causes the "paddle" to hit your clitoral area. I know it sounds funny but it really does work. Since this is made from body safe silicone, you could use this anally as well but the shape doesn't lend to any prostate stimulation or any other type of stimulation. You would need to insert it backwards and the "paddle" area would hit you towards the crack of your bum. This just doesn't work.
Material/Textures
The Evi doesn't have any textures, it is completely smooth. It is made from Silicone that is soft and smooth. The Silicone rates a 10 on the Eden safety scale. It is hypoallergenic, and non porous. It does not contain any latex or phthalates. It has no taste and no smell when you open the packaging. The Evi really doesn't have any drag to it. It doesn't collect any lint or hair. It comes only in the great Red color.
The toy itself is very firm, I would call it rigid, there is no flexibility to it. On the neck area it does go side to side very slightly. Which changes the angle of the bulb and "paddle" very slightly but not by much. On the "paddle" area is has the name Aneros embossed into the silicone and on the opposite side it has patent and Aneros.com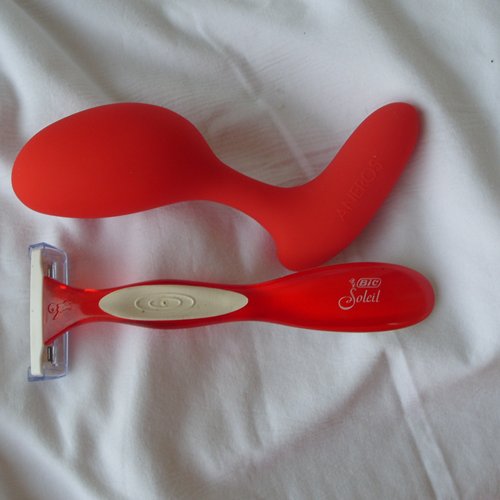 Size/Shape/Design
The Evi has the bulbous end, tapers to a small neck and then has the "paddle" looking area. I cannot find a better work for the external area. The bulbous portion is 3 inches long with a diameter of 1 ½ inches. It is egg shaped. It sounds large but it really isn't. The egg attaches to the neck portion that is approximately 1 inch long to the top of the paddle area, the 'Paddle' is then 2 ¾ inches long. The diameter of the "paddle" is ¾ of an inch. The "Paddle" has more of a triangular shape to it.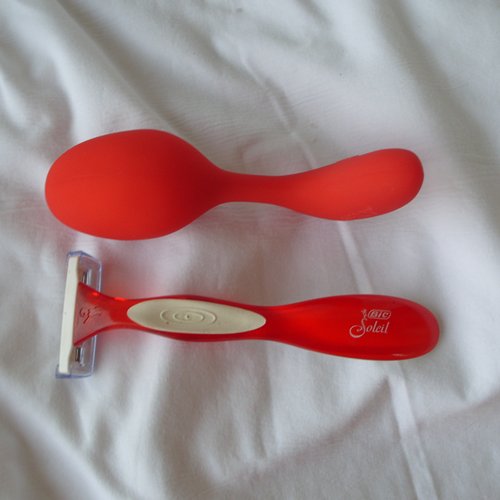 Functions
This shapes lends to spontaneous stimulation of the G-spot and the clitoris at the same time. Honestly, it really does work. There is a learning curve to it and as you move around with it in you figure out that when you move to the left or to the right it does what it is supposed to. When you squeeze or contract your PC muscle it raises your pelvic floor which sucks the bulb portion up and the little paddle then "hits" your clitoral area and puts pressure on it. There are no vibrations to the toy, Just the actions that you provide. The Evi is completely waterproof and can be used any where. I would say that this one is travel friendly as you can just wear it and it really doesn't look like a sex toy. It works great warmed up in the bathtub too!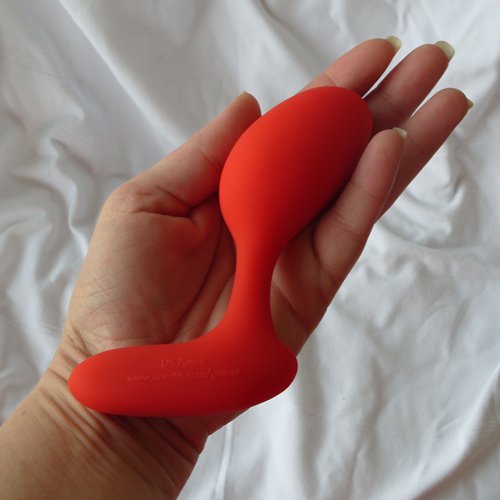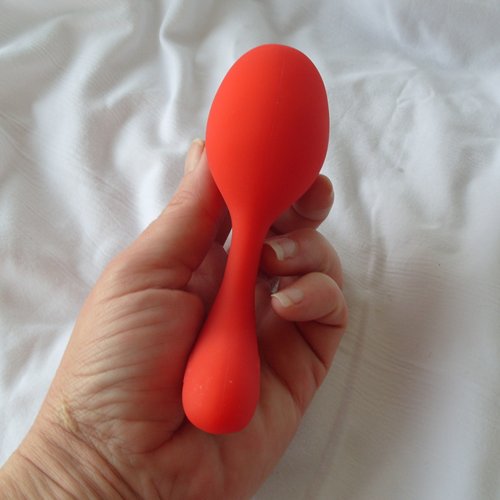 Care/Maintenance
The Evi is very easy to care for, you can throw this one in the dishwasher, boil it. Spray it with your toy sprays, or a 10% bleach solution. You can use the antibacterial soaps and water or the Eden wipes. It is easy to store, you can place it back in it's very nice packaging or you can toss it in a baggy to keep it from your other toys so that the finish is not compromised. Use only water based lubricants so that the finish isn't harmed in any way.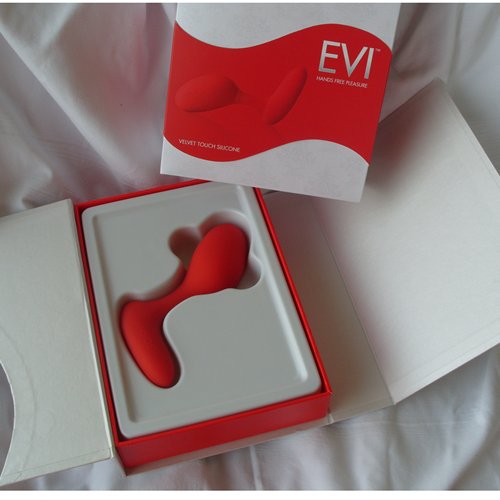 Packaging
The Evi has got great packaging. There is an outer box that is a white pearlized embossed cardboard with a red sleeve with the Evi logo and product information on it such as the "hands free pleasure" and made of "velvet touch silicone".
The inner box is red with white magnetized flap and the toy is nestled in the plastic form. You receive an instructional pamphlet explaining the use of the toy.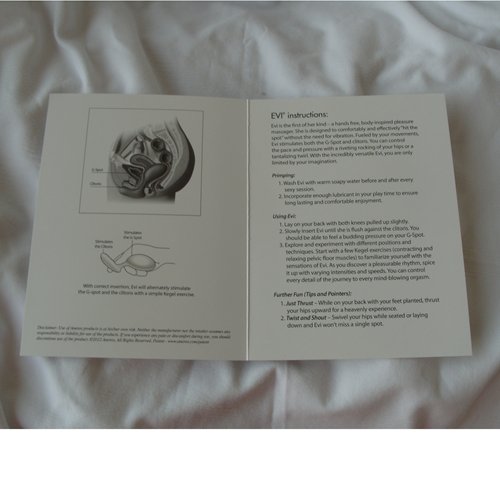 Experience
Experience

I know that it looks funny and it is different from what we have seen before but it works and I really like this one. The bulbous end sits backwards towards your rectum and doesn't hit your bladder. I have found with many of my Kegel toys that they increase the pressure on my bladder making me have to urinate more often. The way that it sits in my vagina doesn't cause me to have any cramping as some of the Kegel toys do.

This one is great for extended wear. I ran around the house and cooked. Wrapped Christmas present and danced to some music and it didn't cause any discomfort. It caused some happy moments. It is comfortable enough to sit down in. I can rock while sitting and receive enjoyment. When you squeeze and it hits your clitoral area the pressure feels great. It is a completely different sensation that with the ball type of exercisers that you are actively working to keep the balls inside. It is actually better to me. I cannot say if this one works better than the balls as far as if it worked my muscles enough because I frequent use my Kegel toys.

I can tell you that exercising really does help with all of the claims that they say. The orgasms are stronger. The coughing and peeing has completely stopped and the husband states he can tell a difference from this summer before I started to use them.

When you do use this one be sure to open your labia so that the paddle hit's the clitoris completely. It also is great when lying down and hitting the paddle with oh say, Mimi or the Salsa. This makes the entire toy rumble and jump. This is one way to experience some great orgasms. I can also orgasm from sitting and rocking on the Evi, as the pressure on my clitoral area is great. There really isn't any discomfort that you may think that you would have. I do not orgasm from just walking around with the Evi itself but it is enjoyable. It is a tease which is better than just using the ball type of exerciser's.
Follow-up commentary
3 months after original review
This one was good in the beginning but I prefer using my ben wa balls and my intensity. It's is just a pain to put in and take out. It is easier when I can wear the balls for hours and leave the house and them them in a baggy in my purse. Cannot do that with Evi.
This product was provided free of charge to the reviewer. This review is in compliance with the FTC guidelines.

Thank you for viewing
Evi
– exerciser for vaginal muscles review page!