Make it a Black Tie Affair
These got high marks from me and my Hunny. They are comfortable to wear and comfortable for him to take advantage of my lady treasures without chaffing. They look wonderful paired with a black, satiny a corset or bra. I love the bow ties and peek-a-boo back. The panty sits on your hips and the second band sits a few inches higher. It will easily fit those with a hip measurement of 29.5" to 41". Leg openings are also very stretchy and do not cut in. There is a bad smell that does wash out.
Published:
Pros:
Stretchy
Comfortable for both you and your partner
Cons:
Horrible smell that does wash out after a few washings
I love to wear corsets and bustiers with stockings, but hate to have to take them off when the action starts to heat up. I have found the best solution is crotchless panties. I am not a huge fan of g-strings that come with some bustiers. I like things with interesting details. This panty fits the bill for everything I was looking for. I have the crotchless Rumba panties from Rene Rofe and love them, so the style was a check and the company was a check. I tried hop on ordering them, however they were out of stock. I put in my alert request and waited. I got home one night and, low and behold, my email alerted me they were back in stock... But I was too late, they were gone again. So back to the drawing board, put in the alert, and wait. The second time was a charm for me, and I was able to snag them.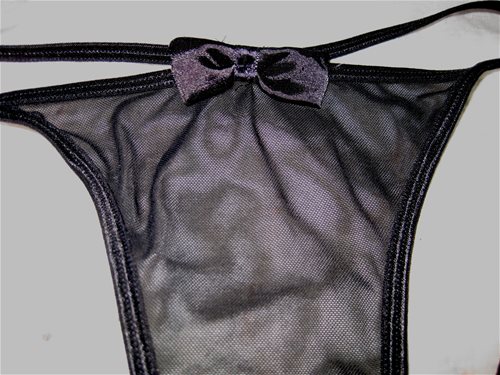 Design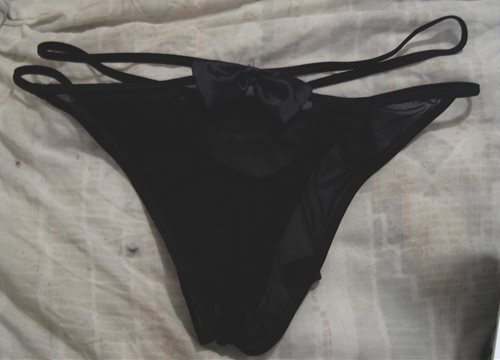 The design for these is super sexy, but they have a formal feel with the bow ties in the front and back.
The body of the panty is made of see-through mesh. The top is a thin, satiny, elastic band. There is another band of the same elastic trim that sits a bit above the hips for some added detailing. This same trim outlines the leg openings. The trim is 1/4" wide. The satiny material makes it soft and comfy. There is a half-circle peek a boo in the back, which frames the back bow and shows just a hint of your butt crack.
There is a 2.5" wide bow tie in the front that holds the two elastic bands together, and there is a 3.5" bow tie in the back holding the elastic bands together.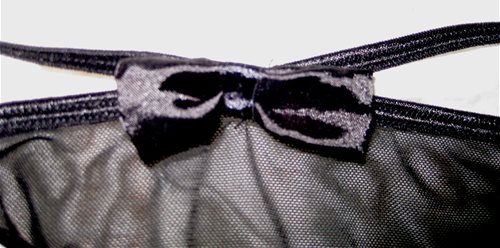 I was a bit concerned at first that the bow in the back would be uncomfortable if you were wearing it under clothes and sitting back in a chair, but this was not the case. The bow is very flat and you cannot feel it when sitting back. These do show panty lines, and the bow does stick out a bit if you are wearing tight pants or shorts.
The crotch opening sits further back than what is shown on the model. When I am wearing them, you cannot tell they are crotchless, unless you are very close and personal. The crotch area is made of the same mesh material, with a slit that is finished off on both sides. The slit is 3" in length and is well positioned for either vaginal or anal play. It is very stretchy, so it will allow for easy access for even the most well endowed partner or toy.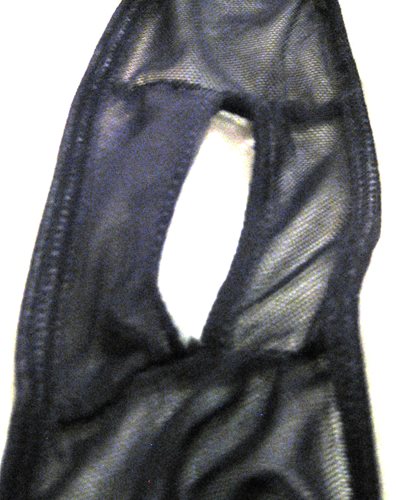 Sizing
The main band sits on your hips and the upper trim sits a bit higher, so you only really need to concern yourself with the hip measurement. Un-stretched the waist is 29.5" and fully stretched is 41.5". I am a 37.5" hip right now (I fluctuate a bit during the month). I find these to be very comfortable. The leg opening stretches from 22" to 32" around. As you can see, this is super stretchy.
From the center bow in the front to the bottom of the half circle opening in the back is 14" un-stretched. From bow to bow is 18" un-stretched. There is not as much stretch from front-to-back as side-to-side with the mesh.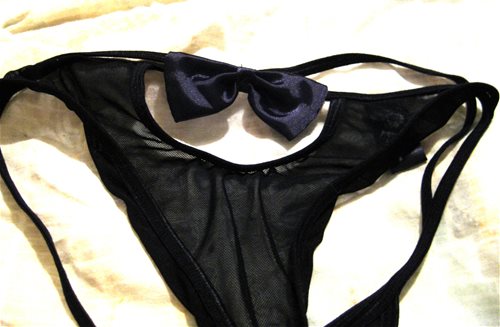 The crotch is 2.5" wide and the slit sits in the center. The slit is 3" long. On me, the slit begins at my clit and goes slightly beyond my bum hole.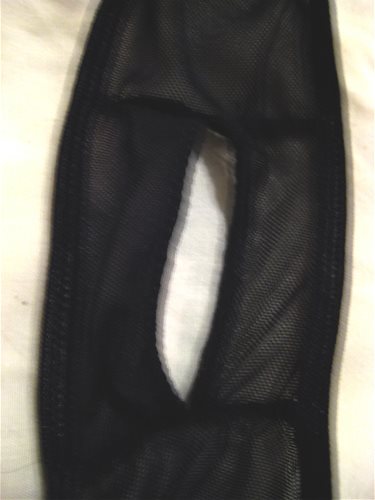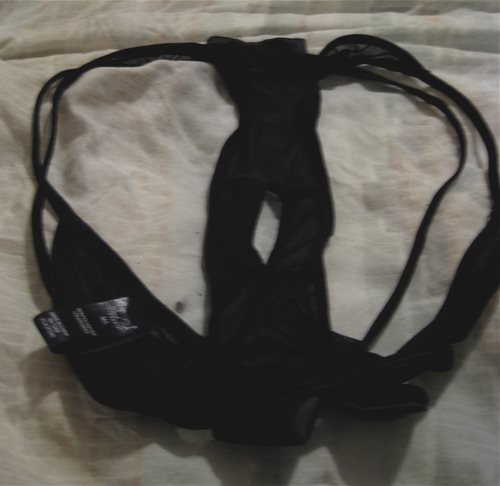 Material
The panty is made of 90% Polyester and 10% Spandex. It is made in China. The care instructions are to hand wash in cold water and line dry. Do not bleach, iron, or dry clean. As I stated earlier, I did throw these into the washer and they came out fine. I did not and would not put them into the dryer. There were no loose threads. All the seams are well finished.
[bold|Packaging
These come in a plastic resealable sleeve and are covered with a cardboard covering. There is a picture of the model wearing them on the front. This is a nice package to give as a gift. It is not discreet, as the model is wearing them and they are clearly crotchless with some very strange looking Photoshopping of the crotch area.
Experience
UPS Sure Post dropped the box at my door and I eagerly ripped the EF box open. I opened the package and they were everything I had hoped, except for one thing; they had this strong, strange chemical smell. I tossed them into the sink with some gentle soap, washed them, and hung them to dry. The next day when I got home, I pulled them down to try them on. The horrible smell remained. I was not putting smelly panties on, but who wants to bother with returning such a low cost item? I figured there was nothing to lose, so I just tossed them into the wash with my darks and hoped the smell would go away. I am very happy to tell you that, after a machine wash and hanging them to dry, the smell was gone.

On they went and our formal love affair began. According to my Hunny, these are very comfortable when he is taking advantage of the crotchless aspect. There was no discomfort or chafing there. These and the other Rene Rofe crotchless panties I own are the most comfortable for him and me.

These are so comfortable, I was able to wear them all day. On me, the crotch sits so that you cannot tell they are crotchless. This is nice because it can be my little secret. The back of the half-moon opening sits just at the edge of my crack, and when sitting falls a bit below. This may be a concern for some, but was not an issue for me. Panty lines are visible with these due to all the detailing. I find that crotchless panties are better suited to loose fitting clothes to take advantage of their main purpose.

I have a slightly larger than average sized bottom. These fit well. They do not ride up or down when I am wearing them. They stay in place very well through normal activities and play time. I think one of the main reasons is the double elastic bands.

These are great and I would not change a thing about them. Snag them when they come back in stock.
This content is the opinion of the submitting contributor and is not endorsed by EdenFantasys.com

Thank you for viewing
Crotchless femme fatale panty
– crotchless panty review page!