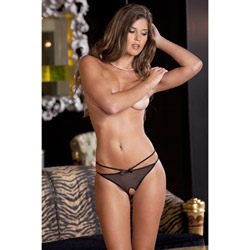 Crotchless femme fatale panty
Crotchless panty by Rene Rofe
Didn't quite turn me into a femme fatale, but I still look hot.
Since my behind looks gift wrapped with the bows and the straps on the waist, the panel in the back and sheer material make for a perfectly seductive piece, and they are comfy to boot. I'd recommend the Femme Fatale crotchless panty for anyone looking for a sexy way to surprise their partner with a little something that you'll want to keep on all through the night. Sizing flaws and the less than perfect measurement of the slit in the crotch aside, I do love the way I look and feel in these.
Published:
Pros:
Comfortable,
Very flattering from the back,
Soft but durable.
Cons:
Runs a little big,
Crotchless slit could be longer.
The Crotchless Femme Fatale panty from Rene Rofe has been on Eden without reviews for as long as I can remember. Each time I'd peruse the crotchless panties section of Eden's vast lingerie selection, I'd stop on this piece and admire the double strapped waist, the cute bows on the front and back, and the little butt cleavage panel. As creepily photoshopped, butt crack-less, and Barbie-smooth-crotched as the model is on the product page, she still looks pretty damn hot in this little number. I've never owned a pair of crotchless panties before, but I love the idea of surprising my lover with not only a sexy piece of lingerie, but a piece that doesn't need to be removed for when getting down to business. I picked these as my first assignment for Eden with considerable excitement. While I'm not entirely blown away by this less than perfect pair of panties, they are still sexy and comfy, and you could definitely do worse.

The packaging that the Femme Fatale panty shows up in is a not-so-discreet, cardboard package that shows the model from the front on the front, and from the back on the back. The panties come wrapped in a plastic envelope. The back of the packaging gives instructions for caring for the item: Hand wash cold. Do not bleach. Line Dry. Do not iron. Do not dry clean. It tells that the panties are 90% polyester and 10% spandex, and that the product is made in China. It's pretty standard packaging, and nothing fancy for storage, but who needs that for a pair of panties, anyway?



The material is soft and is made of nice, closely knit netting, making it sheer and see through enough to leave a little to the imagination, but only just a little bit. The bows on the front and the back have a satiny smooth texture and are shiny like satin as well. They feel very nice to the touch, and I could tell, as I removed them from their packaging, that they were going to be comfortable to wear. I was right.

Comfortable as they are though, they are not a perfect fit. The small is an S/M, and for me, that never works out well. I'm a small to an extra small. There is no sizing chart available on Eden for Rene Rofe lingerie, and there isn't one available on the packaging, so I'll give you my measurements:

Me:
Dress size: 0
Waist: 25 in.
Hips: 34 in.

While the panties don't hang on me, they do sit slightly higher than I would like, and they are probably closer to a medium than a small on the size scale. While the crotchless part on the model suggests that the slit is sizable, it really only measures about 3 1/2 in. from front to back. The slit does sit in such a manner where these would function just fine for wearing during sex. Though I had hoped that the slit would be long enough to expose my clitoris when worn, it's not, unlike what the product page suggests with the way it looks on the model.

Still, the back of the panties are so sexy. I love the way they flatter my behind! The panel that shows a little bit of, well, butt cleavage, for lack of a better term, is very hot. The sheer material shows off the rest of my assets, which is also very alluring. The bow on the back and the extra waist strap give the impression of being wrapped up like a gift for your lover. When I bent over, you could see the slit where it reveals that the piece is crotchless. As usual, I took some photos of myself (I'm afraid I can't share them with you guys...) and sent them to my man. Needless to say, the pictures were well received. While the positioning of the slit and the sizing are not perfect for me, I do really like these panties and can't wait to wear them for my certain special someone in person; he can't wait either!

There is a tag in the back that reminds you of the care instructions from the packaging, which is annoying because it's visible through the sheer material of the panties. However, it's easy enough to carefully cut out, leaving nothing in the way of the view of your derriere.
Experience
While I haven't had the chance to give these panties a try with actual intercourse yet due to the distance between myself and my lover, I still gave them a whirl solo with a vibrator to get a better idea of what it would be like. I still wish that my clitoris was more accessible through the slit, but it's not a total loss. I can still tell that once I have a very excited and happy man to wear these for right in front of me, the purpose of these crotchless, sexy panties will be quite obvious and fun for us both. If nothing else, the lovely way that they frame my behind makes these worth the purchase. Sizing issues aside, they still make me feel very sexy and very excited to add them to my growing lingerie collection.
Follow-up commentary
7 months after original review
In practice with my partner, these panties were a lovely addition to the bedroom, and my partner agreed that they look very sexy on me. However, due to the fact that they don't fit my physique as nicely as they would a woman closer to a size medium than a size small, they ended up being shed for main event of the evening, which kind of defeats the who point of crotchless panties. Still, they are sexy, affordable, and if they fit you, I'm sure they'd be a big hit. Overall, I still like these, though they don't get much use in the bedroom.
This product was provided free of charge to the reviewer. This review is in compliance with the FTC guidelines.

Thank you for viewing
Crotchless femme fatale panty
– crotchless panty review page!