Making your blood run...cold?
Overall, I really like the print and the idea of the dress (the crisscrosses on the back is definitely eye-catching!), but the fabric choice and cut makes it challenging to wear.
Published:
Pros:
Pretty print; comfortable.
Cons:
Rides up, up, up; no support in the bust.
In a good way, perhaps. Although I definitely have mixed feelings about it.
Packaging
I'm not sure if it's standard for all of the Dream Girl outfits, but this came on a plastic hanger that you typically see at the store, with a plastic wrapping over it. Nothing special, but nothing incriminating as well. Feel free to reveal it in front of friends, family, and the family dog!
Care
It took me a bit to find the tag, but here it is (it is minimal):
Dry clean only
Hand-washing and leaving it to dry seems fine.
Materials
98% polyester
2% spandex
(For those who care: Made in China.)
Aesthetics
Taken out of the bag, it seemed pretty well put together. There is a bit of a smell though, but I'm not exactly sure if it's from the fabric or from the plastic bag. There are no loose threads or unfinished hems.
The Dream Girl measurements (in inches):
Small
Size 2 - 6
Cup A - B
Bust 32 - 34"
Waist 24 - 26"
Hip 34 - 36"
Inseam 34½"
Rise 7 - 7½"
Weight 90 - 120 lbs
My measurements:
Cup size: B/C
Bust: 34"
Waist: 26"
Hips: 34"
In lieu of pictures, I've made a sketch of it, including some measurements (this was done while I'm wearing it for easier measurement. But overall, there's an additional stretch of 1.5"-2" everywhere. And the dress is black, of course.)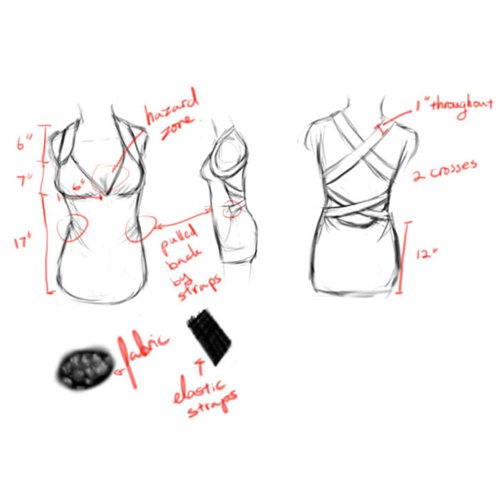 The first thing I must comment on here is the pattern/print. I honestly thought that it would be something sequin-y, but it's a lot more subdued than that, and is actually quite pretty. It doesn't glitter as much as it reflects ambient light, which makes it more wearable to various places than it would've been if it were doused in sequins.
The dress overall is pretty form fitting for me and it clings (more on this later). The straps are 1" elastic bands (the same kind that you find as waistbands), but feels pretty sturdy. The fabric itself is less sturdy-feeling, but it is very stretchy and comfortable to move around in (no poking from stitches anywhere).
Experience
I've put it on and taken it off a total of three times now and each time I still end up getting tangled in it! Part of the complications are the crosses at the back, which was a happy surprise since I'd no idea what the back looked like when I first got it. It's definitely unusual and I really liked it.

I ordered it small since I could tell from the picture that there wasn't going to be much support in the bust area, so I wanted to make sure that it's tight enough that nothing falls out. (Definitely be aware that there is no padding or support of any kind.) For my cup size, I'm mostly covered, but I'm not sure how it would work out for the more well-endowed ladies. Also, with the way that it's cut (circled in red) and the stretch of the straps, I have to be careful when I'm turning (since it does slip a little), otherwise I may get in trouble for public indecency!

The dress IS quite stretchy and has a tendency to crawl up when there's movement. Sitting is fine, but when I stand up, I need to tug the dress down a little every once in a while to keep it at a comfortable length (i.e. won't flash anyone just by walking, much less getting in and out of cars). And because of the nature of the fabric, it does cling. The design of it makes it doubly so, since the lower straps kind of pull on the dress (circled in red), which can make it bunch around your lower belly. This can be easily fixed when you readjust the dress, but that's difficult to do subtly (I've tried!).

I think the dress would be well-suited for clubs, but with the way that it rides up when I'm moving, I don't think I'll be wearing it outside of the house until I find a way to stop it from creeping up so high.
Follow-up commentary
11 months after original review
I like this as much as I did when I first received it. I have been able to use the garter clips to keep the hem from rolling up, but it is still too short to be worn outside of my place for me. It is holding up well in the wash, but I have been avoiding putting it through the dryer. Although the fabric and make feel sturdy enough, it probably would not do to be too rough with it.
This product was provided free of charge to the reviewer. This review is in compliance with the FTC guidelines.

Thank you for viewing
Queen cobra
– mini dress review page!