Criss cross and showing every bump off..front tits sure look like shit!
A truly sexy dress with unique criss crossing straps in the back that screams "look at me" when entering any kind of room! However, unless you are lean with smaller breasts and no bumps here and there or you are completely comfortable enough in your skin to not care then you might not want to walk in a room with this dress on because it shows EVERY..and I mean EVERY roll, pug, bump, and lump you might have.
Published:
Pros:
Sexy, well made, unique design
Cons:
Will only fit & flatter a certain body type, can't wear a bra
Edenfantasys was nice enough to let me review the Queen Cobra dress by Dreamgirl this month for my review so let me start off by thanking them for letting me do so.
Dreamgirl made this mini dress available in four different sizes being SMALL, MEDIUM, LARGE, and XLARGE, and in one color which is my favorite.. black.
Delivered to me on a standard plastic hanger with a clear plastic covering protecting it during shipping, I took it out and admired it. No loose threads, holes, misstitchings anywheres I could find so it looks to be well made. However, when looking it over and admiring what I saw in front of me I noticed off the bat a few design elements that I knew wouldn't show MY body much justice, but this is just me. So let me explain the dress and let you decide if you think if you could rock it or not.
On the product page the company describes the top as a halter top. To me a halter top goes directly around the neck and ties or hooks there, this is in my opinion not a halter top but I could be wrong!The shoulder straps are non adjustable, black, thick bands of elastic that are attached on the sides of each cup in the front and criss cross in the back attaching to the torso of the dress on each side under each arm. The front cups are triangle cut with a straight hem underneath with no padding, underwire, molding, etc.. Since the cups are so low cut and the back of the dress is completely open it is impossible to wear a bra with this dress (which is one of my issues since I have naturally big breasts). While the straps are thick and durable they are unable to offer any support because of the design. The dress tailors down to hug every curve, opposed to an A line shape that flairs out some. On me it falls well below my butt if I don't ruch it up (as I did in the pictures to try to hide some flaws). The back of the dress is completely open all the way down to my waist, besides the criss cross shoulder straps. At the waist line where the material starts to pick up again there are two more black, thick, elastic straps that criss cross at the hip area. I'm not sure if it is the design or if it is because the size I got can accomidate a bigger size but those two straps hang loosely opposed to hugging my hips.
The material is opaque and is made from 98% polyester and 2% spandex which is reasonably soft and very comfortable it is. The black "snake skin" pattern is sudle and not over the top, and while there is a shine to it it is mainly noticeable in the light. It is recommended to dry clean only but I'm sure you could wash it by hand in cold water( so the color doesn't fade) and it would be fine.
Cup Bust (in) Waist (in) Hip (in) Inseam (in) Rise (in) Weight (lb)
Small 2 - 6 A - B 32 - 34 24 - 26 34 - 36 34½ 7 - 7½ 90 - 120
Medium 6 - 10 B - C 34 - 36 26 - 28 36 - 38 35 7½ - 8 120 - 140
Large 10 - 14 C - D 36 - 38 28 - 32 38 - 40 35½ 8 - 8½ 140 - 150
Sm/Med 2 - 8 A - B 32 - 34 24 - 26 34 - 36 35 7½ - 8 90 - 130
Med/Lg 8 - 14 B - C 36 - 38 28 - 32 38 - 40 35½ 8 - 8½ 130 - 160
1X/2X 16 - 18 D - DD 40 - 48 36 - 40 42 - 48 36½ 9 - 9½
Edenfantasys doesn't have the sizes for extra large posted on their site, so I'm assuming it would be around the same measurements if not alittle smaller than the 1X/2X.
XL measurements:
From the top shoulder strap to the bottom of the dress is 35"
Each cup is measured in the middle at 6 1/2"long by 6 3/4" wide
Width of dress in the torso is 17 1/2" wide unstretched
From where the material picks up in the back is 12" top to bottom of dress
Each shoulder strap that criss crosses in the back unstretched is about 21" long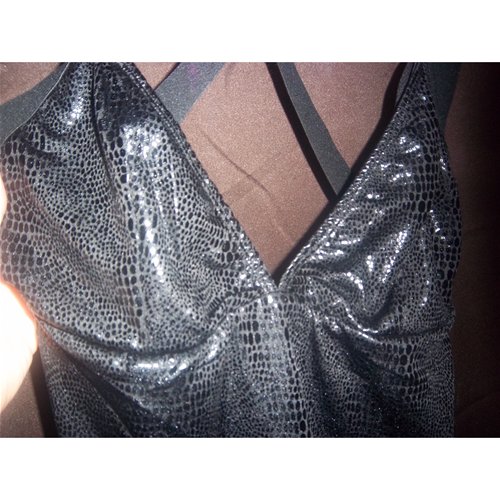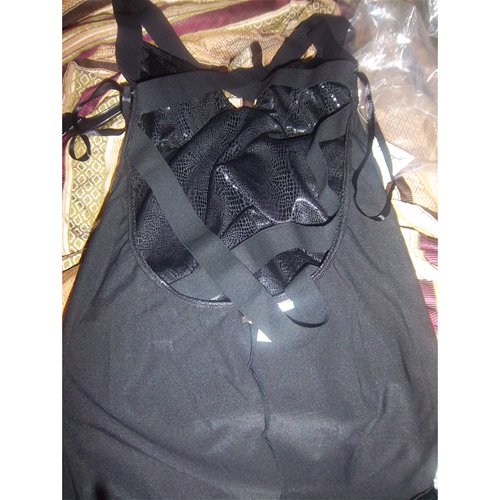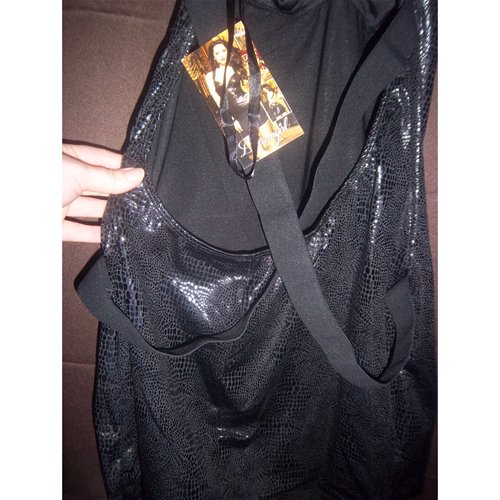 Both straps that go around the back by the hips and criss cross are 20" long unstretched
Each strap is 1 1/2" wide
Experience
Now to my problems with the dress which are based solely on my body, I had ordered the XL and while it fits me with room to spare I just don't feel comfortable in it. The material is very stretchy and clings to every bump I have and then some. I have gained weight and now am about 165-170, It's bad enough I'm self conscious of this weight gain I don't need something to show it! Being 5'5 and the dress going to well past my booty so I feel that anyone with the same height or acouple inches taller could wear this dress out and still not show everything thats not meant to be shown. However if you are big breasted like I am with my 38DD's remember that unless yours are extremely perky you will have no support in this and a bra will look absolutely silly. Another issue my body has with this dress is in the back where it is open to the hips, it highlights and exposes my ever so noticeable "love" handles. So I'm warning everyone ahead of time that the pics you see below are frightning and are ONLY posted to help you all decide if you could pull this dress off or not!
I feel as though this dress would look hot on the right body type but unfortunately not everyone has THAT type of figure! This is disappointing because this dress would be great for parties, clubbing, or just in the bedroom to tease your partner. As far as I go with this dress.. well the pics you see on here was the only and last time I will be putting it on. My sister with no breasts and a great body will be inheriting it so atleast it will get some use.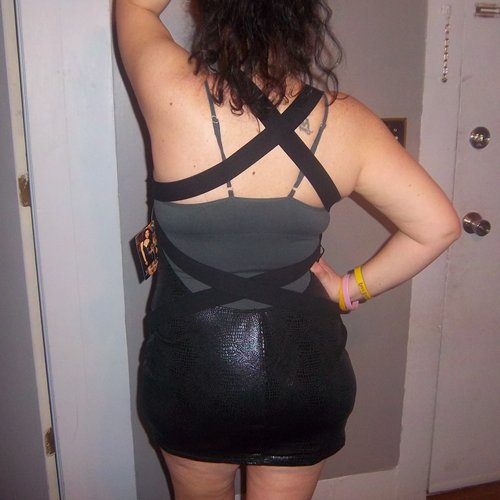 Wow! ..Holy huge ass! I knew i8t showed every lump but I didn't realize this bad!! Also excuse the tank but I wasn't showing that much skin.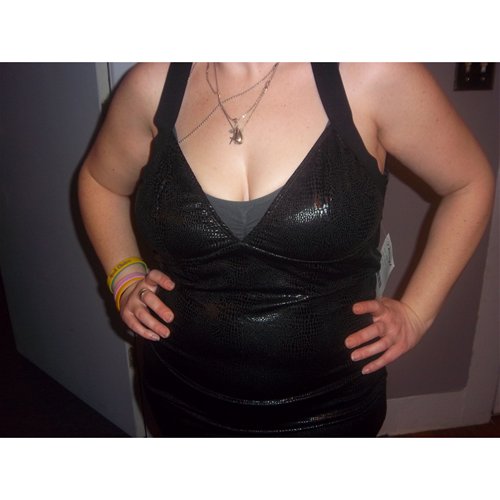 This product was provided free of charge to the reviewer. This review is in compliance with the FTC guidelines.

Thank you for viewing
Queen cobra
– mini dress review page!